Four State students working with internationally acclaimed trumpeters today 
  Monday, October 8, 2018 10:00 AM
  News
Pittsburg, KS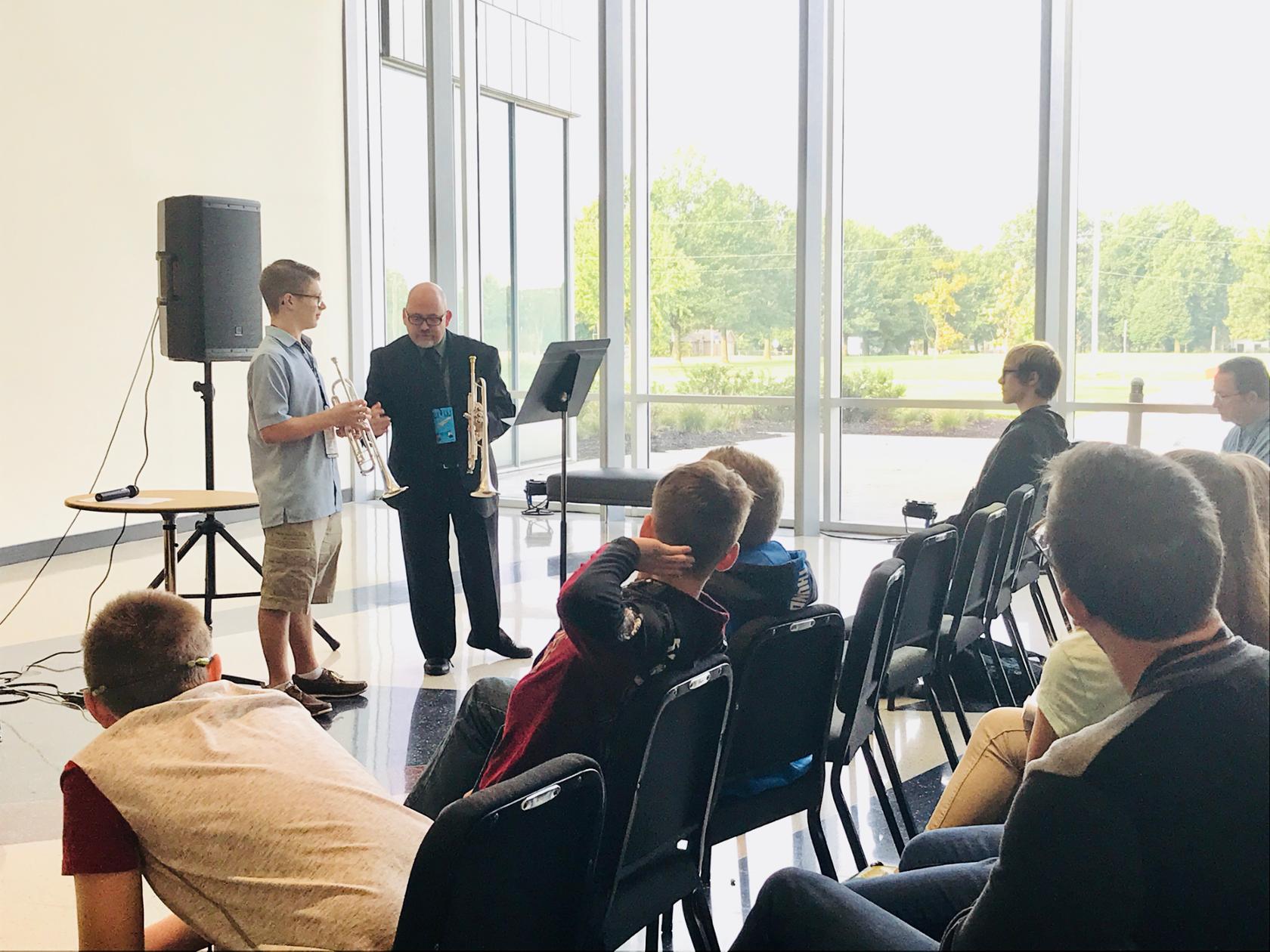 The students from several middle and high schools and seven universities across the region grew up hearing movie soundtracks that featured acclaimed trumpet player Wayne Bergeron. 
The Incredibles. Horton Hears a Who. Monsters Inc. Night at the Museum. 
On Sunday and Monday, they were learning from Bergeron and other noted performers and recording artists from across the nation in Pittsburg State University's 10th Annual Midwest Trumpet Festival.  
"This is amazing," said Bethany Laster, a music teacher from Diamond, Missouri, who brought three of her high school band students for the first time.   
On Sunday and Monday, they rotated through hands-on clinics at the Bicknell Family Center for the Arts, where on Sunday night they were treated to a concert featuring Bergeron and the Crossroads Jazz Orchestra. Monday at 5 p.m., they'll get to attend another concert featuring festival faculty.  
"These three are really getting to be strong players with an interest in this, so I am looking for opportunities to expose them to players they wouldn't ordinarily hear in our little program," Laster said of her students. "There are no performance venues like this in our area, or this caliber of musicians they can be exposed to. I saw this as a great opportunity for them, and we'll definitely come back."  
Carl Junction band director Trey Wadell brought 20 of his middle and high school band students.  
"Where else can you go to work with internationally recognized artists for just $25?" Wadell asked as he watched students, one by one, each play a few measures of a song and received immediate feedback from trumpet masters such as Iskander Akhmadullin, a Russian soloist who has performed in the U.S., Australia, Japan, Austria, and Germany.  
PSU music major Henry Zimmermann, a senior from Olathe, Kansas, attended one such festival as a middle schooler. He is now a student of Todd Hastings, who founded the Midwest Trumpet Festival 10 years ago, and is a participant in this year's festival.  
"The level of performers and instructors that visit the university on a regular basis influenced my decision to attend school here," he said. "There are a lot of incredible opportunities." 
Learn more about the PSU Department of Music at https://www.pittstate.edu/music/index.html
Learn more about the Midwest Trumpet Festival at https://www.pittstate.edu/music/midwest-trumpet-festival.html