Five achieve rank of "University Professor"
  Friday, October 26, 2018 1:00 PM
  Alumni, News, Academics, Milestones, People and Society
Pittsburg, KS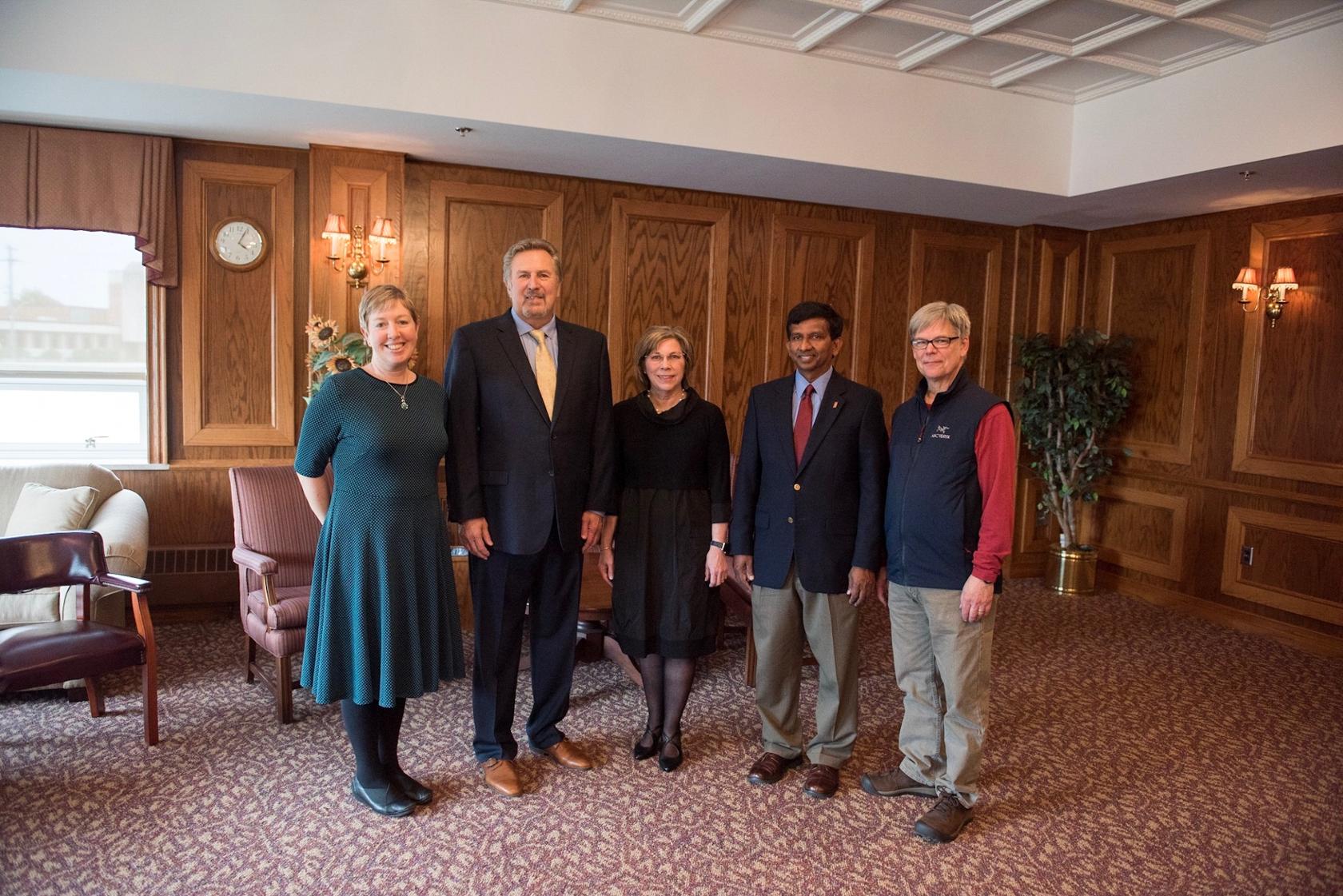 Five veteran faculty members have achieved the rank of "University Professor" at Pittsburg State University and were recognized in a ceremony this week attended by colleagues, friends, family, and students. 
They are: Tim Bailey and Don Viney, both in History, Philosophy, and Social Sciences; Cheryl Giefer, Nursing; Casie Hermansson, English and Modern Languages; and Ananda Jayawardhana, Math. 
PSU, Kansas Board of Regents, and the PSU-KNEA bargaining unit collectively agreed to begin the rank in 1999, and in 2000, the first recipients were selected. Since then, 68 have been chosen. Sixteen have been chosen twice. One, Viney, has been chosen three times. 
"University Professor" indicates that an individual faculty member is recognized by their peers both on and off campus as an "outstanding contributor in a field of specialization." To be eligible, candidates must also be recognized on campus for "outstanding contributions to the education program of the university." 
Candidates must have been a full professor for no less than seven years, meaning that a person who begins at PSU as an assistant professor typically would not be eligible to apply for the rank of University Professor for 19 years. 
The University Professor designation is for a term of seven years and can be renewed.  
Provost Lynette Olson offered remarks at the ceremony about each, praising them for their dedication to their students, the university, and the community.
University Professor Mark Johnson, who served as master of ceremonies, noted that the rank provides incentive to faculty who have achieved professor status, but may teach for as many as 20 more years with no further promotion.
Tim Bailey 
Bailey has taught at PSU since 2000. His academic expertise includes the study of urban development and urban planning, and has a long-running internship program with the City of Pittsburg, Crawford County, and the Quapaw Tribe of Oklahoma that has directly impacted the employment success of gradates and given his students real-world training opportunities. 
He is the recipient of several grants, the PSU Open PITT Award for his incorporation of open education resource materials in his courses, and recently created online versions of the courses he regularly teaches. 
Bailey has served on the Faculty Senate, as past president of PSU KNEA, on the editorial board of Midwest Quarterly, and as faculty advisor for the Geography Club. 
Learn more about the Department of History, Philosophy, and Social Sciences.
Cheryl Giefer 
Giefer first received this honorary title in 2011. She has taught at PSU since 1988, became the associate director of the School of Nursing in 2016, and the director in January 2017.  
She is licensed, registered, and certified in multiple levels of nursing and nurse practitioner in Kansas, Missouri, and Oklahoma, and works as a Family Nurse Practitioner in the Girard Medical Center's Express Care Clinic. 
She has been the recipient of the PSU Outstanding Faculty Scholarship Award, and has served on a number of university, community, state, and national committees, boards, and councils. She also implemented the curricular development of PSU's first doctoral level degree program, the DNP. 
Learn more about the School of Nursing.
Casie Hermansson 
Hermansson has taught at PSU since 1997. She has been a recipient of a Fulbright-University of Turku Scholar Award in Finland, the PSU Outstanding Faculty Research Award, and a College of Arts & Sciences Creative Endeavor Award. 
She co-directs the interdisciplinary minor of Film and Media studies, has helped develop new curriculum and legislation for several new courses in her department, and serves as the chair of the Faculty Development Committee, overseeing the administration of the Eichorn endowment monies. 
She has numerous publication credits and serves as the editor-in-chief of Midwest Quarterly. In that capacity, she's edited 13 issues, overseen a website overhaul, and created three new annual awards. 
Learn more about the Department of English & Modern Languages.
Ananda Jayawardhana 
Jayawardhana has taught at PSU since 1999. He has received the PSU Summer Teaching Innovation Grant, a Chapter Service Recognition award from the American Statistical Association, and received the Sound Governance Award from the State of Kansas Conference of the American Association of University Professors. 
He's served in numerous leadership roles on campus, including on Faculty Senate, Graduate Council, Diversity Council, and Enrollment Management Council, and as the faculty advisor for the PSU Indian Student Association. 
He is the founder of the Tilford Group and serves the community in several civic and philanthropic organizations. 
Learn more about the Deparment of Mathematics.
Don Viney 
Viney is thought to be the first faculty member to earn the distinction of University Professor three consecutive times, having first received it in 2004 and again in 2011. He is known for his philosophy and religion expertise, which resulted in the text he now uses, "World Religions: Historical and Philosophical Perspectives," at 325 pages.  
He and a colleague collaborated to revise course offerings in Philosophy, and he is faculty advisor to the Philosophical Society. He has published numerous articles, books, and edited works. Viney was invited to be the keynote speaker at the 28th Annual Truman State University Undergraduate Philosophy and Religion Conference, and has presented papers in France, Spain, and Ireland. 
His service to the university includes serving as interim department chair, on the Arts & Sciences Faculty Awards Committee, the H. Lee Scott Speaker Series Committee, and on the editorial board of Midwest Quarterly. 
Learn more about the Department of History, Philosophy, and Social Sciences.