Block22 wins national 2018 Award of Excellence
  Thursday, October 25, 2018 1:00 PM
  Milestones, News
Pittsburg, KS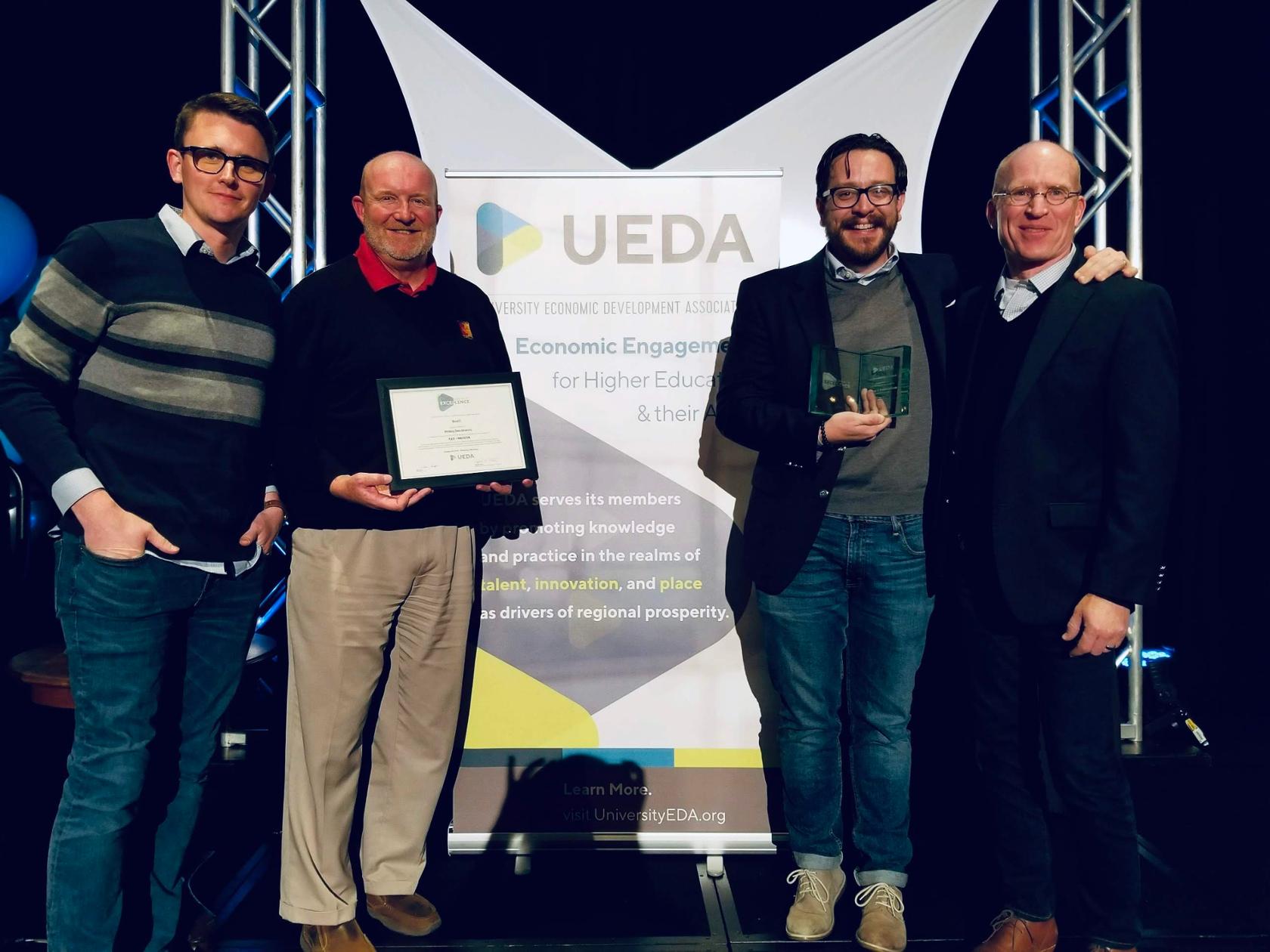 Block22 was recognized as one of the top university-based projects in the United States at this week's University Economic Development Association annual summit in Milwaukee, Wisc.
An innovative, collaborative living-learning community in Downtown Pittsburg, Block22 was selected as a recipient of the 2018 UEDA Award of Excellence in the Place + Innovation category. Block22 is made possible through a partnership between Pittsburg State University, the City of Pittsburg and The Vecino Group, a Springfield-based development company.
Other finalists in the UEDA Place + Innovation category were University of West Florida for its Sustainable Economic Development Initiative, the University of Iowa for Iowa City Area Development Group, and the University of Central Florida for its Economic Diversity and Inclusivity project.
Pittsburg State's Chief Strategy Officer Shawn Naccarato accepted the award on behalf of Block22.
"This award is a testament to the power of ideas, the power of hope and the power of partnership," Naccarato said. "This would not have been possible without the unique partnership between Pittsburg State and the City of Pittsburg. When we work together toward a common goal for the future of Pittsburg, anything is possible."
Block22 is a unique, mix-use living, learning community in Downtown Pittsburg that features residential, commercial, dining, and entertainment spaces. It combines nearly 100 units of student housing for PSU students with more than 16,000 square feet of innovation space for students to explore their own entrepreneurial ventures, while also contributing to the success of local entrepreneurs.
Located at 4th and Broadway, Block22 is made up of four historic buildings that are being both renovated and restored. The historic properties included in Block22 are the Commerce, Baxter, National Bank, and Opera House Hotel buildings.
Naccarato said that Block22 is a symbol of the new energy and optimism throughout Pittsburg.
"It would have been easy for our community to turn away from this idea, to think it was too hard or too complex," he said. "It would have been easy to let these four historic buildings continue to sit empty. It would have been easy to say that communities like Pittsburg don't do these kinds of things, that we can't do these things.
"Instead, we decided to write a different story for our city," he said. "We believe that zip code should not determine destiny, and no community is too small for big dreams."
Jay Byers, Pittsburg's deputy city manager, was part of the presentation team at the UEDA conference in Milwaukee. He said that Block22's strength is in its purpose and promise.
"Everything about Block22 is intentional," he said. "When the idea for this project was first presented, we knew that it had the chance to transform the downtown experience for the students who live at Block22 and for the entire community. We were very intentional about every component of Block22 so that we created an environment that fostered innovation, and entrepreneurship, while also enhancing the dining and entertainment culture downtown."
Julie Potter, chair of the UEDA awards committee, said this year's award winners showcased the value higher education provides to impact sustainable regional development.
"It's energizing to see so many diverse and successful programs benefiting communities around the country," she said. 
Tim Hindes, UEDA Executive Director, described the finalists as the "very top programs from across North America, generating impactful and sustainable results in the regions in which they are engaged."