Big Pink Volleyball Tournament benefits breast cancer foundation
  Tuesday, October 2, 2018 2:00 PM
  News, Campus Culture, Giving Back
Pittsburg, KS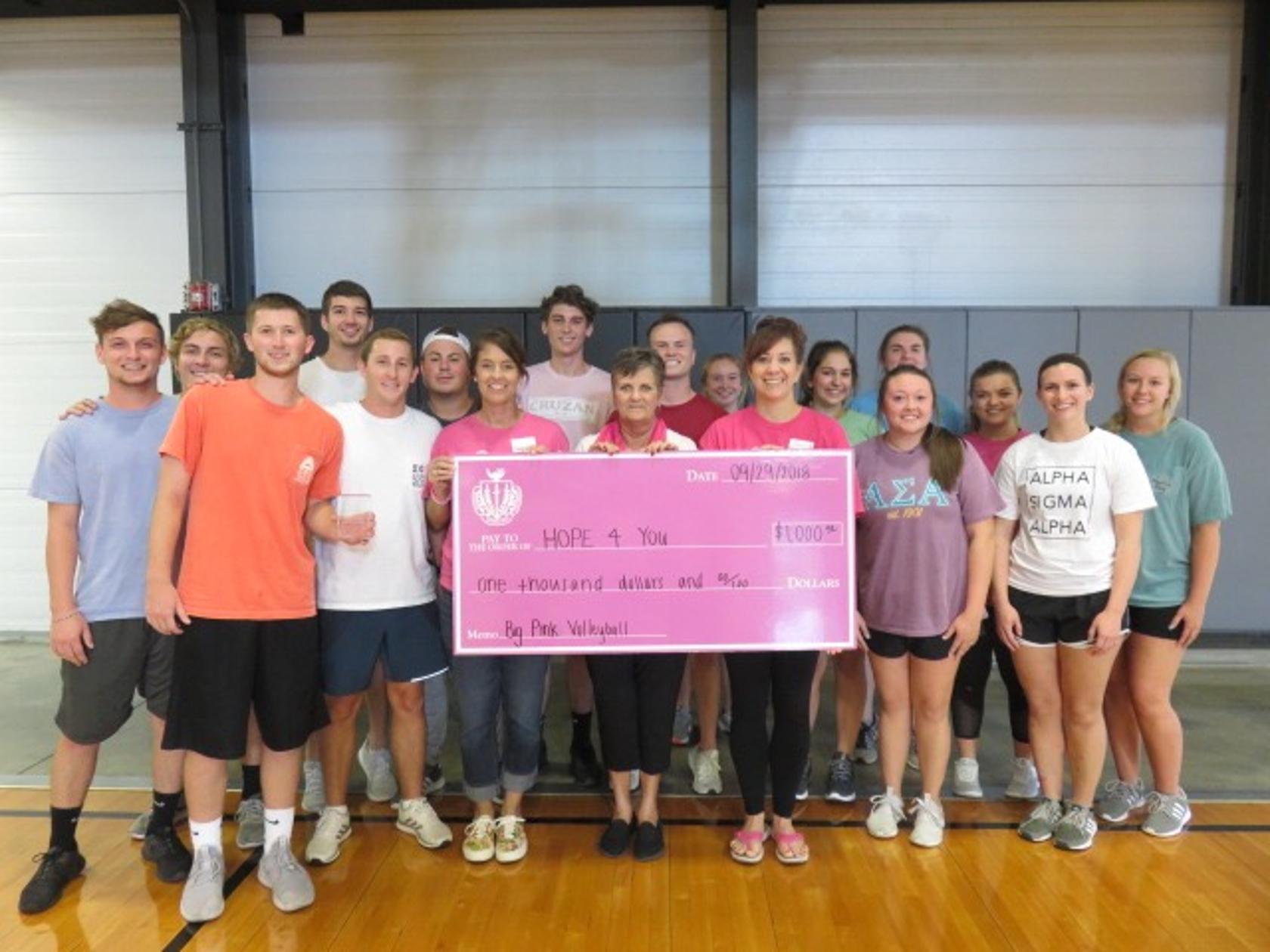 A unique volleyball tournament Saturday at Pittsburg State University's Student Recreation Center raised $1,000 for Hope 4 You, the Joplin-based chapter of the Breast Cancer Foundation.
Hope 4 You raises money to provide mammograms for uninsured and under-insured women in the Four States that need them. All money raised stays in the Joplin-Pittsburg area.
Hosted by the Panhellenic Conference, the governing body of all National Panhellenic Conference sororities on campus, the tournament attracted 12 teams that competed using a bright pink ball four feet in diameter.
PSU junior Teale McKinzie, who served as event chair, was excited to find a way to keep the funds local to benefit women in the community.
"Being able to plan this event was so important to me," McKinzie said. "Empowering women is one of the best feelings and being able to donate $1,000 to a great organization was extremely empowering."
McKinzie had a personal reason for getting involved: a family with a history of breast cancer.
Three members of the Hope 4 You Foundation board attended the tournament and accepted a check from the 1st place and 2nd place team — Sigma Phi Epsilon and Alpha Sigma Alpha — on the organization's behalf.
"PHC was excited to be a part of this process and is looking forward to networking with community partners in order to help those in need," said Anna Stark, program coordinator for Campus Activities.
Stark said the organization and Hope 4 You are looking forward to developing the relationship with future fundraisers.
Learn more about PSU's fraternities and sororities at https://bit.ly/2QrYhlP