A data-base party? Yes, please.
  Wednesday, October 24, 2018 11:00 AM
  News, Science and Technology
Pittsburg, KS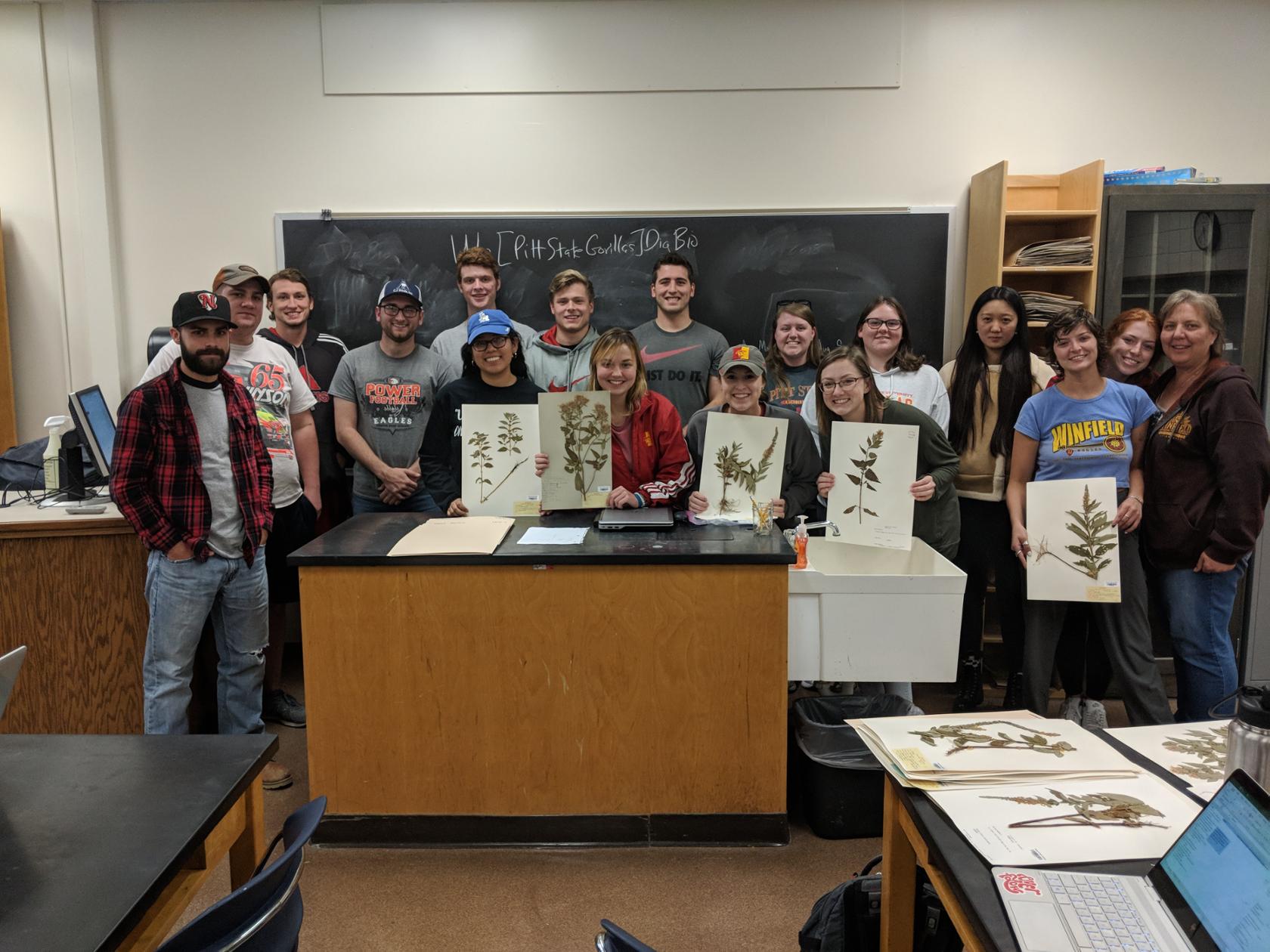 While many of their classmates were participating in Homecoming activities, 20 Pittsburg State University biology students spent two evenings last week attending a rather unconventional sort of party: by working as scientists at a "data-basing party." 
In the process, they not only gained valuable experience, their instructor said, but they made a growing collection of natural history specimens at PSU accessible to researchers around the world.  
Under the direction of Associate Professor Neil Snow, who also is the curator of the T.M. Sperry Herbarium, they were participants in the Fourth Annual WeDigBio program coordinated by the National Science Foundation, along with Florida State University, the University of Florida, and The Florida Museum.   
Each year, the event utilizes volunteers across the nation to help digitize local specimens to contribute to the estimated 300 million specimens in natural history museums and herbaria around the world.  
 
PSU students digitized 1,089 specimens for the data base, which considerably exceeded Snow's highest hopes, he said. Equipped with their own laptops, the students used an Excel template to enter specimen barcodes, county, locality, habitat, and date of collection. 
"The data from these specimens can now be accessed by any researcher in the world through various data portals, including the Consortium of Northern Great Plains Herbaria," Snow said. "Making the data from individual specimens available to anybody in the world greatly enhances the value of the specimens overall."  
 
Their work brought data-based specimens at PSU from 19,751 to 20,840.  
 
"Data-basing of biological specimens following rigorous data-basing standards is now a routine part of biological field work, so this experience provided hands-on, real-world experience that cannot be obtained in other ways," Snow said. 
 
More information about WeDigBio can be found at www.idigbio.org/content/wedigbio-2018. 
Learn more about the PSU Biology Department at https://www.pittstate.edu/biology/