NSF awards PSU herbarium $307,000
  Friday, September 7, 2018 2:00 PM
  News, Milestones, Science and Technology
Pittsburg, KS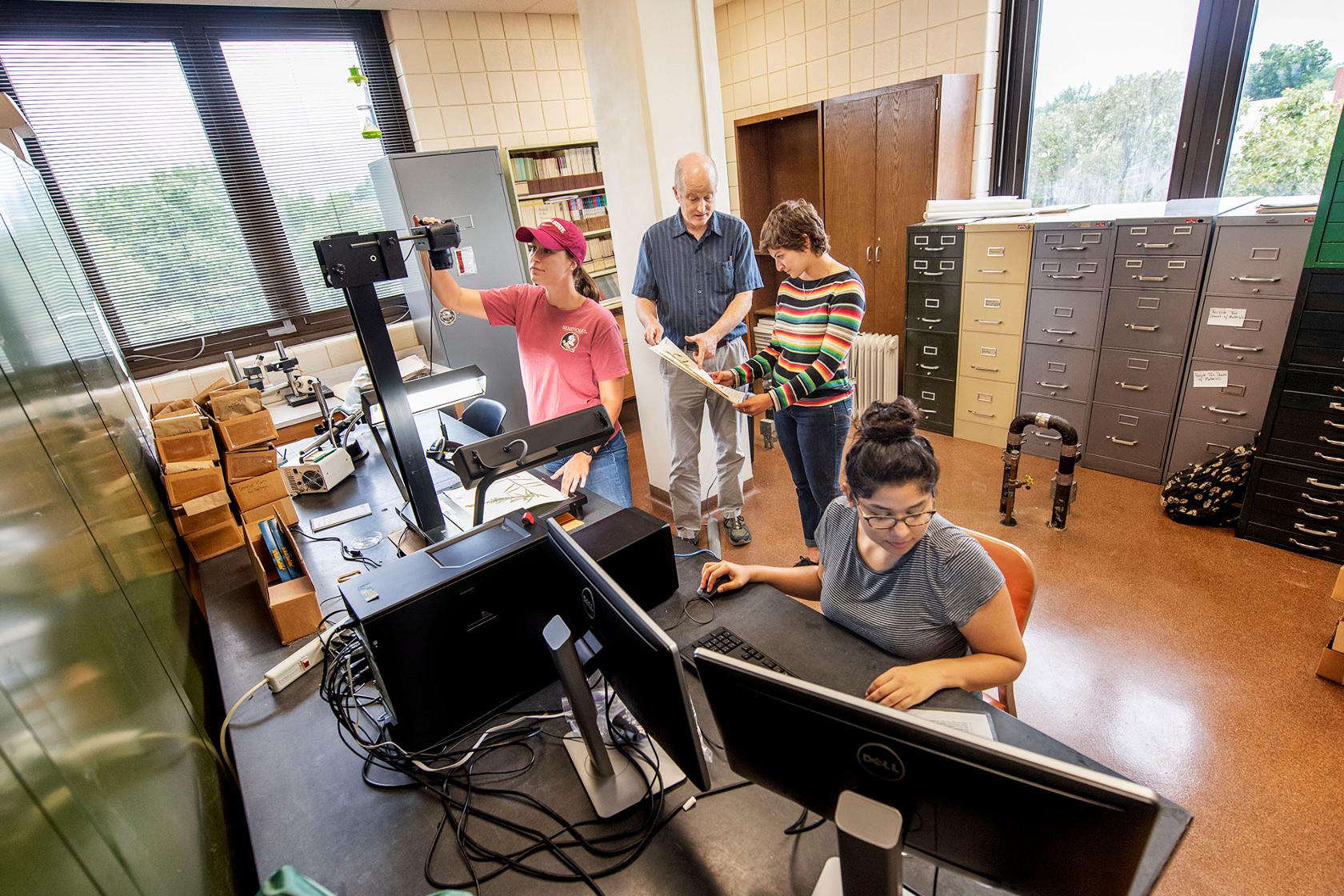 A $307,000 grant awarded by the National Science Foundation will allow the PSU Department of Biology to expand the Sperry Herbarium, already one of the region's largest and most diverse collections of plant species and a valuable hands-on educational tool for students and researchers around the world. 
It will help Associate Professor Neil Snow and his students fully transform the herbarium into 21st Century curatorial standards, first with a move next door to Hartman Hall, where there is more space, followed by the installation of 67 new full and 12 half-sized herbarium cabinets with an eye toward the next 30 years of collecting.  
It also will allow them to upload data and digital images of the herbarium specimens, which will be available to educators and researchers worldwide. In fact, of the 13,000 specimens already available online, Snow has had requests for DNA samples, including from the Smithsonian Institution. 
Snow, who directs the herbarium, said receiving the grant was "highly gratifying" because NSF grants are very competitive. 
"I'm particularly happy for our students, because it will provide support for a master's degree student and several undergraduates, all of whom will gain valuable curatorial experience," Snow said. 
The herbarium holds many treasures: among them, 33 plants that graduate student Sam Pryor recently documented as occurring in Kansas for the first time, and 263 that she found occurring for the first time in Crawford and Cherokee counties — a record.  
Officially established in 1946 by biology professor and nationally-known ecologist Theodore Sperry, it began with less than 100 specimens in one cabinet.  
Through 1974, Sperry expanded it to nearly 40,000 specimens in 35 cabinets. In 2014, data basing and digital imaging of the specimens began under Snow's direction. Today, the collection numbers 65,000 vascular plants and 6,000 bryophytes, with approximately 10,000 backlogged specimens. 
Snow, himself a noted botanist who has discovered more than 100 new plant species, said the collection emphasizes the diverse flora of Southeast Kansas and the Four State area, but also includes important species from the U.S., Australia, Africa — especially the Democratic Republic of the Congo), Madagascar, and the Peruvian Amazon. 
In addition to the plants, the herbarium houses computers, dissecting scopes with illuminators, the Kansas and Regional Reference Collection, and many print resources. The facilities are open during the academic year (August through April) to any qualified user. 
Learn more about the PSU Department of Biology at https://academics.pittstate.edu/academic-programs/biology/index.html.
Learn more about the Sperry Herbarium at https://www.pittstate.edu/biology/the-sperry-herbarium.html