Library announces educational events for Banned Books Week 
  Wednesday, September 19, 2018 8:00 AM
  People and Society, News
Pittsburg, KS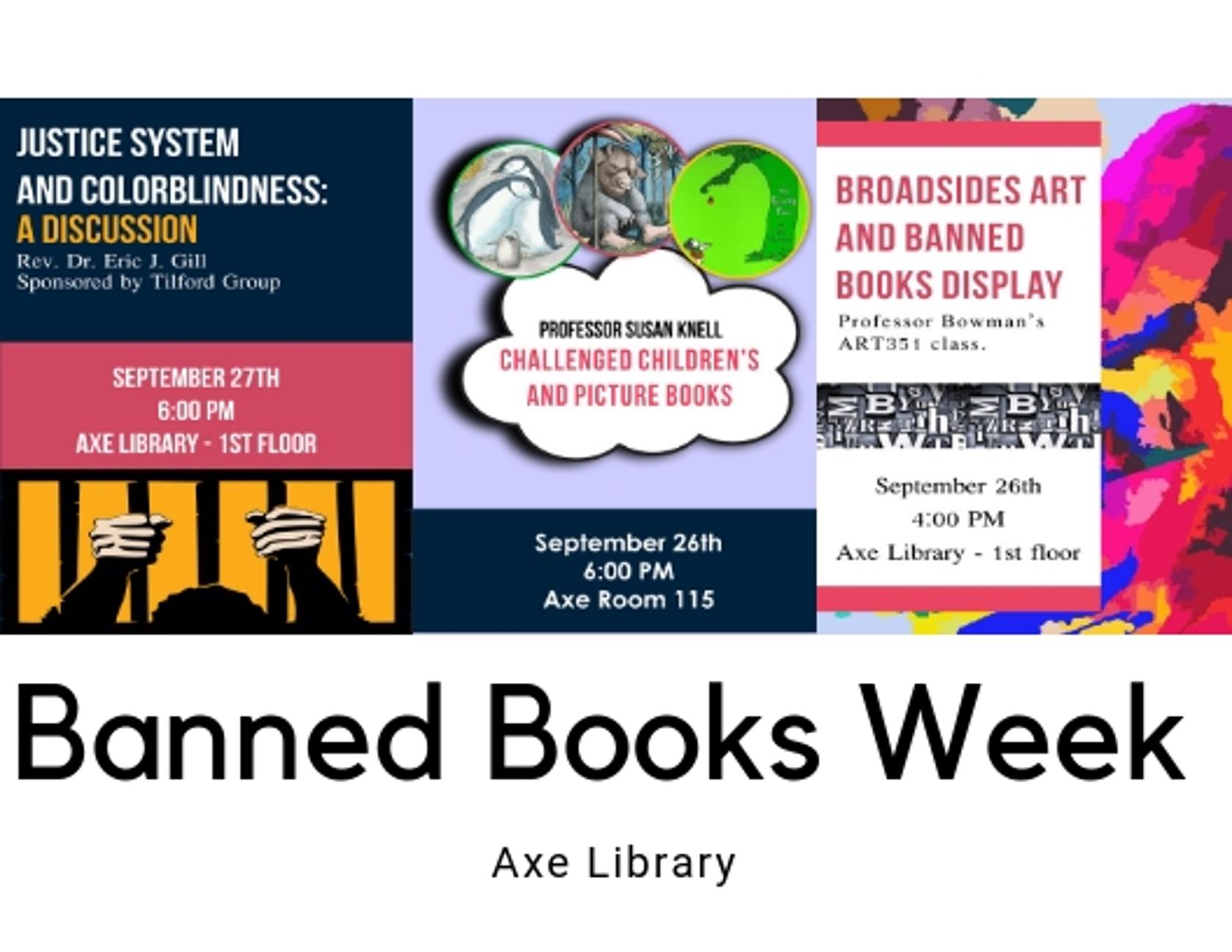 Axe Library at Pittsburg State University will once again observe American Library Association's annual Banned Books Week with free events open to students, staff, faculty, and community. 
Typically held during the last week of September, Banned Book Week aims to highlight the value of free and open access to information. Jorge Leon, learning and outreach librarian at Axe, said events led by students and professors help raise awareness to different forms of censorship, and of the tools and resources available to combat such efforts. 
The first event, Broadsides Art & Banned Books Display, will take place at 4 p.m. on Wednesday, Sept. 26, on the first floor of Axe Library. The event will be a reveal of broadsides created by students in Assistant Professor of Art S. Portico Bowman's Printmaking and Letterpress class. 
Historically, broadsides were used as posters, announcing events or proclamations, commentary in the form of ballads, or simply advertisements. Records show that the first publication of the U.S. Declaration of Independence was on a broadside, printed the night of July 4, 1776 by John Dunlap. He also printed a broadside announcing George Washington's crossing of the Delaware later that year. 
Inspired by topics of censorship and printmaking techniques, Bowman's students' works will be on display at Axe throughout the week. At the reveal, they'll discuss their techniques and inspirations. 
At 6 p.m. on Sept. 26, Professor Susan Knell, who has an international reputation in children's literature and is part of the College of Education's Teaching & Leadership program, will present "Challenged Children's and Picture Books." The presentation will be in Room 115 of the library. 
Knell will share her wealth of experience working in K-12 education as she discusses books that are often challenged and at times removed from classrooms. She will discuss challenges new service educators may face and how to keep current with resources. 
At 6 p.m on Sept. 27, the Tilford Diversity Group will co-sponsor a discussion titled "Justice System and Colorblindness." It will be held on the first floor of the library. 
Eric Gill, young adult pastor of Metropolitan Baptist Church in Tulsa, Oklahoma, and an adjunct professor of practical theology at Phillips Theological Seminary, will use M. Alexander's book, "New Jim Crow," as a launching point for discussion. 
He will discuss differences in perception around the colorblindness of the justice system and mass incarceration.  
All events are open to the general public. Light refreshments will be available and Axe Grind will be open for additional purchases.  
For more information, contact Jorge Leon, learning and outreach librarian, 620-235-4892.