Director: Pitt State Theatre's Fall production relevant today 
  Wednesday, September 26, 2018 4:00 PM
  Arts & Entertainment, News
Pittsburg, KS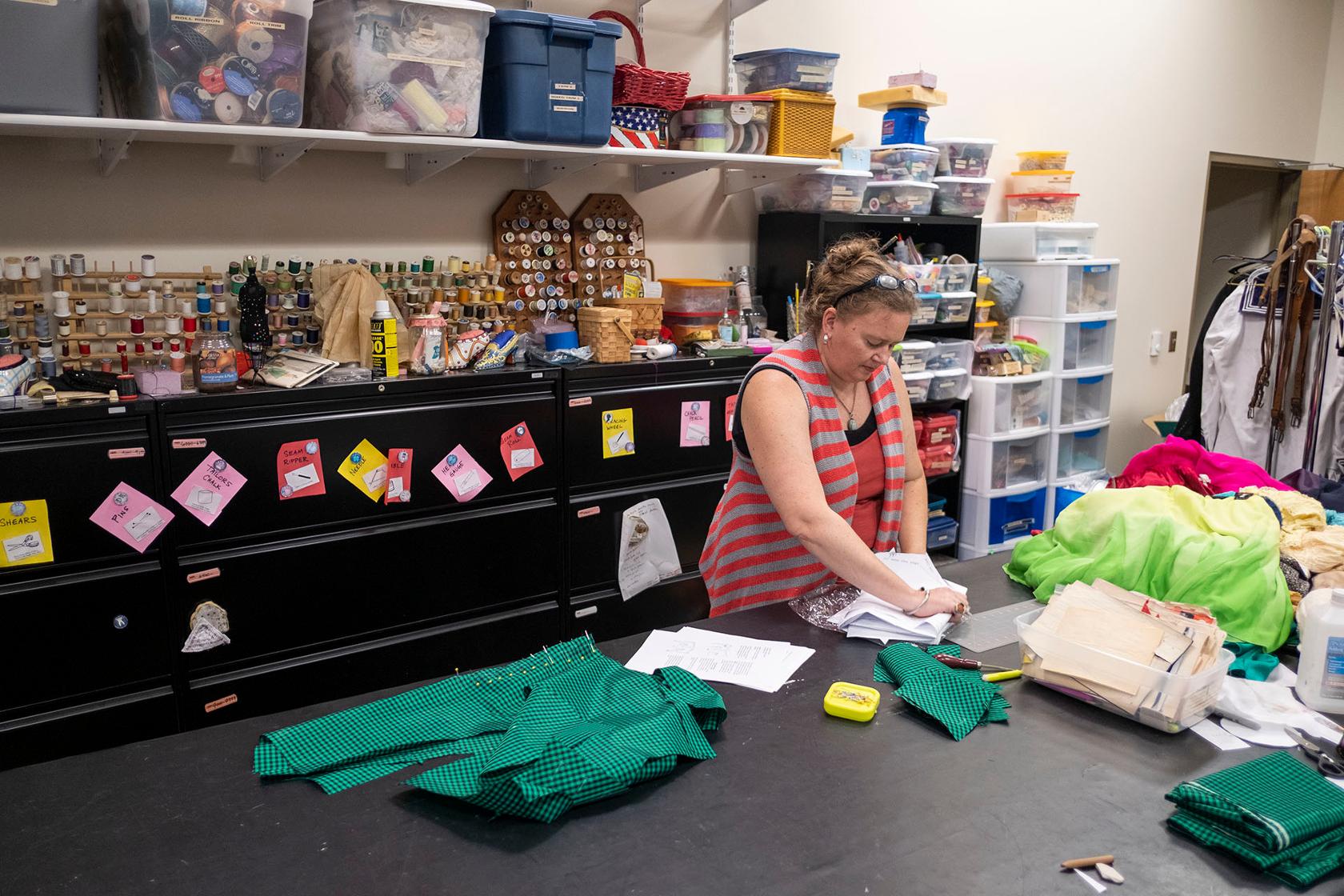 Rehearsals, costume creation, and set construction are under way for a show set in 1929 Berlin that is still relevant today, says Pitt State Theatre Director Cynthia Allan, who chose it as the Fall production for the company. 
"Cabaret," a musical for mature audiences, will open on Oct. 18 and run through Oct. 21 in the Dotty & Bill Miller Theatre in the Bicknell Family Center for the Arts. 
"'Cabaret' is a lot of fun while also leaving the audience a bit unsettled," Allan said. "It is a cautionary tale about what happens when people aren't paying attention." 
"The production mirrors the audience in that we, too, often get caught in our own narrow focus and ignore what is going on around us — much like when a person is working in his or her garden and fails to notice an approaching storm." 
It opens just in time for PSU Homecoming, and with a cast, crew, and pit orchestra that includes numerous PSU alumni as well as new students. 
The show focuses on a raucous and bawdy Kit Kat Klub cabaret show led by the bizarre and garish emcee (Stephen Reida). It follows the stories of English nightclub performer Sally Bowles (Mary Jo Harper, '09 BME) and Cliff (Karl Wittenburg), who is an American writer enthralled by the wild nightlife and sexual freedom of Berlin culture.  
Intertwined with life at the cabaret are two other stories: the courtship between the aging Fraulein Schneider (Kimberly Arzoian, '13 BME) and Jewish fruit-shop owner Herr Schulz (Michael Doue, '80 BSEd) and the growing political unrest due to the fledgling Nazi party and its sympathizers, such as Ernst Ludwig (Scott Ladish) and Fraulein Kost (Megan Richins).   
"The collision of these elements is what gives this brazen and wild musical its darker edge," Allan said.  
Audiences will be familiar with many of the songs ("Cabaret," "Money," "Willkommen") and performers — many of whom have appeared in title roles in productions by Pitt State Theatre and Pittsburg Community Theatre in recent years.  
Audiences also will recognize the artistic team, including Musical Director Barbara York who has been an accompanist for PSU Department of Music and PCT for many years, Choreographer Kaye Lewis of Midwest Regional Ballet, Designer/Technical Director Linden Little ('11 MA), who is an instructor in the Department of Communication, and Costume Designer Lisa Quinteros ('98 BA).  
"This has always been my favorite show to choreograph," Lewis said. "I was so excited to be asked to join this production."  
Rounding out the cast are the singing/dancing Kit Kat Klub Girls and the Klub Waiters, including Gabrielle Miller, Jaley Hoyt, Tori Whalen, Tiffany Durbin, Hailey Baker, Colin Gardener, Kyle Kleiner, Jesse Comeau, Joshua Ramsey, Michael Rodriquez, and Robert Bustamante. The club owner is played by Trevor Shoenhofer and Noah Smith plays the maitre'd and customs officer. 
Performances will be 7:30 p.m. Oct. 18-20, and 2 p.m. on Oct. 20-21. 
"I am very excited to have so many new students and PSU alumni involved in this production. It makes our Homecoming Week production dates even more meaningful," said Allan. 
She stressed that the Miller Theatre is a 250-seat theatre — a perfect setting for this musical because of its intimate nature that allows the audience to get up close and personal — and that tickets are expected to go quickly.  
"There may only be a limited amount available at any given performance without advance reservation," she said. 
Tickets are available now at the PSU Ticket Office 8 a.m. to 4 p.m. Monday through Friday or by calling 620-235-4796 or can be purchased online at www.pittstate.edu/office/ticket-office. Tickets are $12 for the general public, $7 for under 17/over 65, and free to those with a valid PSU photo ID. Group tickets are available for groups of 10 or more. 
Those attending may help with a drive to benefit Safehouse Crisis Center, with which Pitt State Theatre has partnered as a community outreach effort. Each production will focus on different needs for Safehouse; for 'Cabaret,' the theatre company is collecting packaged women's underwear and kitchen spices. 
Learn more about Pitt State Theatre at https://www.pittstate.edu/communication/psu-theatre1.html#undefined6