Companies say quality of graduates keeps them recruiting at PSU
  Tuesday, September 18, 2018 2:00 PM
  Alumni, People and Society, Science and Technology, News, Academics
Pittsburg, KS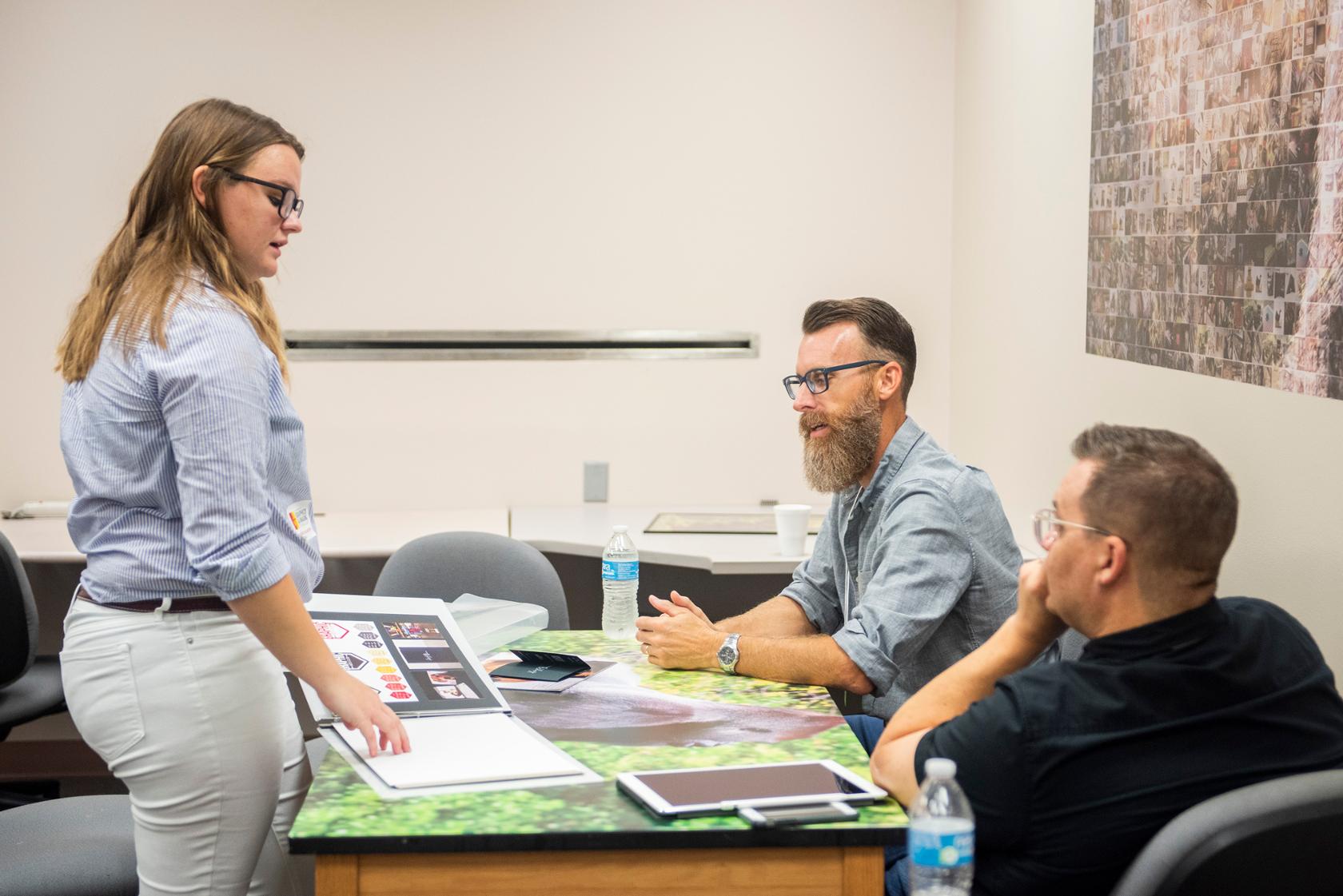 Paul Porter and Bill Newbanks found exactly what they were looking for on Tuesday at the Kansas Technology Center. Or rather, they found who they were looking for. 
"PSU students are who we want," said Porter, president of the Kansas City, Missouri-based Profile Cabinets. 
It was the company's first time to attend the annual College of Technology's Company Days, a career-fair style event held today and again on Wednesday for the more than 1,700 students who are enrolled in the COT. 
"There are no other programs like this. You're unique," said Newbanks, referring to the program offered by the College of Technology that until this year was known as Wood Technology. Now, it's called Architectural Manufacturing Management and Technology. 
"We haven't gone to any other recruiting events because literally PSU is the only program like this in the nation," Newbanks added. "We rely on headhunters and word of mouth, but it's slim pickings." 
"But here, we are finding students who in their senior year of college already have 20 years' worth of education and experience under their belt," he said. "When it comes to building, running a budget, managing people, it takes people 15 to 20 years working their way up in the field to learn what these students already know when they graduate." 
Porter and Newbanks were looking for graduates to fill positions in estimating, CAD, and project management on the commercial side of their business, which also offers residential services. 
Other companies, large and small and from near and far, were spread out throughout the KTC on Tuesday and will be again Wednesday, also hoping to fill positions for full-time jobs and internships. 
Zachary Bures, a freshman majoring in Construction Management, was among the hundreds of students dressed to impress and taking advantage of the network opportunities. 
"I did an internship already with KBS Construction in Topeka," he said, "and I already have an opportunity to again, but I'm here today trying to get a wider understanding of what all is out there so I can consider my options — Crossland, CDL, Caterpillar. There are a lot of jobs open in my industry, so it's looking good." 
Caterpillar sent a team of five from Peoria, Illinois, and from Tuscon, Arizona, to recruit for interns and full-time positions in engineering, automotive, and construction. Four of them are PSU alumni, but said they would come to the COT to recruit regardless. 
"We've come religiously every semester and typically recruited a couple of students for the past 20 years," said Jon vanOrder, a 1997 graduate. "We appreciate the quality of the graduates, the experience they already have when they enter the workforce, and that's why we keep coming back." 
Todd Cole, a 2001 graduate, said 73 PSU alumni now work for the company, which with sales and revenues of $45.46 billion is the world's leading manufacturer of construction and mining equipment, diesel and natural gas engines, industrial gas turbines, and diesel-electric locomotives. 
Company Days continues on Wednesday from 8:30 a.m. to 2 p.m. with a focus on PSU's Automotive-Diesel Technology, Electronics Engineering Technology, Manufacturing Engineering Technology, Mechanical Engineering Technology, and Plastics Engineering Technology programs. 
Learn more about the College of Technology at https://www.pittstate.edu/technology/index.html