Art exhibit gives students unique experience
  Friday, September 7, 2018 3:00 PM
  Academics, Arts & Entertainment, Campus Culture, News
Pittsburg, KS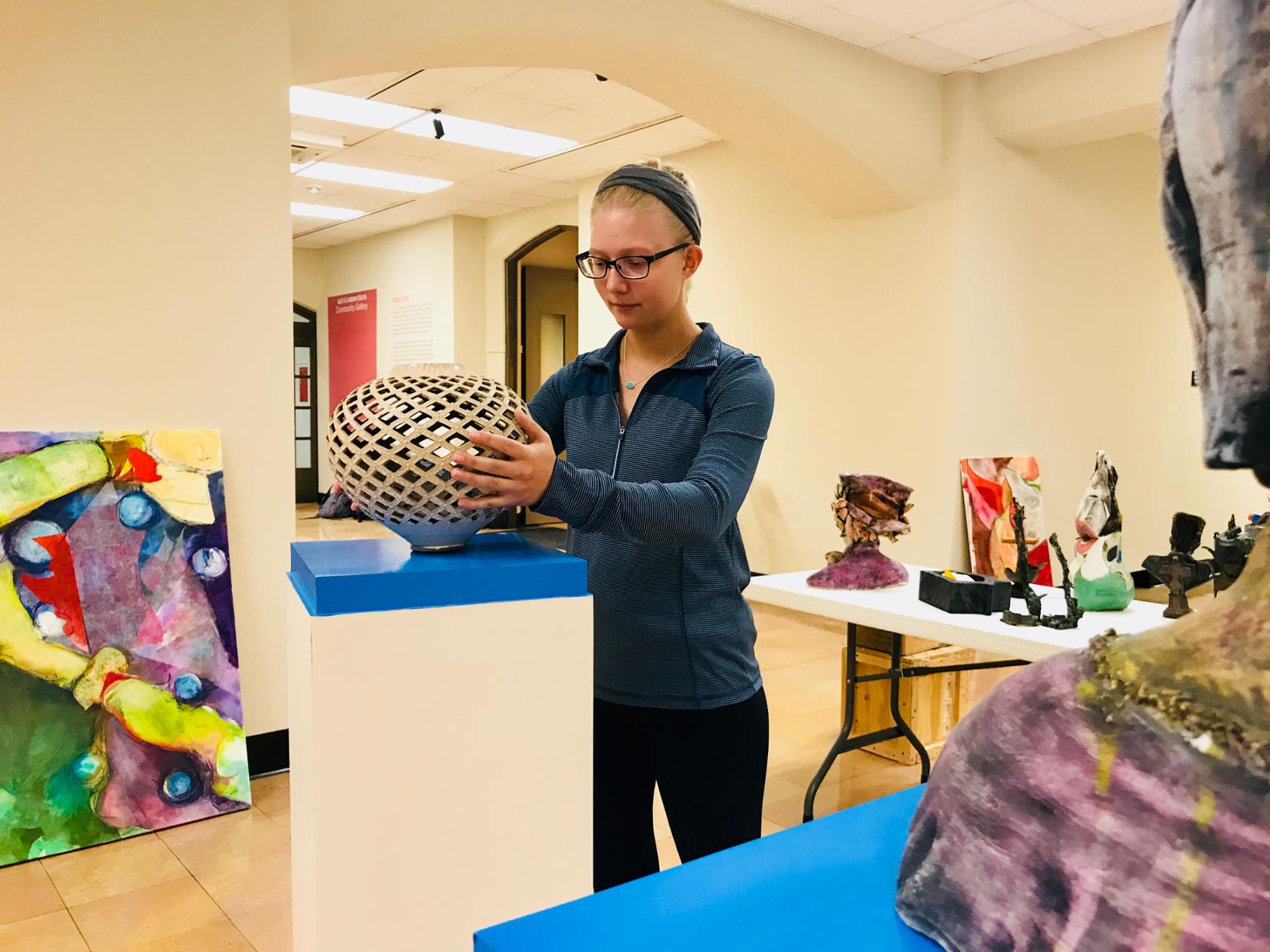 A new exhibit that will open in the Harry Krug Gallery of Porter Hall next week is giving Pittsburg State students enrolled in Museum Studies what they say is a valuable hands-on opportunity.                              
"We're responsible for putting the exhibit together, from start to finish," said Ellen Long, a senior history major who is pursuing a minor in art, as she and her classmates examined works of art Friday in Porter Hall.  
They were moving display pedestals into place and measuring pieces, taking into consideration the color and size of each.  
"We're learning every aspect of how this works," Long said. 
In addition to installing the exhibit, they're tasked with creating the small cards that viewers of any exhibit will notice next to each work — the cards that tell viewers who created it and the date it was created. 
The works in this particular exhibit, both 2D and 3D, were created by 21 graduate students from Ft. Hays State University.  
The exhibit will open on Sept. 14 as a companion to an exhibit of faculty work from FHSU that opened this week in PSU's University Gallery, which students also installed.
The faculty exhibit will be on display through Oct. 18 and features graphic design, sculptural ceramics, digital lithograph and monotype-mixed media prints, cast iron sculpture, altered photographs, and oil on canvas paintings. The student exhibit will run through Dec. 1. Together, they're entitled "Fortitude," and are the result of a collaboration between FHSU, PSU Professor of Art S. Portico Bowman, and PSU Art Chair James Oliver.
In conjunction with the exhibits, faculty member and artist Linda Ganstrom will present a ceramics workshop on Oct. 18 from 4 to 5 p.m. in Room 111 Porter Hall. The event will be followed by a lecture at 5:15 p.m. in Room 103, and a closing reception. All events are open to the public.  
The University Gallery is open Monday through Friday, 8 a.m. to 4:30 p.m. The Harry Krug Gallery is open Monday through Thursday, 8 a.m. to 9:30 p.m., and Friday 8 a.m. to 4:30 p.m. 
Learn more about the Department of Art at https://academics.pittstate.edu/academic-programs/art/index.html