Seven small businesses moving to Block22
  Tuesday, August 28, 2018 8:25 AM
  Milestones, Alumni, News
Pittsburg, KS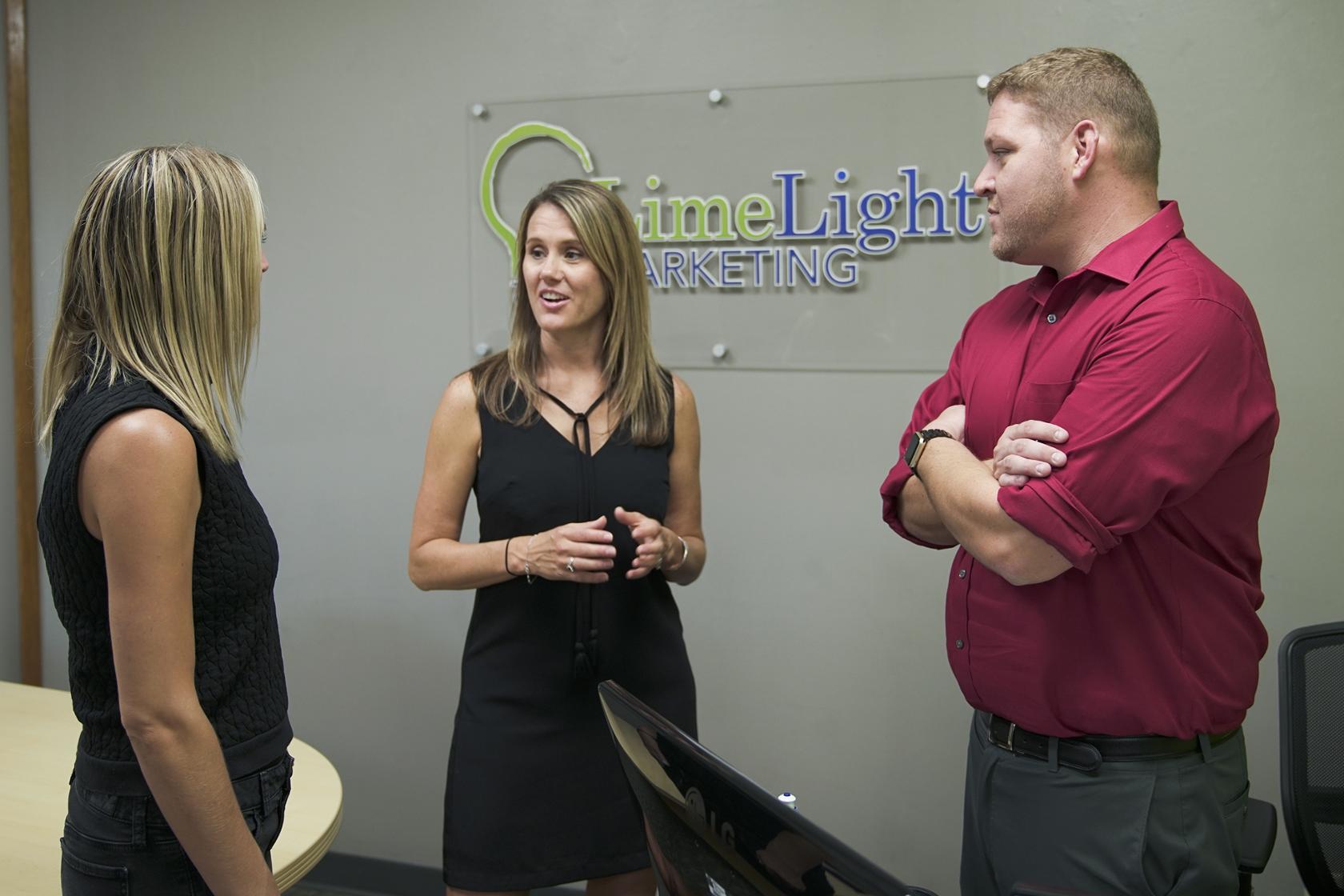 Innovation and collaboration are at heart of Block22, and the small businesses that will office in Block22 this fall represent that entrepreneurial spirit.  
Seven local businesses will be located in Block22. Six will be inside The Foundry, located east of Broadway on the ground floor of the National Bank building, and another will be located in the Commerce Building west of Broadway.   
The list of businesses includes existing agencies such as LimeLight Marketing and Craw-Kan, as well as new start-ups such as Creative124 and Sonder & Co. 
The seven businesses coming to Block22 this fall are: 
Craw-Kan  
Craw-Kan Telephone Cooperative, Inc.,is providing high-speed Internet service for The Foundry at Block22. As part of the company's partnership with Block22, Craw-Kan will receive dedicated desk space in the co-working activator space, which is located on the ground floor of the Opera House Hotel building. 
Based in Girard, Craw-Kan provides a variety of services to business and residential customers in 14 counties across Kansas Missouri and Oklahoma. These services include gigabit fiber-optic internet, HD television, telephone service, security camera and alarm systems, and more. Craw-Kan also provides enterprise-level business services, including wide area virtual private networking and dark fiber connectivity as well as IT consulting for businesses of all sizes and specialties. 
Creative124 
Creative124 is a video production company founded by Jacob Anselmi, who previously served as Creative Media Director at Pittsburg State University. Anselmi launched Creative124 this summer after eight years as the primary videographer at Pitt State.   
"Everyone has a story worth sharing," Anselmi said. "Creative124 was created to help plan, capture and share your story with the world. There's a certain element within every story that translates across different languages, beliefs and cultures. That element is emotion. At Creative124 one of our primary focuses is to capture the authentic emotion that helps audiences relate to your story, product or mission. Whether you're needing Visual Marketing Consulting or Videography Services, Creative124 is excited to assist with your next project." 
Anselmi said he's excited to launch his new venture from Block22.  
"As I set out on this journey to own and operate Creative124," he said, "there is no better place to get started than Block22. As an alumnus and former staff member at Pitt State, it truly means a lot to me to be part of Block22 and have the Creative124 office there.  
Creative124 will be located in the National Bank Building. 
DevSquared 
DevSquared is a web development, mobile application development and technical product consultant agency, specializing in Xamarin, .NET and Vue.js development. It is owned by Caleb Smith and John Kuefler, both of whom have years of experience working in web and app development.  
DevSquared works with small to mid-size companies who are seeking to develop internal and B2B solutions using modern development tools. They also work with companies to define their product specifications, the software architecture and create a plan around the continued development of the product. 
"Block22 will be the stepping stone to bringing startups to Pittsburg," Smith said, "and we are very excited to be part of that movement. As a company that creates products of our own, we are most excited to see what innovative companies take advantage of Block22 and what opportunities for collaboration will appear." 
DevSquared will be located in the National Bank building.  
Helianthus Ventures LLC 
Helianthus Ventures LLC is an investment platform that provides consulting services to various stage growth companies. Helianthus is owned by Susan and Troy Cook and will offer services in strategic consulting, capital structure alternatives and M & A transactions. The company will also be active in various investment activities, as well as advancing charitable initiatives that align with the company's interests. 
"We were drawn to Block22 by the collaborative incubation activities and overall progressive energy of the development," Susan Cook said. "We also love the location and the commitment to a revitalized downtown." 
Helianthus will be located inside the National Bank building. 
LimeLight Marketing 
LimeLight Marketing is a digital marketing agency serving national, regional, and local companies with marketing solutions that drive results that matter. Their services include marketing strategy, brand development, content marketing, website design and development, videography, and photography. LimeLight is owned by Brandee Johnson, who has more than 20 years of experience marketing for national and global brands.  
"Whether companies need full outsourced marketing or support for their in-house efforts, our team can be that strategic growth partner," Johnson said.  
Through significant growth, LimeLight has expanded its 11-person team to include marketers, developers, designers, writers, videographers and photographers. The majority of the team are Pittsburg State University graduates who are proud to be part of the Block22 initiative.   
"Our mission is to help companies grow," Johnson said. "We do this by providing professional marketing services that help brands tell their best stories across the realm of digital channels including video, photography, websites, social media, search engine optimization and digital advertising.  
Johnson said she and her team are excited to move into Block22. 
"The essence of Block22 being a space that fosters growth, innovation, and economic development feels like a natural and perfect fit with our culture and values at LimeLight, that's what attracts us to this space," she said. "We are excited to be part of Block22 because I feel that the atmosphere in this space fosters collaboration, creativity, and innovation."  
LimeLight Marketing will be located inside the National Bank Building. 
Sonder & Co.  
Owned by current Pittsburg State students Brittan Brenner and Kailey Pearson, Sonder & Co. will be a boutique-style store-front showcasing and selling the works of area artisans. Brenner and Pearson plan to develop an e-commerce site, as well, and will carry Sonder & Co. Flagship t-shirts, stationary, prints, cups, and other merchandise. 
"Beyond the community engagement, we both see it as a propelling into a career," Brenner said. "It's a way to continue to be part of the student community while establishing ourselves as young professionals." 
Brenner and Pearson chose the name Sonder for a reason: coined in 2012 by the Dictionary of Obscure Sorrows, it means the realization that each random passerby is living a life as vivid and complex as your own.  
"We want to integrate students and community members as fellow artisans, help them establish bonds, gather together in events — we could have a Sonders Social — and unite for a common cause: to sell things we make," said Pearson, who lives in one of the loft apartments in Block22.  
Sonder & Co. will be located on the ground level of the Commerce Building, west of Broadway.  
Votive Display and Packaging 
Votive Display and Packaging supplies corrugated boxes and point of purchase displays, as well as full-line packaging materials such as tape, stretch wrap and steel banding. Founded in Pittsburg Kansas in 2016 by Tonya and Jeff Poe, Votive is focused on servicing the packaging and display needs of manufacturing, wholesale and retail clients.  
"I was inspired by the opportunity to build a business that serves the rich history of entrepreneurs in the Four State area," Tonya Poe said. "Jeff would come home so excited about the vision for Block22 and the coming resurgence that I knew I wanted to be a part of it."  
Nicole Dickey, PSU graduate and volleyball alum, joined Votive at the beginning of 2018 and will office at Block22. Together, Tonya Poe and Dickey have more than 20 years combined experience in the packaging industry and look forward to serving their growing customer base.  
Votive Display and Packaging is certified by WBENC, the largest certifier of women-owned businesses in the United States. 
Learn more about Block22 at http://block22psu.com/