PSU Mars rover makes a landing at Cosmosphere
  Wednesday, August 8, 2018 11:00 AM
  Milestones, News, Science and Technology
Pittsburg, KS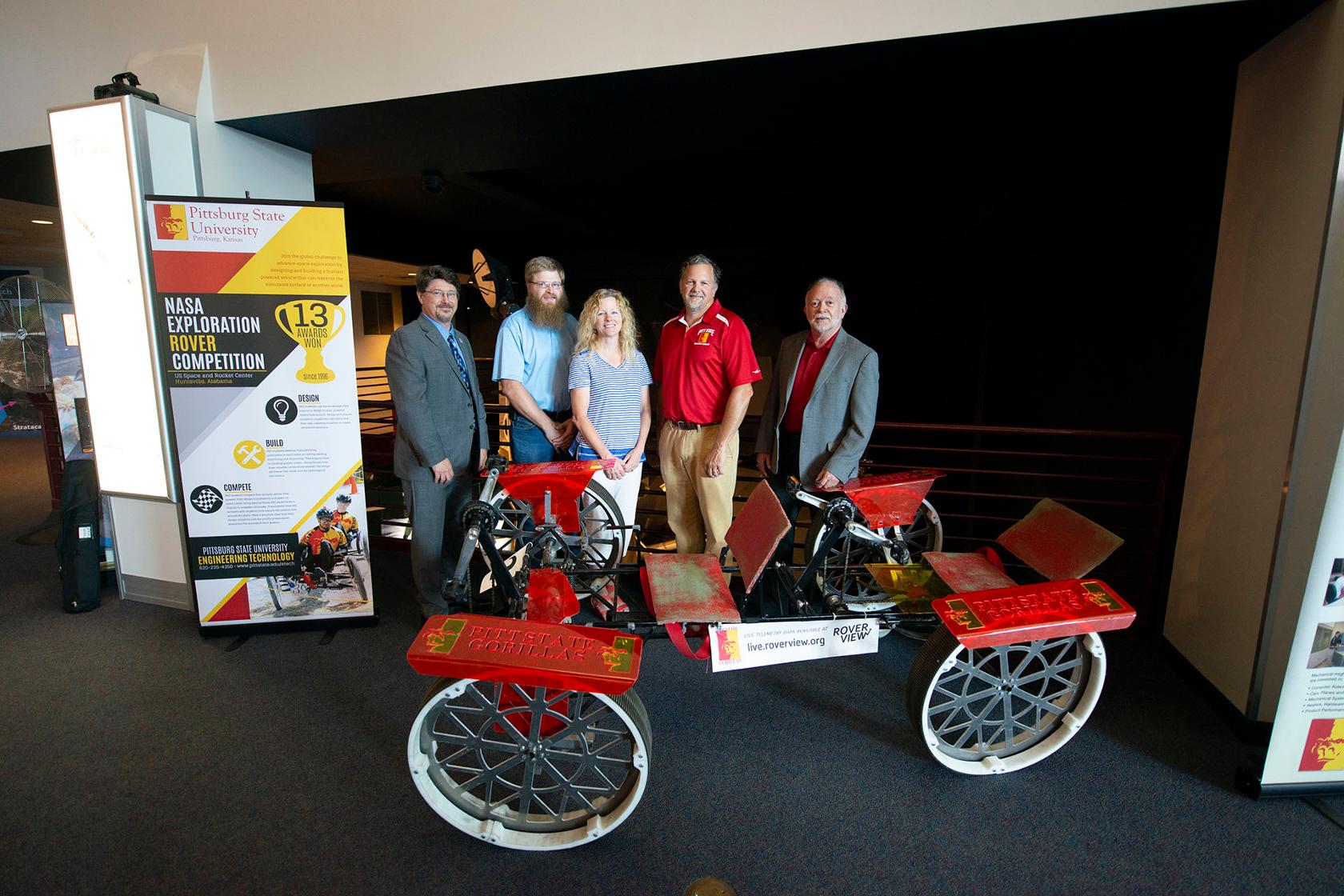 Any of the 110,000 visitors to the Cosmosphere International Science Education & Space Museum might be captivated by the Apollo 13 command module, the Odyssey, on display there. 
Perhaps they'll marvel over the Apollo 11 moon rock or take a selfie with Apollo space suits. 
Starting today, they'll also have a chance to imagine exploring the surface of Mars via a human-propelled rover on display in the center's massive lobby.  
It hasn't been to the Red Planet, but it has competed nationally against other rovers and scored a first-place win in the telemetry category — the process of recording and transmitting the readings of an instrument. 
Unlike the replica Space Shuttle that hangs overhead, the rover wasn't designed by NASA. It was conceptualized, designed, and fabricated by students at Pittsburg State University for NASA as part of the national Human Exploration Rover Challenge. PSU has entered the competition every year since it began 20 years ago and has brought home 13 awards, including three championship wins. 
Greg Murray, chair of the Engineering Technology program at PSU, Jacob Lehman, associate professor, and Tim Dawsey, dean of the College of Technology, transported and installed this year's rover in the lobby of the center Tuesday afternoon. 
While the SR 71 Blackbird spy plane that hangs above the Mars rover still holds the record for the fastest vehicle, and the T-38 NASA astronaut training aircraft to its right can reach speeds of 900 miles per hour, the Mars rover moves at a slightly slower pace — it requires humans to pedal it. 
Tracey Tomme, executive vice president and chief operating officer of the Cosmosphere, joined Carla Standfield, Cosmosphere public relations coordinator, for a spin around the lobby in it after it was unloaded.  
"We want to connect with students and teachers at all levels," Tomme said. "Why not showcase the work of university students here? To us it was a natural partnership." 
"It just fits," she said. "It's space. It's applied learning. It's of interest to the public. It's the perfect addition for us and the perfect place for Pitt State to display it. And, it's nice because it's big enough to see and understand and touch." 
The rover will be on display in the lobby for a month. Then, it will move upstairs to an area visited annually by about 15,000 youth — many of who dream of careers in aerospace, engineering, and other related fields. This summer, 1,100 youth from 35 states have been in immersive camps there. 
Some such youth go on to become students in the College of Technology, Murray said, where programs like aerospace electronics, mechanical engineering design, and mechanical engineering manufacturing prepare them for future careers. 
Lehman was just such a student. 
"I was on the Pitt State team that won the national Mars rover championship in 2006," he said. "I was a senior. It never crossed my mind I'd be doing this today." 
For the past 10 years, he's been an advisor to the PSU teams, guiding them through the steps it takes to compete in the championship. They start shortly after school begins in August by researching criteria set by NASA, developing a concept, establishing a budget and doing fundraising, designing a rover, fabricating components and assembling it, then competing in April. 
"One of the things that's unique about our program is they start from scratch each year — they don't build on or modify an existing rover," Lehman said. "Sometimes we cannibalize the rovers to reuse components, but it's always a completely new design." 
"Students in our program are brainstorming, collaborating, innovating," he said. "It's as real-world as you can get."  
The Cosmosphere's collection of U.S. space artifacts is second only to the Smithsonian's National Air and Space Museum, and the Cosmosphere showcases the largest collection of Russian space artifacts outside of Moscow. To plan a visit, find out more at http://cosmo.org/visit. 
Learn more about the College of Technology at www.pittstate.edu/technology