PSU creates new center for veterans 
  Friday, August 24, 2018 9:00 AM
  Milestones, News, Campus Culture
Pittsburg, KS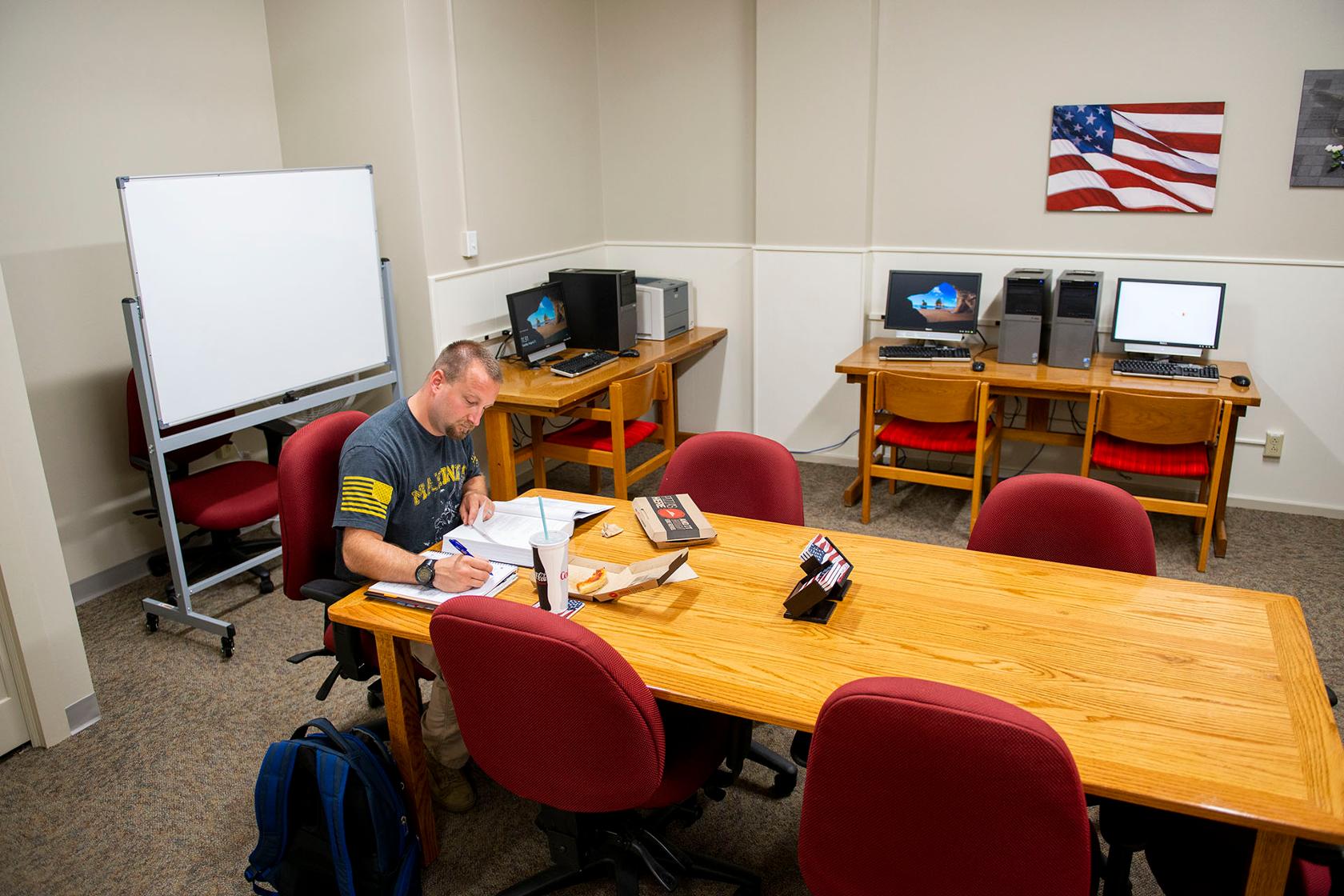 Dedrick Cooper is not the typical university student. He is 30 years old. And he's been around the world, from Afghanistan to Iraq to the Philippines, as a Private First Class in the U.S. Marine Corps.  
The Miami, Oklahoma resident is happy to now be on campus as a senior majoring in electrical engineering. But he's not as interested in the usual collegiate activities that attract younger students. 
When PSU's new Veterans Resource Center opened this Fall in Room 102 Whitesitt Hall, he was thrilled. 
"It's a really comfortable spot," he said as he sat down to eat a lunch he'd purchased at the nearby Overman Student Center. 
The center, for which an open house and ribbon cutting will be held from 2 to 4 p.m. on Aug. 30, is the latest effort by Pittsburg State to make student veterans feel welcome on campus.  
"The goal was to provide them a gathering place, a place they could go between classes to network with each other, find support from those who have had shared experiences and who have a different perspective than traditional students," said Registrar Debbie Greve, who collaborated on the project with Michelle Hensley, PSU's veteran certifying official, and Col. (Ret) Tim Senecaut, advisor of the Student Veterans Organization. "It also is a way they can identify other veterans on campus they may not have had an opportunity to meet." 
That's appreciated by Cooper, who commutes to campus each day and has lengthy stretches of time in between his first class of the day at 8 a.m. and his last class of the day, which ends at 9 p.m. 
"This gives me a place to go in between classes, a place I can study or eat or hang out with others who served," he said. 
With a kitchenette that includes a coffeepot, microwave, and refrigerator, it also allows him to bring meals from home. Couches and arm chairs provide a conversation area. And, with a small computer lab and tables, it gives him a place to complete assignments or simply surf the Internet. 
Senior John Bloemer, a history major who spent six years as a Marine Corps Infantryman, said it will be an ideal location to hold meetings of the Student Veterans Organization, of which he is president. 
"I'm excited that the center is finally ready and it came together beautifully," said Bloemer, who was deployed to Afghanistan and was part of a Marine Expeditionary Unit. He, like Cooper, plans to use the center for homework between classes. 
"Michelle and Tim did an amazing job and I greatly appreciate everything," Bloemer said. 
The open house is open to the public.
Learn more about attending school as a veteran at PSU at www.pittstate.edu/veterans