Nature Reach to celebrate World Wildlife Day locally
  Friday, August 31, 2018 1:00 PM
  Giving Back, News, Science and Technology, Milestones
Pittsburg, KS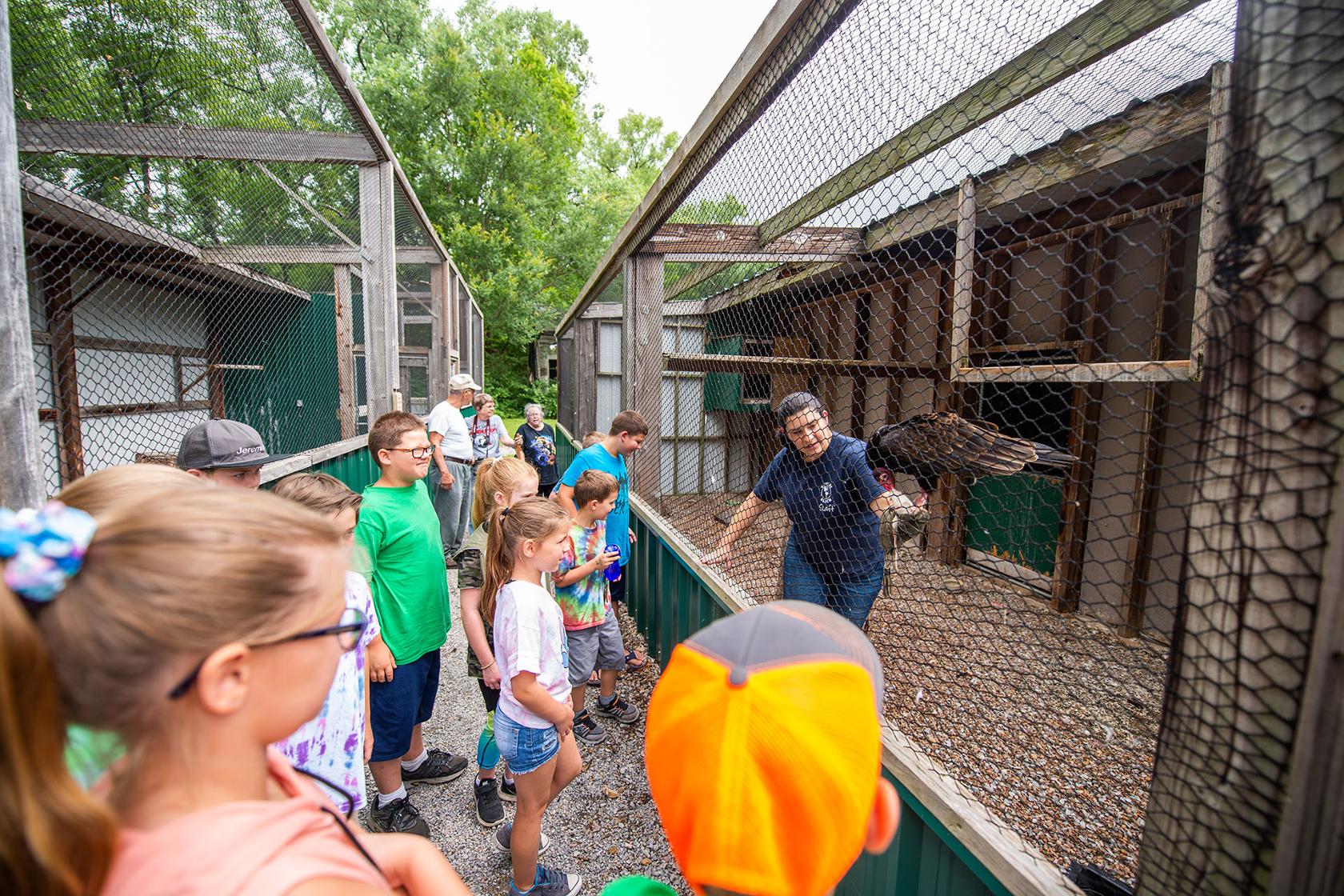 Nature Reach Director Delia Lister will be celebrating World Wildlife Day on Tuesday, Sept. 4, in the most appropriate way she can think of: surrounded by critters large and small, as well as the humans who believe in the power those critters have to transform lives.  
The celebration, which will feature remarks by Lister and by PSU President Steve Scott, will be held from 4 to 6 p.m. in Room 328 Heckert-Wells — the building that houses the Department of Biology — and is open to the public.  
Working out of PSU's Biology Department since 1985, Nature Reach is committed to providing natural history and environmental education outreach programming to school and community groups, from public libraries to state parks. It is funded by program fees, grants, and private donations.  
"You won't find another entity in this region that can do what we do here at PSU Nature Reach," Lister said. "We go to directly to classrooms with live animals, we provide summer programming, we help teachers become better educators, and we provide valuable, real-world training to college students who want to go into careers from veterinary medicine to wildlife management."  
Since Lister began keeping track of her programs 11 years ago, 45,000 people have benefitted from a Nature Reach presentation in 30 communities throughout the region.  
"In many cases, Nature Reach is the first introduction children have to PSU," she said. "My guess is that in every group, there are some future Gorillas."  
The program also impacts current Gorillas: Each semester, five to seven student workers and volunteers put in time caring for approximately 50 animals and helping to prepare programs. Lister was once one of those student workers.  
"Nature Reach wouldn't exist without the dedicated students who help, but in turn, they leave this program having had incredible hands-on experience that prepared them for future careers," Lister said. "Many of my students have gone on to become veterinarians, vet techs, state park rangers, and other similar positions."  
One of those students was Brandy Wrestler, who graduated with a degree in biology in 2016.  
Wrestler worked for Nature Reach, caring for animals and ensuring cages were clean. The experience, she said, helped her land a pre-vet internship at Dickerson Park Zoo in Springfield, Missouri, and helped her gain acceptance in veterinary school at Oklahoma State.  
"At the zoo, I knew how to handle and act around raptors — something that a lot of interns from other universities weren't totally comfortable with," she said. "And I truly feel that without the diverse experience Nature Reach gave me, my application would not have been nearly as well-rounded, and I wouldn't have had as much success applying to veterinary school as I did. I can't say enough good things about Nature Reach and PSU."  
Lister said she's appreciative of the support PSU has given Nature Reach since it began.  
"I believe it demonstrates the commitment PSU has for being a resource to the Pittsburg community and surrounding communities, and in providing students of all ages transformational experiences," she said.  
Did you know?  
Nature Reach is home to one of the three oldest captive Harris hawks on record: Harriet, age 34, who has been the Nature Reach animal ambassador since 1988.  
Learn more about Nature Reach athttps://pittstate.edu/biology/nature-reach/