Faculty, staff gather to kick off new year
  Friday, August 17, 2018 7:30 AM
  People and Society, News, Campus Culture
Pittsburg, KS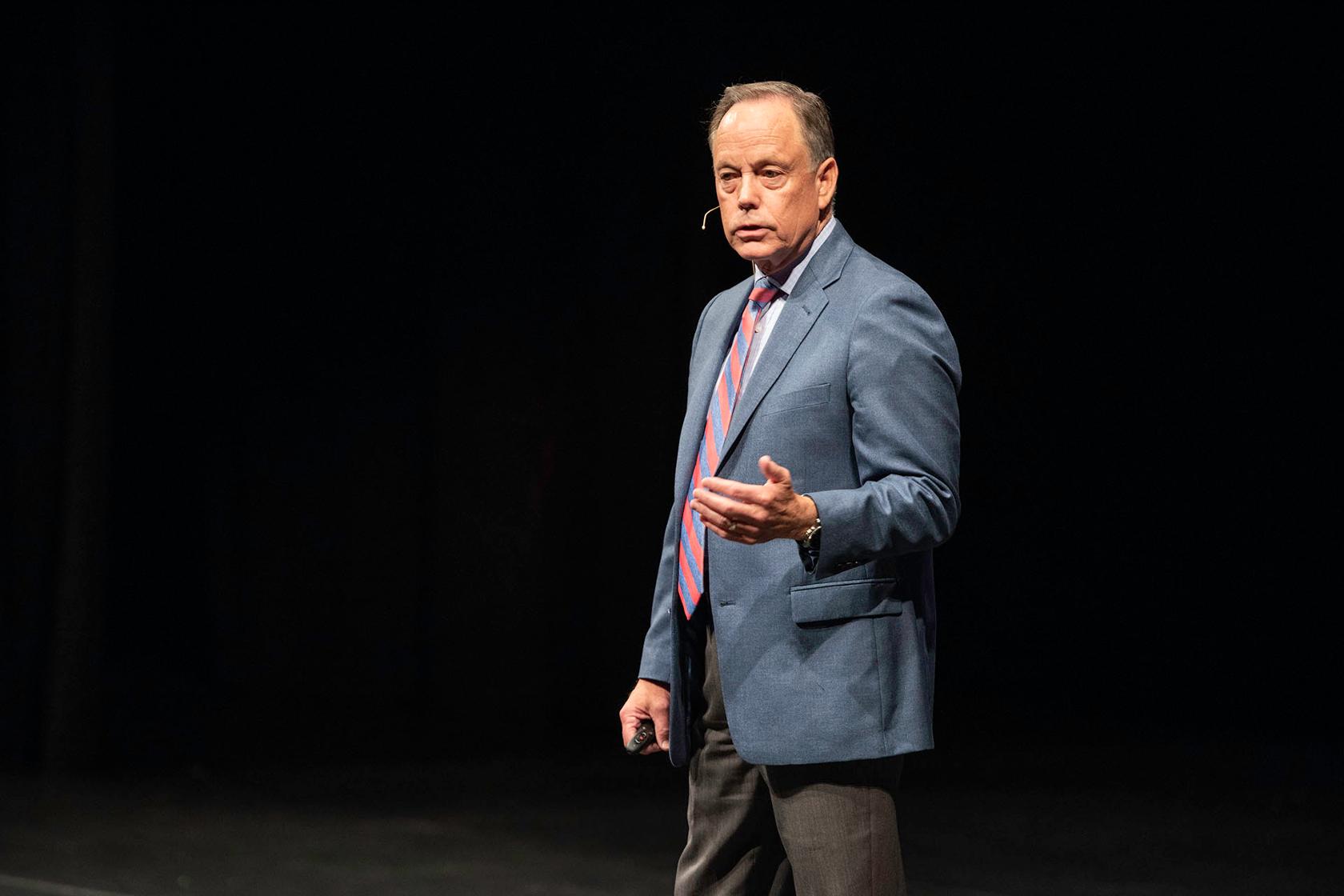 As has been tradition for many years, Pittsburg State University faculty and staff gathered Thursday morning to officially kick off a new academic year; classes begin Monday. 
But just as important as looking ahead, noted President Steve Scott in his remarks to the group, is taking a moment to celebrate accomplishments from the past year. 
Private donors gave $900,000 to finish off the one remaining undeveloped area of the Bicknell Family Center for the Arts — a rehearsal space for the Department of Music capable of holding the entire PSU Wind Ensemble or the SEK Symphony. Currently, the department uses space in the Kelce College of Business for those rehearsals. 
He recognized numerous achievements by faculty, including the induction of Psychology Professor Becky Brannock into the Kansas School Counselors Hall of Fame; three solo art exhibits in New York City galleries by Department of Art Chair James Oliver; and the appointment of Education Professor Susan Knell, who has gained an international reputation in children's literature, to the prestigious Hans Christian Anderson Award Committee. 
Staff also racked up a number of recognitions in the past year, including the IT Department, which won the 2017 Cloud Leadership Award at EduCause. Work by the team that creates the Pittsburg Micropolitan Economic Report was cited for providing valuable data for regional decision-makers in business, industry, and government. The staff of the PSU Student Recreation Center, which opened in 2008, recently celebrated its one millionth visit. 
And student groups like Enactus, Graphics & Imaging Technologies, the Technology & Engineering Education Collegiate Association, and SAE Kansas Baja brought home trophies and medals from national competition. 
Provost Lynette Olson, vice president of Academic Affairs, introduced faculty and staff who were hired in the past year to fill positions in departments and divisions ranging from Accounting to the Student Center for Accommodations. 
A video highlighted veteran faculty member, Bob Kehle of the Department of Music, who recently marked a milestone of 40 years at the university. He had intended to stay here just a few years. In his remarks, Kehle said there are many things happening on campus that aren't always seen but are an important part of the mission — from publications by English and chemistry professors to ground-breaking research being done at the Kansas Polymer Research Center. 
But perhaps most important, Scott said, was a video he shared to conclude the ceremony, a video that underscored the reason the university exists: to educate students and equip them with what they need to make a difference in their lives and their communities. 
It highlights alumni Alex Kuhlman (BS '11) and Bailey Waugh Kuhlman (BS '13 BSN '13), both of whom described their experiences on campus as having ignited a passion to pursue their careers in physical therapy and nursing. 
It also ignited in them something else: a desire to become permanent residents of Pittsburg, to raise their three children here, and to open up a new business — Physi-Kuhl Therapy — to serve the Pittsburg community.  
Coming up 
Classes begin Monday, although many students are out and about on campus already, with members of the band, drumline, color guard, and dance team rehearsing their fall halftime shows and sororities and fraternities going through Rush Week. 
Move-In Day is Saturday for students living in residence halls and Block22.