Student curates special exhibit at Bicknell Center
  Tuesday, July 24, 2018 9:00 AM
  Campus Culture, News, Milestones, Arts & Entertainment
Pittsburg, KS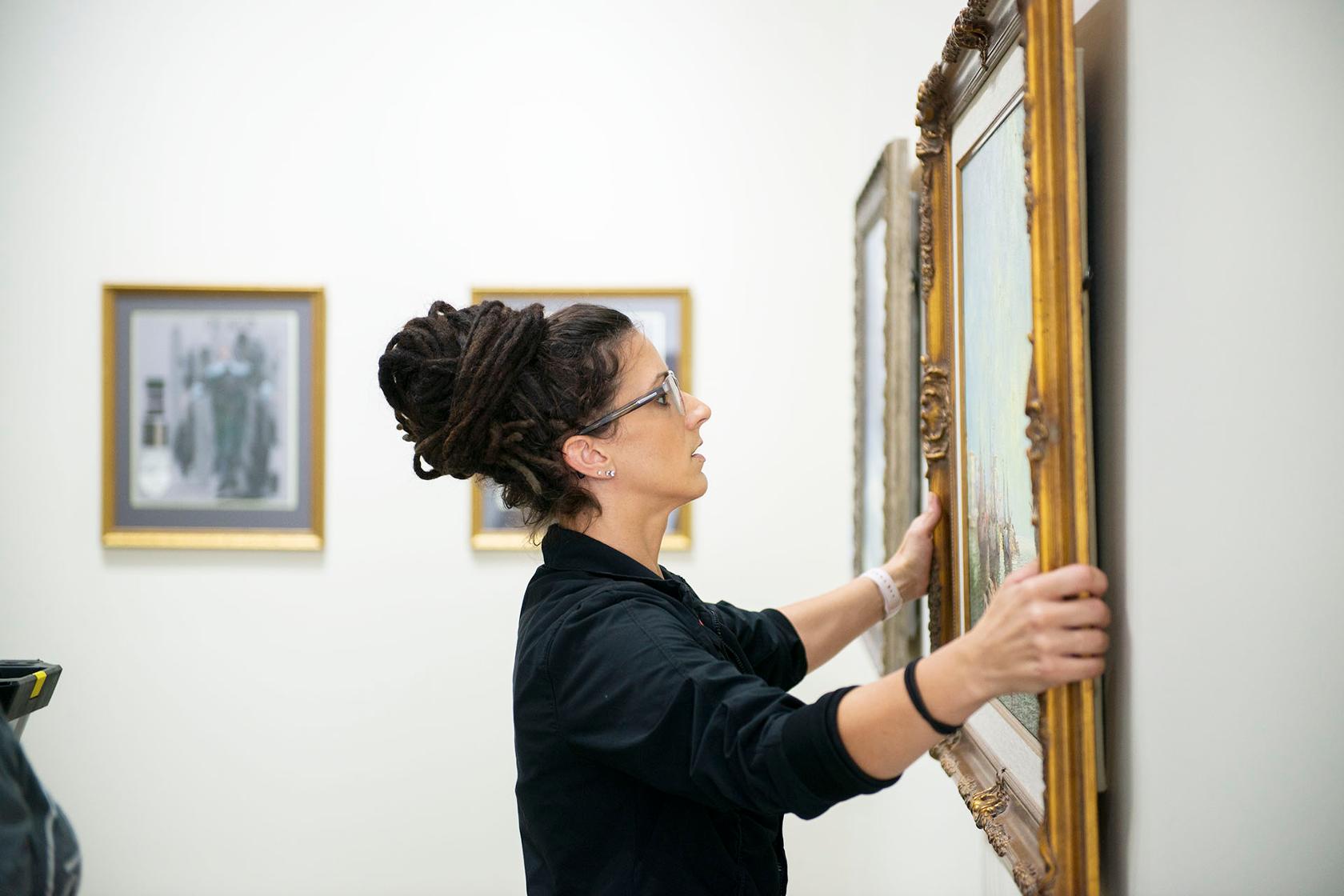 While audiences who attend events and performances at the Bicknell Family Center for the Arts are focused on the entertainment, students who are working behind the scenes are focused on something very different: preparing for their careers. 
Some oversee the technical components of a production, while others livestream concerts via broadcasting equipment. Still others assist with event planning. 
"Everything we do has an academic component and is student-focused," said Joe Firman, director. "Every day we take a $33 million building and turn it over to the students." 
Among them is Shawna Witherspoon, an art student from Riverton, Kansas, who is employed as an assistant at the Bicknell Center. After spending the past eight months examining, researching, curating, measuring, and preparing, this week she's putting the finishing touches on an exhibit in the Gallery. 
When it opens Aug. 1, it will represent a milestone for Pittsburg State. Entitled, "The Vault: Unlocked," it features works from Special Collections and the University Archives that were preserved during the university's 115-year history.  
Many of the pieces were created by alumni, faculty, local artists, or were purchased by individuals and donated to the university, Witherspoon said.  
She began the exhibit with research, making copious notes, digging into historical documents to find answers to her questions, occasionally tracking down artists if they still were living.  
Witherspoon relied on the expertise of Randy Roberts, now the dean of Axe Library and for many years the curator of Special Collections and the University Archivist, as well as Steve Cox, who a few years ago assumed that role. She was assisted by Janette Mauk, senior administrative specialist in Special Collections, Jamie Oliver, chair of the Art Department, Alex Wiedemann, event manager at the Bicknell Center, and Firman. 
She then created a PowerPoint of her favorites and went through it with Firman and Wiedemann to narrow them down. 
"It wasn't easy," she said. "There were four or five I really wanted to use, but once you start putting a tape measure to the walls, and you need this many oils, this many prints, this many of this size or that size, some have to be cut." 
This is the third year in a row a unique exhibit will be displayed in the Gallery. Previous years saw an exhibit showcasing the work of longtime university photographer Malcolm Turner, and an exhibit showcasing the work of photography students in Graphics & Imaging Technologies.  
"This time, we wanted to showcase the magic of the University Archives and how important it is," Firman said. "At the same time, we want everything we do to have a connection to the students, to give them professional experience and ownership. We shared the overall vision with Shawna, and told her 'We're here to help you, but it's your project'." 
Witherspoon, an incoming junior, is working toward a bachelor's degree in fine arts, and through the project learned she loves the curation and gallery side of art. 
"In working with Steve, I've found a fascination in the preservation aspect I never would have thought of," she said. "It actually inspired me to do a gallery internship this Fall in the Art Department." 
And, she said, winding up working in a full-time position doing exhibit curation would be "a dream job." 
"To be able to be here, to share the knowledge of art with people locally and all of the visitors we have...to have a resident artist in the gallery — there is just so much potential here," she said. "This was a project that really changed my path." 
A reception is planned for 6 to 7:30 p.m. on Aug. 23, and Witherspoon is sending invitations to the artists who are still living. The public is invited. The exhibit will remain in place throughout the school year. 
Learn more about the Bicknell Family Center for the Arts at www.bicknellcenter.com
Learn more about Special Collections & the University Archives at axe.pittstate.edu