Highway 69 expansion to boost PSU
  Wednesday, July 18, 2018 4:00 PM
  Milestones, News
Pittsburg, KS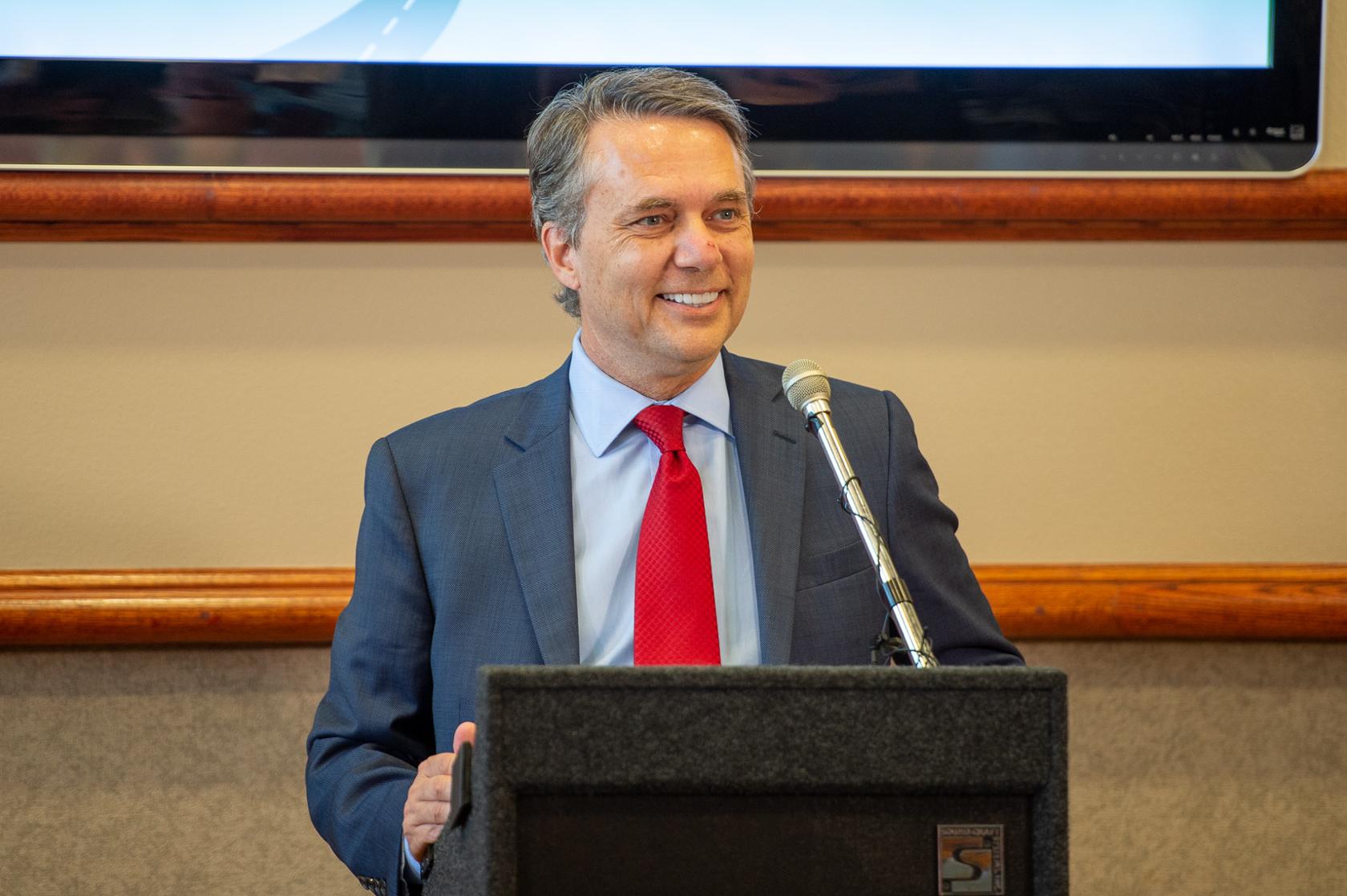 A long-sought after milestone in the progress of the U.S. Highway 69 Corridor project was announced by Kansas Gov. Jeff Colyer Wednesday at Pittsburg State University to a packed room of city, county, and state elected officials, Southeast Kansas business leaders and Pittsburg Area Chamber of Commerce members, the Highway 69 Association, and other key stakeholders. 
The 11-mile stretch, projected to cost $57 million, will connect Pittsburg to the existing four-lane highway that ends north of Arma, Kansas. 
PSU President Steve Scott called it "an exciting day" and thanked those present for tireless efforts to advocate for the expansion project for 50 years — particularly Ken Brock, who heads up the Highway 69 Association. 
Colyer made the announcement in the Admissions Office, which was not a coincidence, Scott noted. 
"We chose to come to this space...this is the space where we host prospective students at Pittsburg State University," Scott said. "As those students come to campus, many of those students come down Highway 69 to arrive at this building ...in many ways, their first look at Pittsburg State is Highway 69." 
Scott said the developments to U.S. Highway 69 to date have had a significant impact on enrollment. 
Last fall, more than 1,600 students from the Kansas City metropolitan area enrolled at Pittsburg State. Students from that area, which includes Johnson County, comprise more than 23 percent of the student body — or more if only undergraduates are counted. In fact, Scott said, Johnson County now rivals Crawford County in terms of incoming freshmen. 
"This is a big, big deal," Scott said. "That's what makes this announcement so exciting, and such an important day to say 'thank you'." 
Pittsburg State is the only Kansas university without access to a four-lane highway. But Colyer said the impact will be felt far beyond Pittsburg. 
"It's essential for the state for the next 100 years," said Colyer, referring to the state's workforce and industry. 
A ground breaking tentatively is planned for Fall 2019, although Colyer indicated it could be as early as Summer 2019. 
"I can't wait until we're turning some dirt," he said.