Pitt State graduate seeks crown 
  Wednesday, June 6, 2018 9:00 AM
  Alumni, People and Society, News
Pittsburg, KS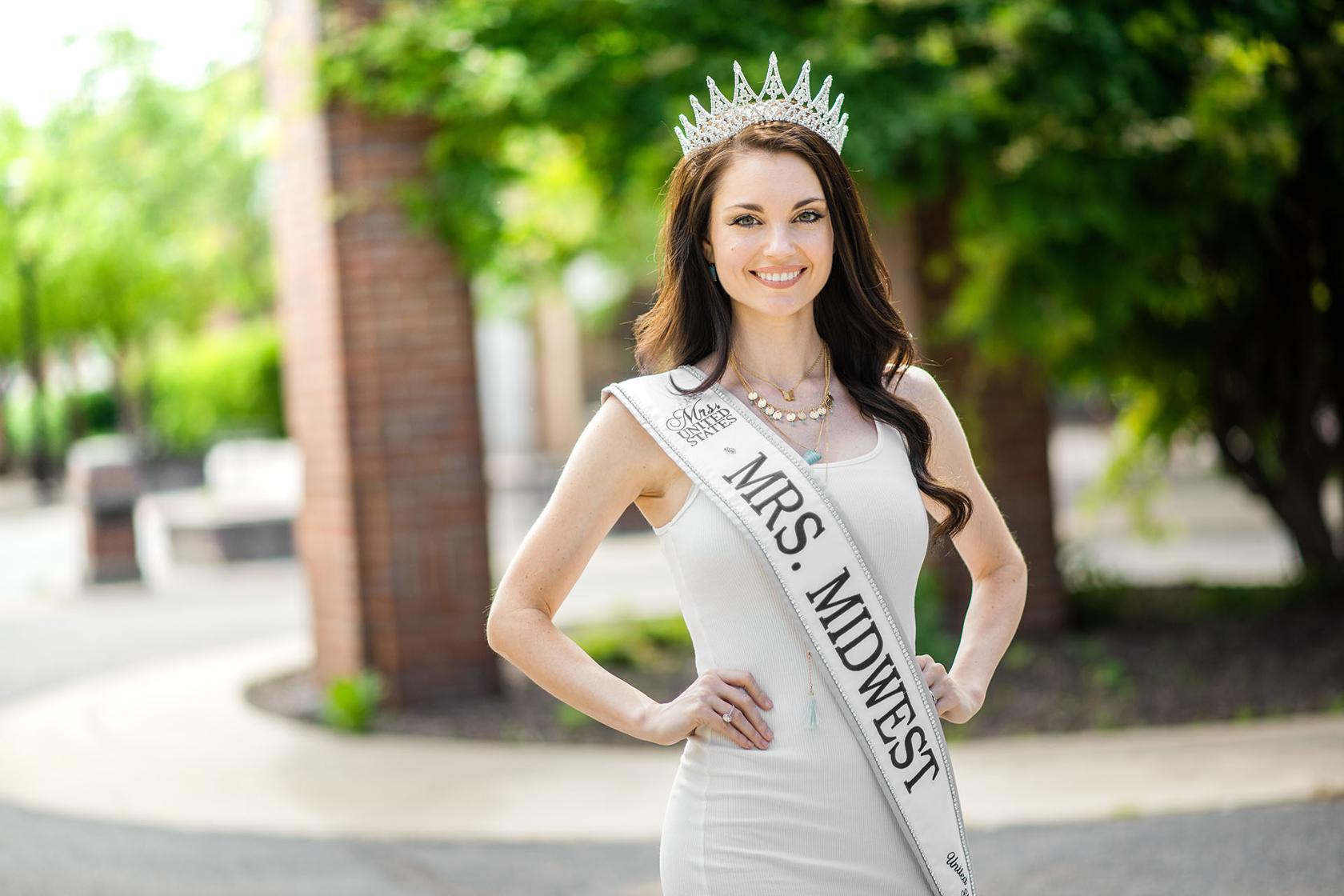 Three-time Pittsburg State graduate Samantha Reinecke has a shot at being crowned Mrs. United States next month, but for her, it's not about the crown. 
Reinecke, who was crowned Mrs. Kansas in 2010 and 2015 and was crowned Mrs. Midwest in April this year, is passionate about adoption. She's also passionate about children with special needs. 
Should the Chanute, Kansas, native win the Mrs. United States pageant in Orlando, Florida, she sees it as a path to Washington, D.C., where she can take her advocacy for both platforms to the next level. 
"I could be a national voice for both adoption and special needs children on a much larger scale," she said. "That would be my dream come true." 
Reinecke earned her bachelor's degree in education from Pittsburg State in 2007 and was hired to teach English at Chanute High School.  
She and her husband, Shawn, who serves in the U.S. Air Force, soon welcomed their first child, but after life-threatening complications following their daughter's birth, they were told further pregnancies might not be safe. They battled secondary infertility for two years before pursuing adoption. 
"My husband was adopted, so we had an understanding of it," Reinecke said. 
Incredibly, five days before the child to whom they were matched was to be born, they learned Reinecke herself was pregnant. That pregnancy would later result in a set of healthy twins. 
"We went from having one child to four in eight months," she said. 
Their experience with infertility and adoption were powerful and inspired Reinecke to make adoption her platform in pageants.  
"It changed my outlook entirely," she said. "So, I began a campaign to make the entire process easier and more affordable to people wanting to adopt." 
As Mrs. Kansas, she shared her story with lawmakers in hopes of getting legislation changed. 
It was her experience with her sister's daughter, meanwhile, that inspired her to seek her advanced college degrees and alter her career path to include special needs children. 
"My niece has muscular dystrophy," Reinecke said. "I returned to PSU to get my master's in special education, which I got in 2014. With it, I was able to begin teaching in a third-grade interrelated classroom. It was the right choice — it's where I was meant to be." 
She wasn't through, though. She turned to online courses in order to earn her Ed.S. in Educational Leadership-Special Education, a degree she earned in May. 
"Having the option to take classes online was perfect," she said. "My husband was deployed several times — Afghanistan, Russia, Qatar, and Curaçao — and with four children, I could Skype from home with them on my lap." 
She credits support from PSU College of Education instructor Terri Swanson, as well as family and friends, for completing that degree, and has plans to continue her education next January with another advanced degree. 
For now, though, she has her sights set on Orlando, Florida, and becoming Mrs. United States. 
"It's exciting, and I'm proud to be representing my home state," she said. "I want to make a difference."
Learn more about Pittsburg State's online degree programs at https://online.pittstate.edu
Learn more about Pittsburg State's College of Education at https://education.pittstate.edu/