Pitt CARES helps freshmen, parents
  Tuesday, June 12, 2018 2:00 PM
  Campus Culture, Academics, News
Pittsburg, KS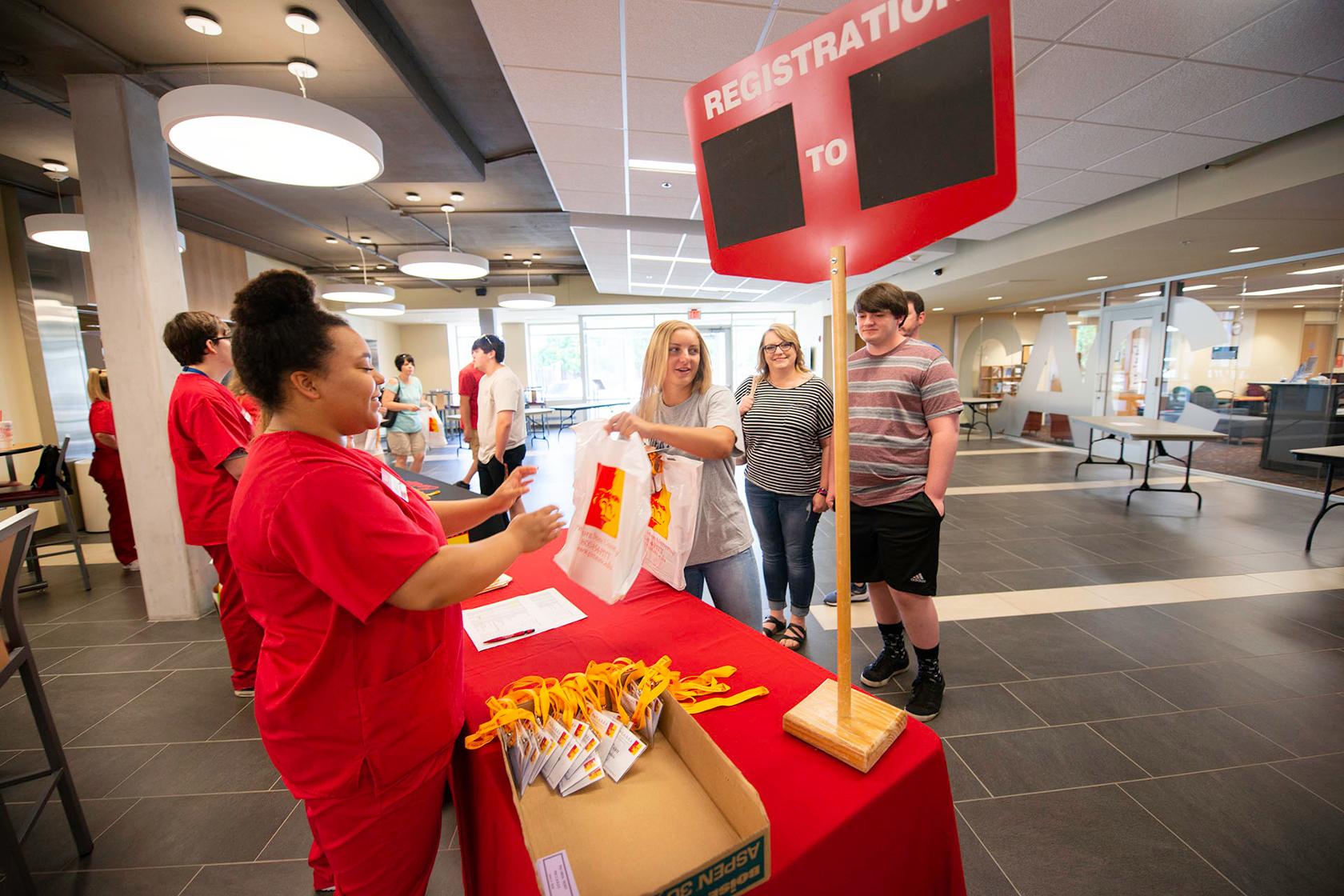 Katelin O'Brien and her mother, Carla, were both a bit nervous when they came to campus this week — each for different reasons: Katelin is an incoming freshman, and there is a lot to learn before classes even start.  
"I'm going to be in pre-pharmacy," Katelin said, "so I just want to make sure I take the right track of courses. And, I need to find out all of the other things that go along with college life."  
Their nerves soon eased: the pair were able to get those questions answered, other concerns addressed, and enroll in classes, all in a one-stop shopping style approach at Pitt CARES (short for Campus Advisement, Registration, and Enrollment Services).  
The summertime event was started to assist new freshmen with their transition, and to help parents, too. For each day-long session, campus representatives inject a light-hearted approach — for this summer's theme, "Operation Success," they are greeting attendees in scrubs — to make it fun and not as overwhelming.  
Representatives from across campus offer information and opportunities at booths scattered throughout the Overman Student Center, from how to get a job on campus to what to expect from university housing. Academic advisors are on hand to meet with students and help with the enrollment process, and students may apply for and have their photo take for their Gorilla ID cards. 
Rita Girth, from the Bryant Student Health Center, provides students with forms to complete to show proof that they meet the mandated immunization policy.  
"All new incoming students need two MMRs, and if they are living in university housing, they need to have had a meningitis shot within the last five years," she said.   
Tammy Higgins, from Financial Assistance, is on hand to help those who needed to complete their applications.  
"It can be a little frightening because this is all new," she said. "We are here to lend a helping hand and eliminate that fear."  
Heather Eckstein, director of Student Success Programs, said the goal of the event is for students to feel comfortable with their decision to attend Pittsburg State, and to have the materials they need.  
"We provide them resources and let them know which individuals in which offices to contact," she said. "We talk about how the transition from living at home to living away will work. We assure parents they will stay connected, talk to them about challenges their students might face and how to address it. Basically, we give students and parents everything they need to start the semester successfully."  
Helping to run the event are Pittsburg State sophomores, juniors, and seniors who were chosen to serve as orientation leaders.  
"They've gone through extensive training, and can really share a student's perspective," Eckstein said.  
Remaining CARES sessions include June 13 (registration is closed), June 18, June 20, June 25, and June 27. Details: https://admission.pittstate.edu/undergraduate-admission-information.html.