Nature Reach provides teachers unique training
  Wednesday, June 20, 2018 9:00 AM
  News, Alumni, Science and Technology
Pittsburg, KS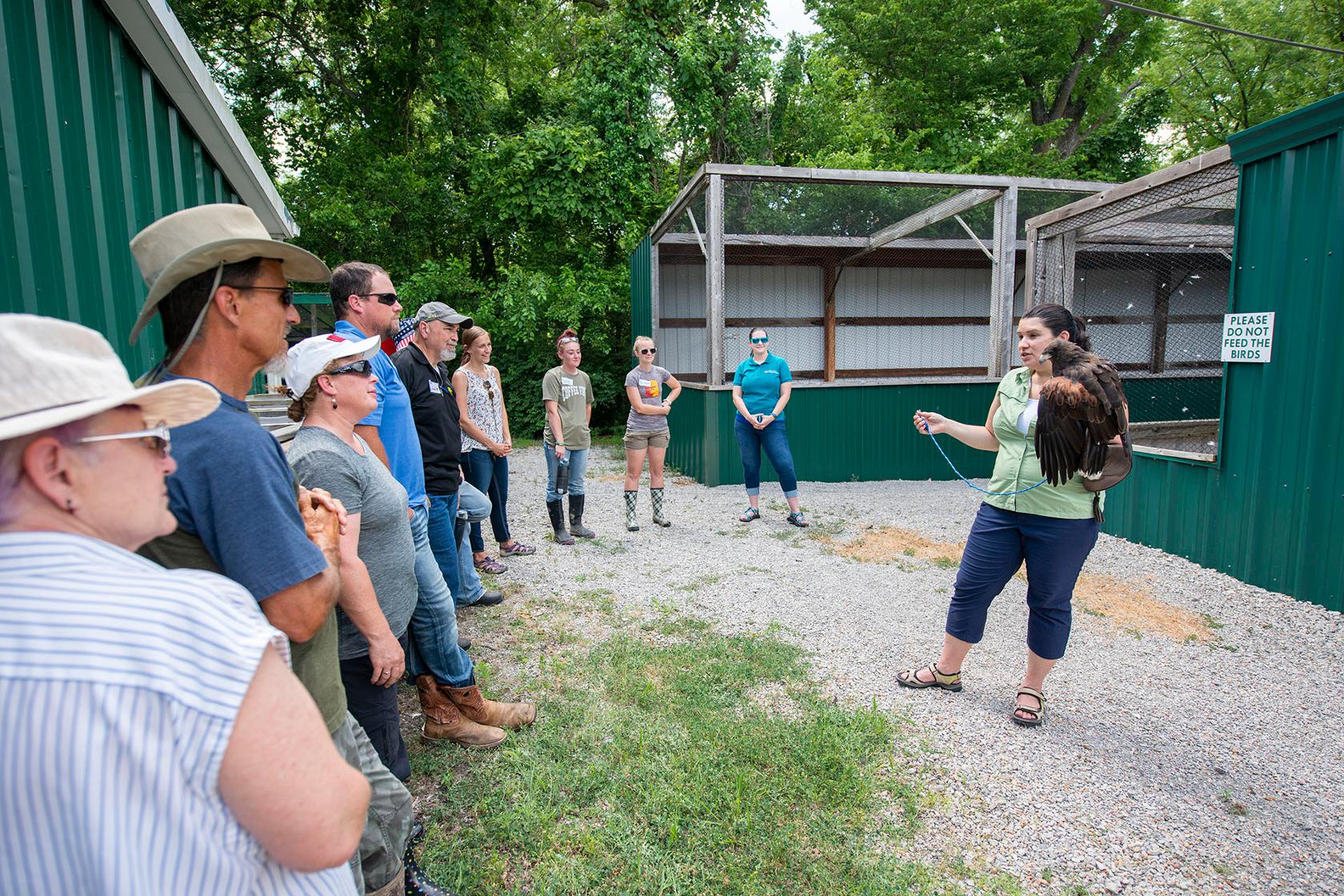 Bridgett Walker was learning how to be a better teacher in an unlikely way on Tuesday: dressed for the outdoors and with hair up in a ponytail, she was hurrying from hula hoop to hula hoop on a large grassy area, pretending to be a migrating bird in search of food and water.  
Walker, who earned her bachelor's in education at Pittsburg State in 2009 and her master's in 2013, was back on campus again for "Environmental Education in Southeast Kansas," a workshop organized by PSU Nature Reach, Kansas Department of Wildlife, Parks, & Tourism, and the Southeast Kansas Nature Center, and the Kansas Association for Conservation & Environmental Education. 
She hunted for macroinvertebrates — snails, dragonflies, crayfish, and the like. She got to meet a Harris hawk named Harriet. And she earned continuing education points for participating. But most importantly, she said, she will return to Lakeside Elementary this fall armed with activities she can implement immediately — ones that will impact her students for years. 
Her goal: to improve the skills and knowledge of her fifth graders when it comes to understanding nature, wildlife, and the impact of humans on it. 
Experts at Stanford University found that beyond helping youth prepare for eventually taking care of our planet, environmental education improves their overall academic performance, enhances critical thinking skills, helps them develop personal growth and life-building skills, and increases civic engagement and problem-solving. Youth who engage in learning about the outdoors also are more apt to be physically active, more creative, less depressed, and more civil to one another. 
"There are so many ways I'd like to implement all of this," said Walker, who wrote a grant last year to fund the installation of a butterfly garden at the school. "We'd like to install bat houses because we have a bat population, and maybe learn about composting left over fruits and vegetables from our school snack program that in turn can help our garden." 
Walker was learning alongside a diverse group of educators from across the region who came to PSU for the workshop. They included Martha Pierce, the director of Tall Oaks Conference Center in Lindwood, Kansas, who came to learn activities to use with campers of all ages and ability levels, and Julie Aikins, a retired teacher from Royster Middle School in Chanute who recently wrote an Outdoor Wildlife Learning grant to for use at a former golf course that has been converted into a nature education and recreation area. 
Delia Lister, the director of PSU Nature Reach, utilized the labs in the Biology Department, where Nature Reach is housed, as well as the university's Natural History Reserve a few miles southwest of Pittsburg. Next week, she'll lead summer learning camps for children there. 
"Now more than ever, children need access to environmental education," said Lister. 
Fewer than two in five American youth participate in any of these activities on even a weekly basis, activities in which they might glean an understanding of the natural world: hiking, fishing or hunting; visiting a local park, creek or beach; visiting a national or state park or nature center; or visiting a natural area outdoors. By comparison, 88 percent of youth spend time online everyday.
Since 1985, PSU's Nature Reach has been at the forefront of providing environmental education for youth throughout the Four State Area. Lister uses the live animals under her care to provide outreach programming at schools and parks, and invites preschools and other youth groups to the Nature Reach facility for story times. Next week, she'll conduct a camp for first, second, and third graders at the Natural History Reserve. 
"It's just as important as what people consider to be the core academic subjects," she said. 
Walker said she'll be integrating environmental education into the core subjects — particularly reading and math — with her fellow fifth grade teachers. 
"We're lucky to have this resource right here in Pittsburg," Walker said. "I think it's going to have a great positive impact on my students." 
Learn more about Nature Reach at https://www.pittstate.edu/biology/nature-reach/index.html
Learn more about the College of Education at https://education.pittstate.edu/index.html