KC youth visit campus for STEM activities
  Sunday, June 24, 2018 11:59 PM
  Science and Technology, News
Pittsburg, KS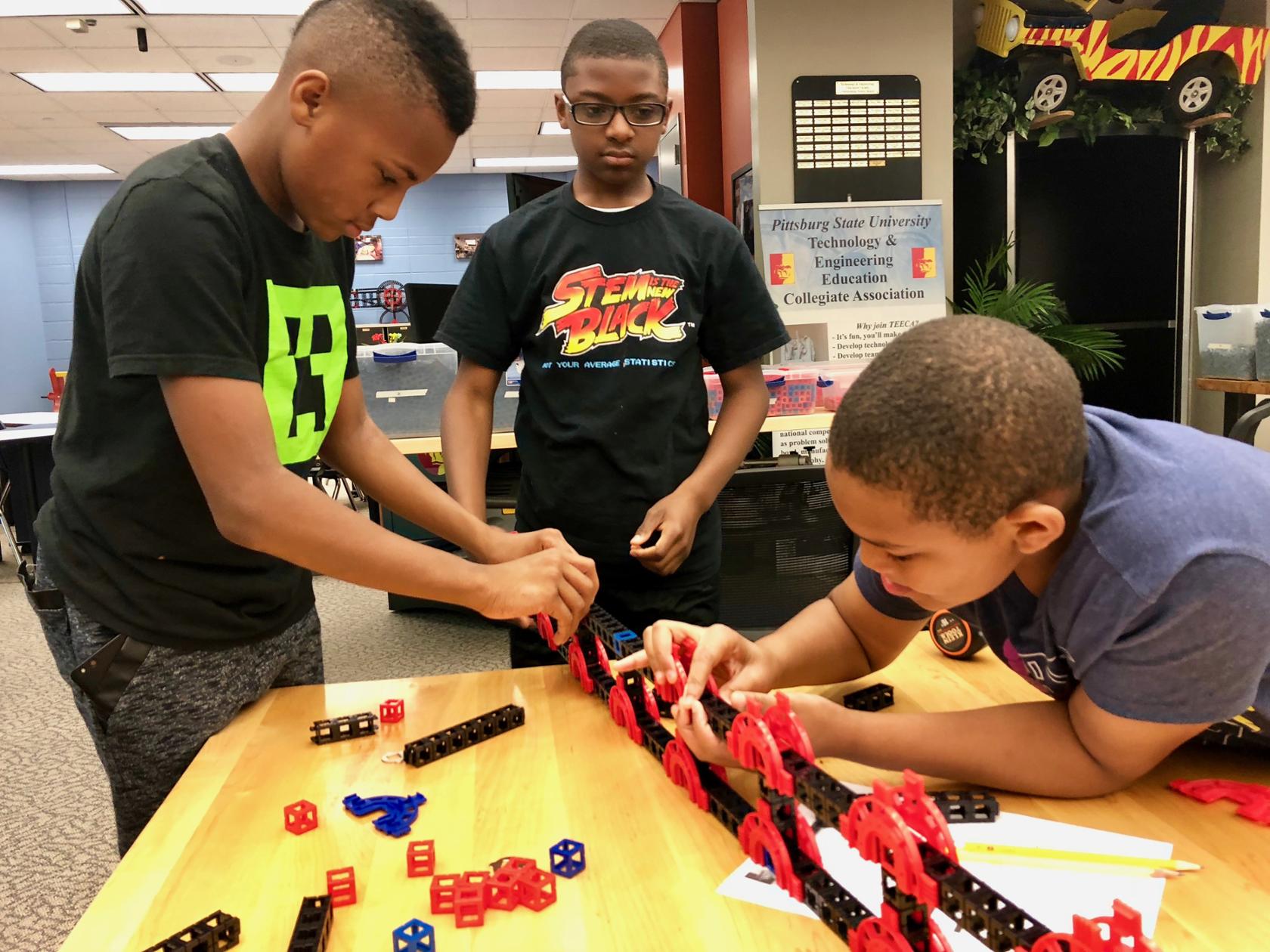 The 80 students who came to the Kansas Technology Center to learn last week were much younger than those who typically take classes there. By several years, in fact. 
But it's never too early to introduce children to science, technology, engineering, and math concepts, explained William Wells Jr., one of the adults accompanying them. And two hours wasn't too far to drive to do so, he added. 
"It was totally worth it," he said as he watched members of the group engage in hands-on STEM activities. 
The group was from aSTEAM Village Summer Camp, a seven-week program that Wells directs. It attracts students from multiple school districts across the Kansas City metro area. 
"This is an invaluable resource," Wells said of the KTC at Pittsburg State. "We've been coming here every summer for four years." 
Children worked in teams in the KTC's Technology Learning Center to construct a bridge out of Rokenbok building pieces, then went down the hall to operate heavy equipment on a simulator. School of Construction Chair Jim Otter engaged small groups in experiments that required them to make mental calculations, while other faculty helped them put on virtual reality goggles to explore blueprints of buildings.  
"This is a really cool place," said Courtney Crawford, who will be entering ninth grade this fall and is interested in engineering as a possible career path. 
Wells, along with the other adult chaperones who accompanied the group, hopes exposure to places like the KTC opens the eyes of the youngsters like Crawford to opportunities beyond high school. 
"We want to create awareness to various careers, to expose them to colleges, and to show them how much a higher education will help them get to where they want to be," he said. 
A trip to the KTC a few years ago inspired Marquis Warfield, who at the time was serving as a camp leader for aSTEAM Village. He became interested in the KTC and the career paths it offers, and an admissions representative followed up. Warfield will be an incoming freshman at Pittsburg State this fall. 
"I'm as excited as they are — I didn't even know this place existed," said H. David Whalen, an industrial engineer who was accompanying his grandson on the trip. "That they would do programming for young kids is awesome. It inspires them and lets them know what's out there." 
For another chaperone, Bernice Cottrell, it was a homecoming. She graduated from Pittsburg State in 1973 with a bachelor's degree in education and was pleasantly surprised at how the campus and the programming have grown. 
"The children don't have access to this sort of thing in public schools," said Cottrell, who spent 34 years in public education. "The collaboration and teamwork they are doing here is amazing, and it's exactly what they will need in their future careers. I love it."
While in Pittsburg, the students also visited Pitsco Education to try their hand at robotics and engineering activities.
To learn more about the College of Technology visit https://www.pittstate.edu/technology/index.html
To learn more about the Kansas Technology Center, visit https://www.pittstate.edu/technology/index.html#undefined2