Teachers receive awards from College of Education
  Monday, May 7, 2018 3:00 PM
  News, People and Society
Pittsburg, KS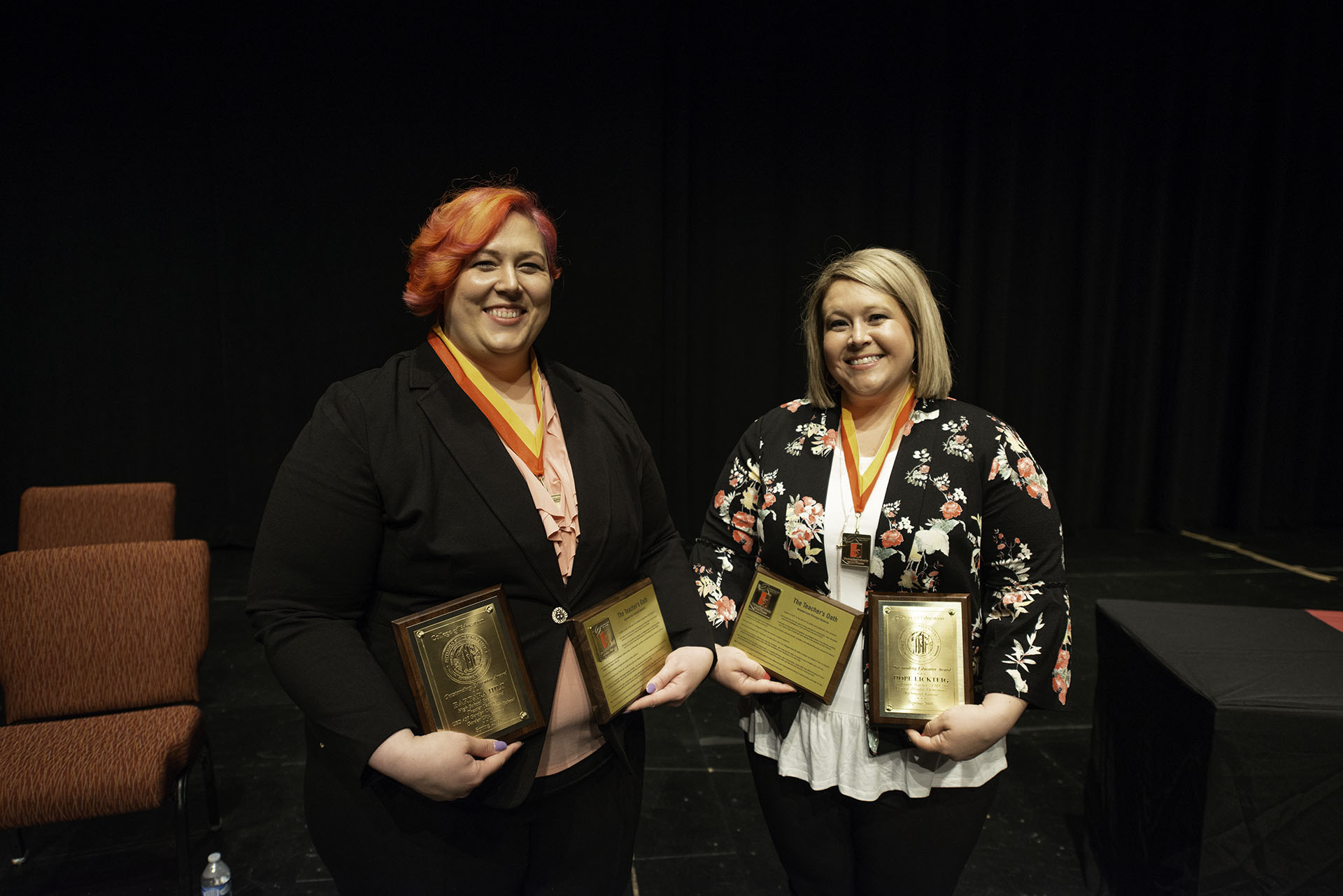 Each spring, the College of Education recognizes one outstanding elementary and secondary teacher who have distinguished themselves within their first seven years of service and exhibit the potential to make significant contributions to education. 
This year, those teachers were Hope Lickteig, a third-grade teacher at Central Heights Elementary School in Richmond, Kansas, and Barbara Hilt, a high school speech and theatre teacher in Garden City, Kansas. Both received their awards and were recognized in a ceremony today in the Lee & Linda Scott Performance Hall at the Bicknell Center for the Arts.
Lickteig received the Outstanding Elementary Educator Award. She earned her bachelor's degree in elementary education from PSU in 2008, and her master's in technology integration in 2013. 
Prior to her current position, Lickteig taught at Spring Hill Elementary and Wolf Creek Elementary in Spring Hill, Kansas. 
"All of the experiences that Pitt State put me through in the field, the practicum classes, all were really eye-opening," she said. "I was able to spend time in three elementary schools in Pittsburg, one in Frontenac, and the type of hands-on education I got prepared me for my first year in my own classroom." 
Lickteig said she appreciated the personal interest all faculty members in the College of Education show in students. 
"They know us, they know our names, and they care," she said. 
Her nominators observed that her passion for teaching is reflective in the way she continually tries to improve learning for her students by providing relevant and rigorous experiences while at the same time, being fun. One colleague called her classroom "a laboratory of learning." Another said she cultivates a classroom environment that meets their individual needs. 
Lickteig has been involved in numerous organizations and leadership teams, is a member of Literacy Integration Family Engagement, Positive Behavior Support System, and Building Leadership Team, and serves as pep club sponsor and cheer coach.  
She was nominated for Teacher of the Year at both Spring Hill and Richmond. 
Hilt is the recipient of the Outstanding Secondary Educator Award. She earned her master of arts in teaching from Pittsburg State in 2012. 
A Pittsburg native, Hilt received her bachelor's degree in theatre from Culver-Stockton College in 2002 and after substitute teaching in Wichita Public Schools and working at a youth home in Columbus, Kansas, she was inspired to pursue a master's degree and become a teacher. She said faculty in the College of Education were "amazing."
"All of my teachers were excellent – I've had students say they want to become teachers, and I encourage them to go to Pitt," she said.  
She began her teaching career at Frontenac, Kansas, High School and Nevada, Missouri, High School. She has taught in Garden City for the last six years. 
Hilt has been active in many professional organizations including the National Speech and Debate Association, the Kansas Association of American Educators, the American Alliance for Theater and Education, and is a state board member for the International Thespian Society. 
Her awards reflect her dedication to students and mastery of her craft: she has received numerous Jester Awards from Music Theatre Wichita (11 of them as recently as Sunday night), was designated a Selected Educator at the Kansas Thespians Conference, and was recognized by the National Speech and Debate Association with a Special Distinction Coach Degree.  
One colleague observed that she has had a significant impact on a large number of students in a program that is the fastest growing program in the high school since she began. Her students have been awarded scholarships for their work and have won acclaim at the state level and have qualified for national competition. 
"She has fostered a student-centered culture in our theater program that provides opportunities for students to develop academic and leadership skills, as well as gain exposure to artists and concepts that they would otherwise miss out on," a nominator wrote. 
In addition to recognizing Lickteig and Hilt, the College of Education recognized two Teachers of Promise in Monday's ceremony with the Delta Kappa Gamma Lyla Vaughn Award: Leslie Harris and Erica Hamm-Clark.
Learn more about the College of Education at http://www.pittstate.edu/college/education/