Governor signs bill that restores partial funding
  Tuesday, May 15, 2018 4:00 PM
  News, Milestones
Pittsburg, KS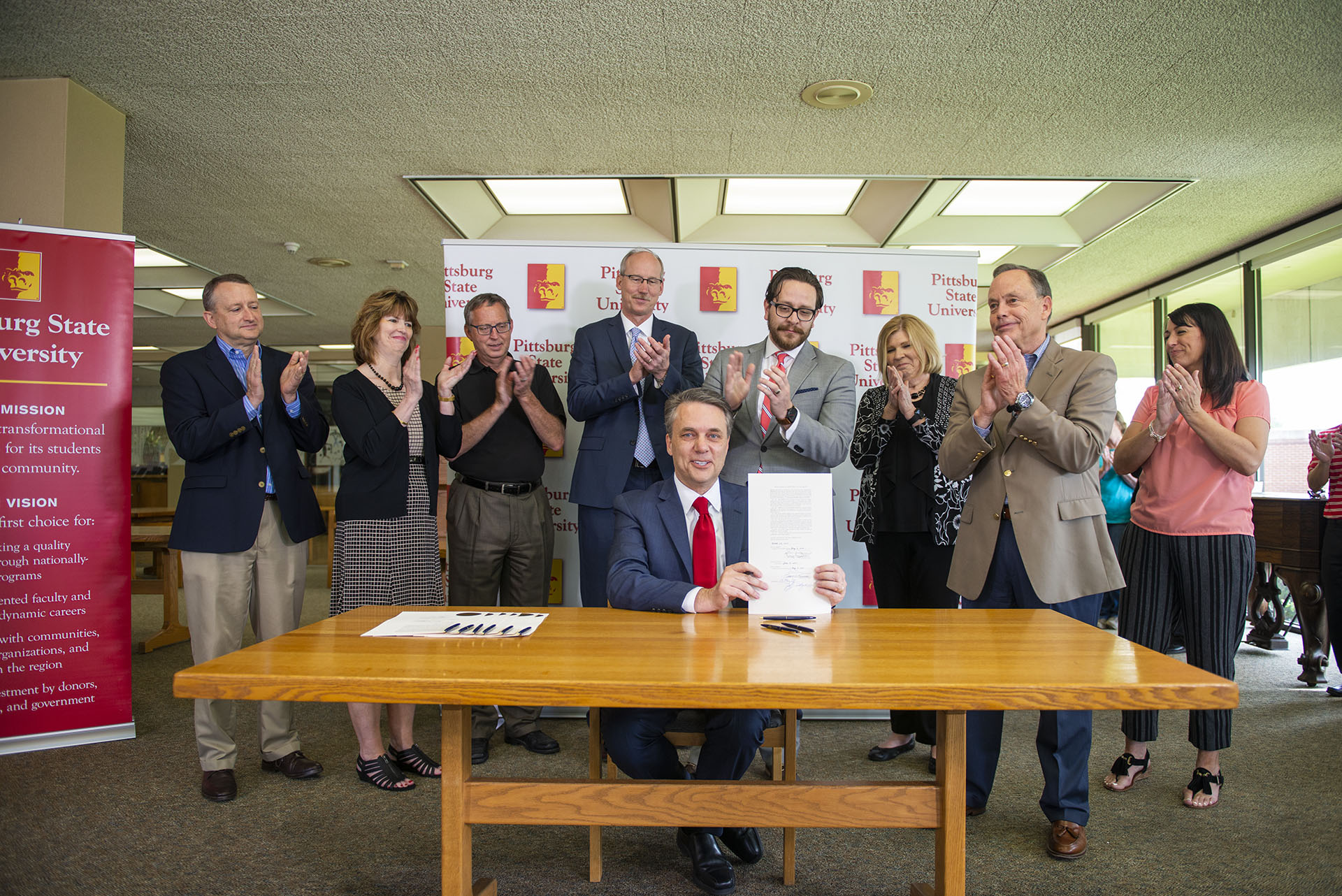 Noting that higher education is critical to the state's future, Kansas Governor Jeff Colyer signed a budget bill at Pittsburg State University Tuesday that restores approximately $15 million in funding to the state's higher education system. 
A year ago, former Gov. Sam Brownback ordered $30 million in cuts to higher education. Lawmakers previously restored $6 million, leaving universities $24 million below pre-cut levels. For Pittsburg State, that meant a shortfall of $1 million. 
In late April, the Legislature approved the $15 million in restored funding. Of that, Pittsburg State will receive approximately $640,000. 
Tuesday's signing ceremony took place at Axe Library and featured comments by Kansas Board of Regents President/CEO Blake Flanders, PSU President Steve Scott, and PSU Chief Strategy Officer Shawn Naccarato. 
Colyer said he was honored to sign the bill at PSU, describing the accomplishments of Pittsburg and the university as "transformative" not only for the community, but for the state. He said that now more than ever, higher education is critical. 
"We value educational institutions," Colyer said. "And in today's economy, when our unemployment rate is 3.4 percent and we have 50,000 open jobs, that means there are thousands of jobs that require higher skill sets – that we have a future for our kids here in the state – and in order to fill those 21st century jobs, we need to succeed with your mission,  and it is critical for the long-term of our state and it's critical for our young people to stay in our state." 
The bill restores $610,000 to the university's base block grant. The School of Construction will receive more than $13,000 in restored funds, and the Polymer Chemistry Initiative will receive more than $17,000 in restored funds.  
"We owe it to our students to give them the best possible chance to succeed, and I believe this is a very important step," Colyer said. 
During the Ceremony, both Naccarato and Flanders thanked the Colyer for his leadership and underscored the importance of investing in higher education. 
"Here's what we know: Higher education really is the best hope for Kansas families," Flanders said, noting that 71 percent of today's jobs require some education beyond high school. "So this support is critical for us to keep tuition affordable for Kansas families, and that's what we want." 
"I think this is a great first step," he added. 
Scott thanked Naccarato and Riley Scott, PSU Legislative Liaison, for their work in government relations and advocacy in Topeka on behalf of Pittsburg State. And, he praised Colyer for his efforts to close the gap despite being faced with many competing needs.  
"This bill really does represent a step forward," Scott said. "We appreciate the leadership we saw in the senate, the house, and the Governor's office." 
Colyer also held ceremonial signing events at Emporia State University and Kansas State University on Tuesday.