Casting institute draws professionals from around the world  
  Thursday, May 31, 2018 4:00 PM
  News, Science and Technology
Pittsburg, KS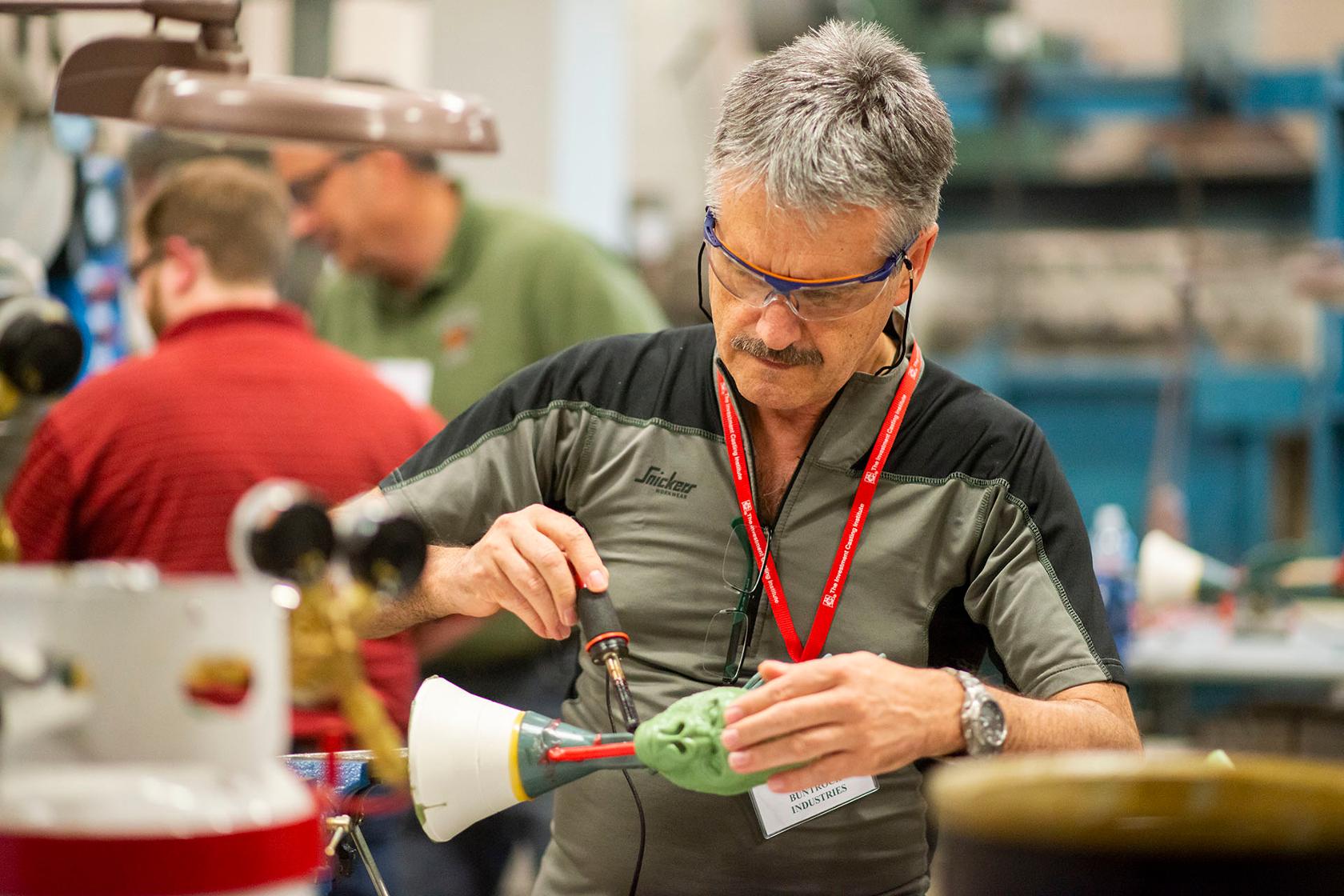 Max Kew is a sales professional from Singapore.
Ewald Eder is a technician from Italy.
Maria Walkner is an engineer from Austria.
And Daniel Conklin is a supervisor from Monett, Missouri.
But what they all have in common this week and next is what they're learning and why.
They're among the attendees taking part in the 18th Annual Investment Casting Institute certification course at Pittsburg State University at the state-of-the-art Kansas Technology Center.   
Their mission? To better understand the investment casting techniques and processes so they can return to their companies and be better at what they do.  
The course began Thursday with a rotating set of hands-on experiences with state-of-the-art equipment, including a $160,000 Smart Systems wax injection system donated by MPI — something no other university has, and creating wax gorilla heads that they'll take home.  
"Gorillas will be going back to Italy, Singapore — all around the world," said Russ Rosmait, a University Professor who specializes in Manufacturing Engineering Technology and directs the PSU Investment Casting Training Center.  
Investment casting, Rosmait explained, is a manufacturing process in which a wax pattern is coated with a ceramic material. Once dry and hardened, the wax is melted out, leaving an internal cavity the shape of the final product. Molten metal is poured into the cavity where the wax pattern was. It solidifies, cools, and the ceramic is removed from the metal casting. The result? A precision metal product.  
The course will continue through Wednesday, June 6, and will take attendees through each step of investment casting, a process used to make a variety of products central to daily life no matter which country one lives in, Rosmait said — from artificial hips to jet engine components that keeps airplanes in the air, to putters used by the golfing industry. It also was used to create the enormous gorilla statue in Champions Plaza that is one of the most often photographed places on campus.  
"The basic process, which is thousands of years old, has stayed the same," Rosmait said. "Only the clientele has changed."   
Kevin Wilson, a process engineer with Yamaha Marine Precision Propellers, flew here from Indianapolis, Indiana, to participate. His company manufactures boat props used by bass anglers and water skiers all summer long. His job is to ensure working conditions at the plant are efficient, safe, and ergonomically correct.  
"This gives me a much better understanding of the process of investment casting, so I can do my job better," he said.  
Dermot Keogh, a process engineer from DePuy Synthes in Cork, Ireland, said his job is largely computer-based, so getting to see the hands-on side of things is helpful.  
"If you're going to run a department, you should have the most knowledge you can, and understand how to troubleshoot things as they come up," said Conklin, the supervisor from Monett.   
Instructors who fly in from across the nation to teach the course at PSU each summer have noted that it is the only educational institution in the nation, and perhaps the world, that has the complete process application in the labs.  
And, each day when their work ends, being in Pittsburg affords participants another unique opportunity: the chance to dine at fried chicken houses, Josie's Italian Restaurant, and other area culinary landmarks.  
Learn more about PSU's engineering technology options at https://academics.pittstate.edu/academic-programs/engineering-technology/index.html