Baja provides unparalleled opportunity for students
  Wednesday, May 16, 2018 1:00 PM
  News, People and Society, Science and Technology
Pittsburg, KS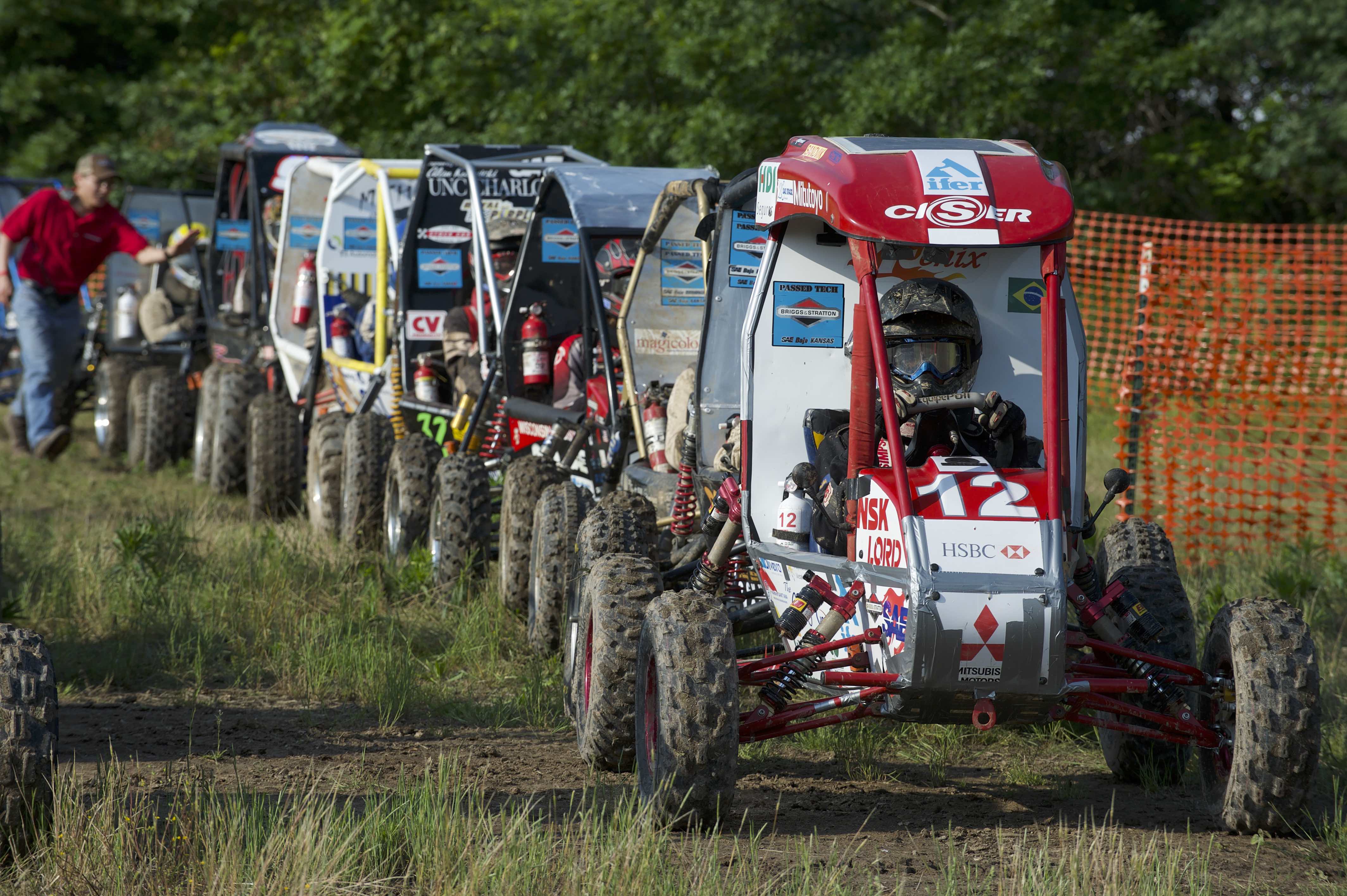 Trent Lindbloom can't guarantee how the Pittsburg State University Baja team will place in this week's Kansas SAE Baja — the fourth to be held at PSU since 2011 — but there is one thing of which he is certain: 
"Our industry people will tell us they'll hire Baja students over others," Lindbloom said. "They don't even realize what they're learning – not just hands-on mechanical skills and engineering, but soft skills like conflict resolution, solving problems on the fly with what they have on the trailer, teamwork, leadership — all of it." 
"And now that we have been doing it for a quarter of a century, we have lots and lots of former Baja team members out there in the industry and they're coming back to campus to recruit. They know what it takes to do Baja." 
That's why Lindbloom is so passionate about it today. 
"I know what it did for me as a student way back when, and I know what it does for the students who participate in it today," he said.  
Lindbloom, now an associate professor in automotive technology and the organizer of this week's Baja event, was president of the student chapter of the Society of Automotive Engineering at PSU when he and fellow students proposed to the administration their desire to compete in SAE Baja. 
The collegiate design competition is based on the Baja 1000. It consists of three regional competitions held each year in North America that simulate real-world engineering design projects and related challenges. Engineering students are tasked to design and build an off-road vehicle that will survive the severe punishment of rough terrain. 
The objective: to provide students with a challenging project that involves the design, planning and manufacturing tasks found when introducing a new product to the consumer/industrial market.  
Teams compete against one another to have their design accepted for manufacture by a fictitious firm. Students must function as a team to not only design, build, test, promote, and compete with their vehicle. All of these tasks are done within the limits of the Baja SAE rules. 
"The dean told us he'd give us the money as long as we beat all the other Kansas schools," Lindbloom recalled. 
His own team built their first car with salvage parts on a shoestring budget with $1,000 from a subsidiary of GM and $1,000 from Dean Victor Sullivan. The rulebook was 36 pages, typeset by hand. They came in 37th out of more than 70 cars that competed in Milwaukee, Wisconsin. 
"It was not a bad showing our first year," Lindbloom said. 
In 2009, Lindbloom, who joined the PSU faculty in 2000, once again found himself going to the administration with another Baja proposal: this time, to host the event. Once again, they said "yes." 
The first was held in 2011, followed by events in 2014, 2017, and now 2018.  
Today, the rulebook is 160 pages and much stricter, and cars have evolved as have budgets: the Mylott brothers' team is spending $16,000 to $18,000 on their car. Registration now is completed via internet, attracting teams from around the world and filling up in less than 5 minutes each year. 
Today, the cars also serve as senior capstone projects for many students in conjunction with engineering programs at competing universities. And, it's no longer just a learning opportunity for automotive and engineering students. Broadcasting students livestream the event so fans can see it around the world. Construction students design and build the track. Students in Graphics & Imaging Technologies design brochures and other promotional materials. 
Lindbloom still pinches himself when he considers the journey. 
"When I think back about how far we've come...it's just been really rewarding for me, for our students, for PSU," he said.  
Learn more about PSU's automotive program at https://automotive.pittstate.edu/
Learn more about the PSU Baja at https://www.pittstate.edu/baja/