Condoleezza Rice to speak at Pittsburg State University
  Friday, April 19, 2019 11:59 AM
  Campus Culture, People and Society, News
Pittsburg, KS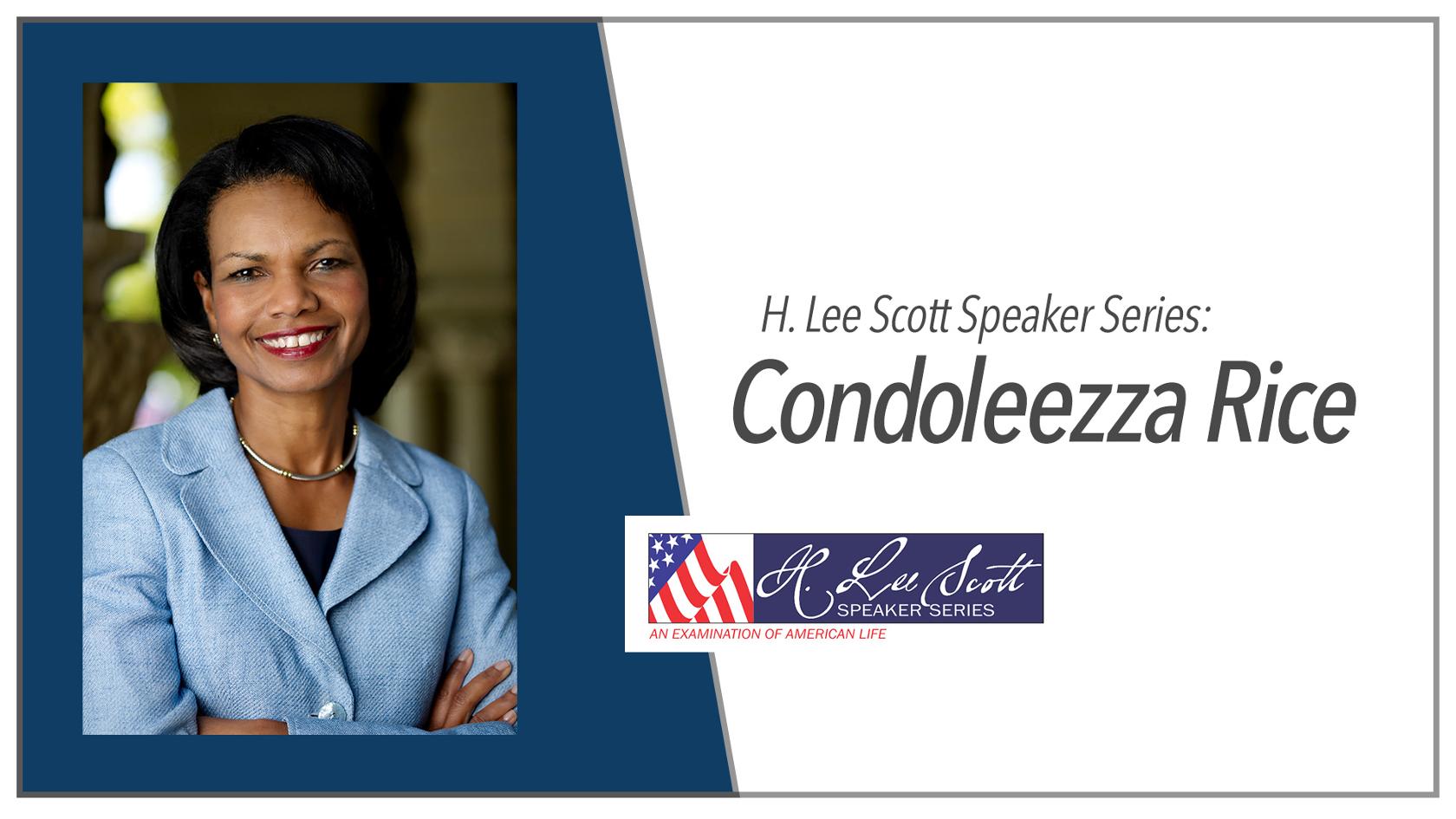 Since Pittsburg State University welcomed U.S. Senator Mitt Romney to campus as the second lecturer in its acclaimed H. Lee Scott Speaker Series: An Examination of American Life, the question on everyone's lips has been, who's next? Today, the university answered that question by proudly announcing this year's Scott Speaker Series' guest: 66th U.S. Secretary of State Condoleezza Rice.
The series, established in 2015, is designed to bring nationally prominent leaders and innovators to Pittsburg State. The series' inaugural speaker was President Bill Clinton, followed by Romney.
"We're thrilled to have a speaker as accomplished as Condoleezza Rice accept our invitation," said Pittsburg State University President, Steve Scott. "Her career has taken her from the collegiate environment to the highest levels of international diplomacy. Secretary Rice continues the H. Lee Scott Series' proud tradition of bringing the nation's most distinguished public speakers to campus."
Secretary Rice will speak at PSU on October 3, giving an overview of the current geopolitical landscapes and sharing her experiences as National Security Advisor and Secretary of State.
"Once again, we are expecting a high demand for seats," said Kathleen Flannery, vice president for University Advancement. "Our past series' speakers have enlightened and challenged our audiences through their lectures. We want our students to have the opportunity to experience the same transformational experience, which is why we're reserving tickets for them at a reduced price. A future Scott Series' presenter may be among them."
Tickets will be available for Pitt State students ($10 with PSU id) through the PSU Ticket Office starting Monday, April 22, at 8:30 a.m.; tickets ($15 with PSU id) for faculty and staff will be available starting at 8:30 a.m. Monday, April 29; tickets will be $25 for adults, and $15 for senior citizens (65+) and children (17 and under) starting Monday, May 6. Patrons will be limited to 6 tickets per purchaser; additional ticket limits may apply.
Rice, who served as Secretary of State from January 2005 to 2009, was the second woman and first African American woman to hold the post. She also served as President George W. Bush's assistant to the President for National Security Affairs (national security advisor) from January 2001 to 2005, the first woman to hold the position.
Her career also has included serving as provost at Stanford University, where she has been on the faculty since 1981 and has won two of the highest teaching honors – the 1984 Walter J. Gores Award for Excellence in Teaching and the 1993 School of Humanities and Sciences Dean's Award for Distinguished Teaching. She served on the Federal Advisory Committee on Gender - Integrated Training in the Military; President George H.W. Bush's National Security Council staff as senior director of Soviet and East European Affairs; and as special assistant to the President for National Security Affairs. Secretary Rice cofounded the Center for a New Generation — an innovative, after-school academic enrichment program for students in East Palo Alto and East Menlo Park, California that later merged with an affiliate club of the Boys and Girls Clubs of America. She also chaired the Commission on College Basketball, tasked with making recommendations to the NCAA to protect the integrity of college sports. She served on the boards of Dropbox, an online-storage technology company; C3, an energy software company; and Makena Capital, a private endowment firm. She has also served as vice chair of the board of governors of the Boys and Girls Clubs of America; a member of the board of the Foundation for Excellence in Education; and a trustee of the Aspen Institute.
Secretary Rice has authored and coauthored numerous books, including three bestsellers, Democracy: Stories from the Long Road to Freedom (2017); No Higher Honor: A Memoir of My Years in Washington (2011); and Extraordinary, Ordinary People: A Memoir of Family (2010).
Today, she is the Denning Professor in Global Business and the Economy at the Stanford Graduate School of Business; the Thomas and Barbara Stephenson Senior Fellow on Public Policy at the Hoover Institution; and a professor of Political Science at Stanford. She is a founding partner of RiceHadleyGates, LLC, an international strategic consulting firm based in Silicon Valley and Washington, D.C.
Additional details about Secretary Condoleezza Rice and the H. Lee Scott Speaker Series, including how to purchase tickets, are available online at www.pittstate.edu/scottseries.
— Pitt —