Renato Pinto can make magic with a blowtorch and a large sheet of vinyl.
With the help of the automotive program at PSU, he was able to transform an ordinary Chevy Volt into a branded car that screams Gorilla Nation, and he did so in front of rotating groups of students from the Graphics and Imaging Technologies program.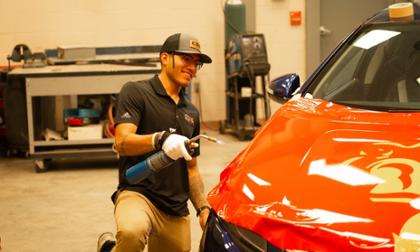 His goal? 
"We want to show students majoring in graphic communications the kinds of services we provide at CDL Sign Division, because we offer internships and eventually jobs to Pitt State grads," Pinto said. "They have the skills we want." 
Pinto can vouch for that because he's a PSU grad. He earned his degree in graphics in 2016 and now is responsible for graphics on a fleet of commercial vehicles, storefronts, and billboards. 
"I transferred here through a 2+2 program Pitt has with Flint Hills Technical College, thinking I'd like the design aspect of graphics," he said. "Turns out I liked the hands-on work the best." 
He also appreciated the guidance and mentorship he found in the faculty. 
"They're helpful to students getting internships — not just at CDL, but lots of companies — and they care about students getting jobs lined up before they graduate," he said.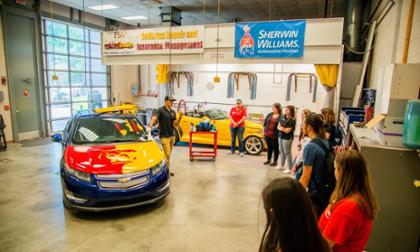 Jennah Usry, a senior graphic communication major from Olathe, Kansas, is experiencing that first-hand. 
"I have a CDL internship on the marketing graphics side, and one of my teachers, Andrea Kent, helped me land that," she said. "I love it so far. I've learned a lot already." 
Chad Johnston, who graduated in 2009 with a degree in graphic communication, did the same thing as a student. He now runs CDL's sign division and spoke with students during the car wrap demonstration. 
Several other PSU grads are on the CDL team, too — including Andrew Klusener, who runs the company's vinyl division, and marketing coordinator Kasey Gaddy, who also played a role in the car wrap project. 
Kent noted the help of the PSU automotive program, which provided the car and the lab space, was invaluable.
"This is an amazing example of inter departmental collaboration and community support," said Kent, an associate professor in Graphics and Imaging Technologies. "I think it really showcases the collegiality amongst our programs and support from industry partners and GIT alumni that made it happen."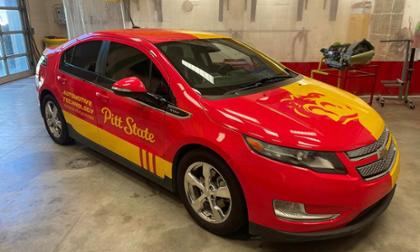 Learn more: