One shovelful of soil at a time, a group of Pittsburg State University students has taken on a project that will help those with food insecurity in Crawford County — a county with one of the highest rates of food insecurity in the state.
At the same time, they're learning leadership and team skills. 
Alex Tran, Brenna Lavender, Brianna Bae
The project is a community garden, planted on a large, flat lot behind the First Christian Church in Pittsburg.  
It was here, in 2009, that an adult volunteer first tilled the soil and planted a community garden. The first year, he and helpers harvested 3,200 pounds of produce, which they donated to the Wesley House food pantry in Pittsburg. By 2012, the garden was producing more than 10,000 pounds in donations. 
In recent years, as those volunteers moved on, the garden fell into disuse. 
A few years ago, Enactus — a student organization rooted in Kelce College of Business and comprised largely of majors in business related programs — decided to take on the garden as a philanthropic project. Pastor Dustin Morris gave the group the green light to revitalize it. But the project never got off the ground as the pandemic interrupted plans and membership in the group declined. 
Bailey Gallup, a management and marketing major from Lenexa, Kansas, set out to change that. 
"Last semester I took on the project because I knew how important it would be to help fight food insecurity here in Pittsburg, as well as Crawford Country," she said. 
"We surveyed at The Lord's Diner and I got to meet the people who would benefit from this project, and I found out how little fruits and vegetables are available to them, let alone fresh produce." 
The Lord's Diner Pittsburg location opened at 406 N. Locust Street in 2017 with a singular mission: to combat hunger in the community by serving nutritious meals with dignity and respect. 
"I knew with the right team and a motivated project leader, this garden could be really beneficial to the community," Gallup said. 
With the arrival of September, a bit of rain, and cooler temperatures, conditions were right to finally get the community garden project started. About a dozen Enactus members gathered at the plot on Sept. 8 to plant cabbage, broccoli, and tomatoes.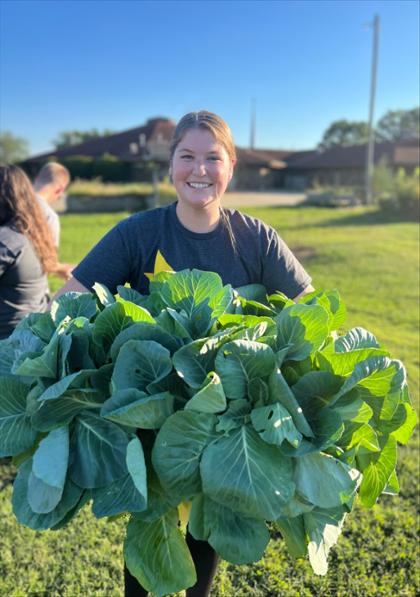 Hannah Evans
They'll continue recruiting members to help, and have created a weekly watering team. 
"Most of us have little to no experience in gardening, so with the partners we've met in the community, we've learned how to prevent weeds, what time is best to plant, whether we should use transplants or seeds, those types of things," Gallup said.  
"We've also learned about the general need for more fresh produce in our community."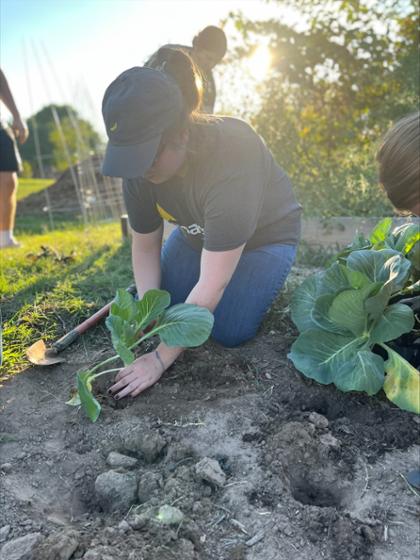 Bailey Gallup
It's all been a bit of trial and error, and we're by no means experts on our now second planting season, but we're prepared to continue learning as we go," she added. 
Their goal: approximately 450 pounds this fall. And, they have plans for a spring and summer garden in 2023.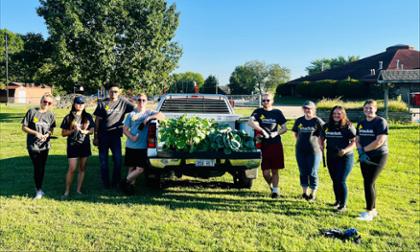 Their advisor, Chelsey Decker, said the team will use this project as an entry in this year's Enactus National Exposition competition. But the project will have an impact far beyond that, she added. 
"There is nothing more gratifying as an advisor than seeing your students give back to the community," she said. "And at the same time, the Garden is building camaraderie between our Enactus students and teaching them critical skills."
---
Learn more: