Brick + Mortar Social House 
is under the new ownership of Darrell Pulliam — a Pittsburg State University graduate who years ago helped with a planning grant that led to the creation of Block22, where the restaurant is located.
Pulliam (BST '90), who is part of the University Strategic Initiatives team, also worked in Block22's office space when it first opened.  
When it became apparent that ownership was to change hands at Brick + Mortar Social House, a flagship business at the intersection of Fourth & Broadway, he stepped up.
"I wanted to make sure it stayed locally owned and would maintain the cool factor we set out to create in those initial planning stages," he said. "It's hard to believe how things come full circle sometimes when you least expect it."  
A similar thing happened to him as a student, when he served on a planning team for the soon-to-be-built Kansas Technology Center.  
After graduation, he was recruited to work in industry for Banta Corporation, a Fortune 500 printing company, where he spent 20 years, and in that role, he returned to campus to recruit students from programs housed at the newly built KTC.  
In 2013, he retired from Banta and returned to Pittsburg on what he thought was a one-year project at the university in partnership with the Department of Commerce.  
"That one year turned into nine, and now this feels like home," he said. "It's amazing what has happened in the Pittsburg community since that time."  
Today, Pulliam has an office in the Tyler Research Center, where he is the facilities manager for the National Institute for Materials Advancement (previously known as the Kansas Polymer Research Center).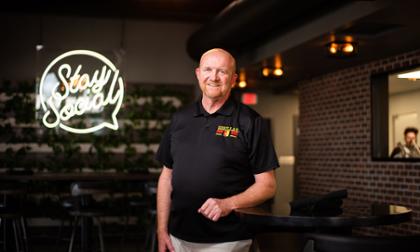 He will divide his time between there and Brick + Mortar, where he is building up his staff so the restaurant can reopen on Mondays. The staff of more than 30 part-time and full-time employees includes many PSU students.  
"Brick + Mortar will also be the host site for the Coach Brian Wright Radio Show on Mondays throughout the 2022 football season," he said. 
He has no plans to change the menu, which features a range of popular entrees and appetizers.  
"If it's not broken, don't fix it," he said. "That's one thing we have heard from so many of our patrons."   
He's also preparing to relaunch a burrito restaurant next door this fall in the Baxter Building in the space previously occupied by Juicy's; that building also is part of Block22. 
 "It's really rewarding to be part of things in Pittsburg, and to partner with the university, in this new and exciting way," he said. "It's also exciting to be a partner to other Block22 businesses, all of which are now owned by PSU graduates."
---
Learn more: