For the first time in the history of Company Days, a two-day annual event hosted by the College of Technology at Pittsburg State University, there is a waiting list for construction companies and overflow space is being created for automotive companies.
In 2019, pre-pandemic, 210 companies and nearly 430 people registered to attend. With still almost two weeks to go, this year's number already is at 239 companies and counting: 137 will be on campus Tuesday, and 102 on Wednesday. 
It will be held Sept. 20-21 at the Kansas Technology Center, home to the College of Technology. 
"In my 23 years at PSU, I do not remember a time when we had this many companies coming to campus," said Tim Dell, a professor in Automotive Technology and coordinator of the diesel and heavy equipment program.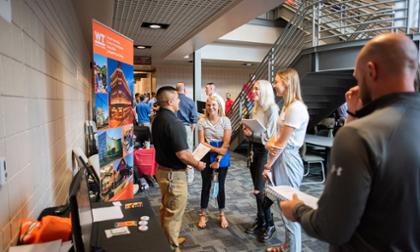 Company Day began in 1998 as a one-day event hosted by the School of Construction, and it has grown in reach and popularity ever since. 
"It brings in companies from coast to coast," said Mary Wehrman, one of the event's organizers. "This year, we have reps coming in from Georgia, Texas, Colorado, Pennsylvania — from Hendricks Automotive in Charlotte, North Carolina, to Rehrig Pacific Company in Los Angeles, California." 
Darien Dierksen, one of five Gorillas now working for iMFLUX — a large plastic injection molding company in Ohio — said the annual event is valuable in several ways.  
"Events like this are an amazing opportunity for us to come and meet the students, see what they have been working on, and get a glimpse into ways that we can give back to the university," she said. 
The line-up includes a concentration of local and regional companies, as well. Representatives say it's more important now than ever for them to find qualified employees for the area workforce — demand is high. Among them: Crossland Construction, which employs more than 200 PSU graduates and hopes to add to that number. 
"We prioritize both fall and spring recruiting events at Pittsburg State because of their incredible construction program," said Kim Froman, director of talent acquisition at Crossland Construction in Columbus, Kansas. "We find top talent for our internship program and our field and project engineer roles for graduates." 
It's a great first step for students toward future careers, noted Jim Otter, director of the School of Construction, because it allows them to practice networking. 
"As faculty we always encourage students to use the event to begin looking at what these companies have to offer, and to lay the groundwork for internships," Otter said.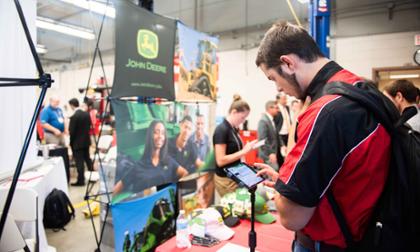 Tuesday's focus will be on Construction Management, Construction Engineering Technology, 2-yr Electrical Technology, Environmental and Safety Management, Graphics & Imaging Technologies, and Architectural Manufacturing, Management, and Technology. 
Wednesday's focus will be on Automotive Technology, Diesel & Heavy Equipment, Electronics Engineering Technology, Manufacturing Engineering Technology, Mechanical Engineering Technology, Plastics Engineering Technology. 
Both days, the event will be held from 8:30 a.m. to noon.   
---
Learn more about Company Days. 
Learn more about the College of Technology.