Two exhibits by noted artists will open in two galleries in Porter Hall, home to the Department of Art at Pittsburg State University, on Aug. 22 just as classes begin for the semester.
The University Gallery will feature "We Are the Change," comprised of weavings and other works by Susan Ferguson, through Oct. 26. The Harry Krug Gallery will feature "Demographica," comprised of paintings by Tom Birkner, through Oct. 12. 
Admission to both galleries is free and open to the public. Both are open Monday through Friday from 8 a.m. to 4:30 p.m. 
We Are the Change 
Ferguson's exhibit in the University Gallery will feature weavings. 
She worked for more than 40 years in agriculture, journalism, writing, editing, marketing, and teaching, then decided to pursue a visually creative path in 2014 when she discovered a passion for weaving. 
Her work focuses on the environment, exploring the colors, shapes, and textures of nature through fiber and textiles. 
"I try to use natural materials whenever possible and whenever relevant, although sometimes a length of polyester or polyethylene or a found object speaks louder than a piece of woven wool or cotton," she said. 
She is a member of Fiber Guild of Kansas City, InterUrban ArtHouse, Kansas City Artists Coalition, Missouri Fiber Artists, and Weavers Guild of Greater Kansas City. 
A reception and gallery discussion with her are planned for Aug. 24 from 5 to 7 p.m.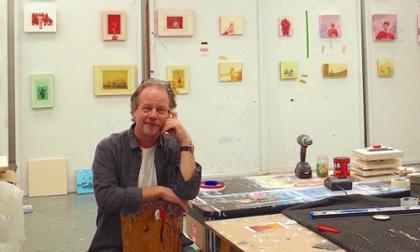 Demographica 
Birkner has exhibited his paintings in numerous cities nationally and internationally, and his work has been reviewed in many noted journals. A graduate of Rutgers University with an MFA from Penn State, he is an associate professor at the University of Texas at El Paso. 
"Demographica is a visual record of what people alive today are like: what we do, the things we have, how we act. The intent is for small, simple, and factual paintings to form a greater totality that truthfully represents our world," he said. 
The images evolve from frivolity to fright, fantasy to fact.  
"And as the series grows, so do the associations between the images, mirroring the complex extremes of our times," Birkner said. "These associations are for viewers to make and decide for themselves if they like what they see." 
A closing reception for Birkner is planned for Oct. 12 from 5 to 7 p.m.  
Information
For more information, call 620-235-4302.