The long-running Four State Farm Show will once again be staged at Pittsburg State University after a successful inaugural event on campus last year. The show is set for May 20-22 in the Robert W. Plaster Center and on surrounding grounds.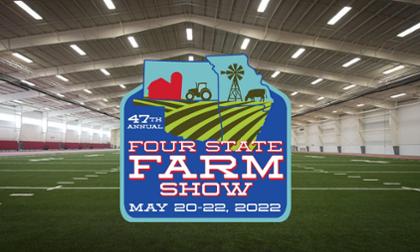 "Last year's move to PSU enabled us to showcase indoor booths in a climate-controlled facility for the first time in 37 years," said Four State Farm Show Manager Lance Markley. "With nearly 500 agricultural and rural living booths sold in the Plaster Center for this year's show, visitors will have access to a huge array of products and services."  
More than 300 outdoor booths will feature the latest technology in farm machinery, construction equipment, livestock handling, trailers, tools, and more. 
A highlight of this year's event will be The Grand Giveaway, an opportunity for one farm show attendee to win a one-year lease on a John Deere 5045E utility tractor equipped with a front-end loader. A joint venture between Heritage Tractor and Four State Farm Show/Ozark Empire Fairgrounds. Three preliminary winners will be drawn daily, with the grand prize drawing to be held on Sunday at 2 p.m. 
Also incorporated into this year's format are a variety of food truck style concession options, including Pineapple Whip, Ghetto Tacos, Cowboy Kettle Corn, Lakeside Concessions, and W.H. Farm Café.  
Visitors to the free admission show can access free parking in the Brown Lot east of Carnie Smith Stadium or on other campus parking lots. Buses will be available to shuttle attendees to the booth areas and two 40-passenger trams will travel continuously through the show during show hours.  
"We are working hard this year to make campus transportation as efficient and people friendly as possible," Markley said. 
Pittsburg State University policy prohibits any moving ATVs or UTVs on the show grounds by exhibitors or spectators. Golf carts may be rented from the show supplier by calling 417-883-9393. 
A limited number of indoor and outdoor vendor booths remain available. Additional show information is available at www.fourstatefarmshow.com or by calling Markley at 620-423-2355.