A beloved, longtime Pittsburg icon, Jim's Steakhouse, is under new ownership and may soon be getting an interior facelift using suggestions from proposals created by seniors majoring in interior design in the School of Construction at Pittsburg State University.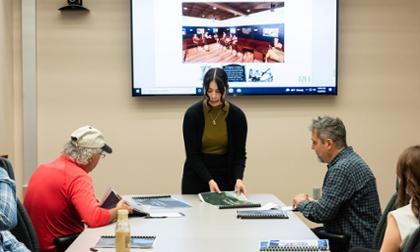 They've worked with chef Frank Caputo and owner Chris Pakitsos to develop changes that are both cosmetic and that address a bit of infrastructure. 
While the changes are all fictional at this time, Pakitsos and Caputo said the proposals provide inspiration, research, and pricing for them as they consider the future. 
Maia McManis (Frontenac), Jamie Bayless (Parsons), Analysia Carrillo (Kansas City, Kansas), Ryan Eklund (Derby), Reid Hentzen (Altamont), Emerson Cochran (Carthage), Datasha Carlock (Kansas City, Kansas), and Sara Martin (Joplin) presented their proposals this week as they would to a client: dressed in professional clothing, with digital slides showing floor and furniture plans, rendered perspectives, colors, fabric swatches, lighting fixtures, and other treatments; a printed version complete with a cost analysis; and a Q&A session afterward. 
"The purpose is for us to connect with the community and fill a need," said Professor Denise Bertoncino. "I believe it brings the students closer to the community and helps them understand Pittsburg's heritage."  
This is not the first time Bertoncino has arranged for students to prepare real-world proposals for local clients; past seniors have created them for Signet Coffee, the Fun Depot, and Lakeside Elementary School auditorium. 
"The students always benefit from completing these," she said. "They get to interact with the client, take measurements in the field, photograph and document the space, and collect research that concerns the culture, building, materials, furniture, and finishes."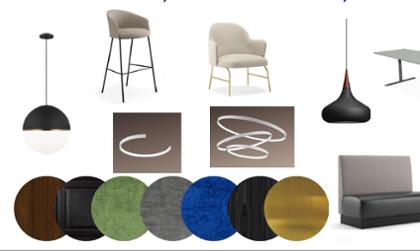 Cochran said having the chance to do those things was very beneficial to her education.  
"This project is definitely valuable because it gives me an experience that I couldn't get any other way," she said. 
Each student took a different approach, but all had one thing in common: they brought Jim's into the 21st Century.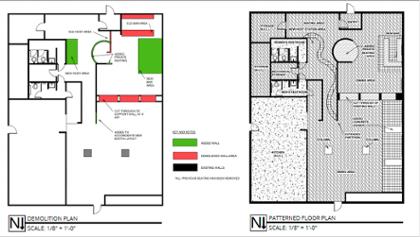 Several used a modern color pallet of navy with warm wood tones and brass accents, while keeping an historic touch through the use of black and white photographs of other area icons like Big Brutus.  
Several also integrated Caputo's love of nature with plants. 
They also tackled the flow of the restaurant for both staff and patrons, making adjustments to the entrance, the waiting area, the server station, and booth and table placement.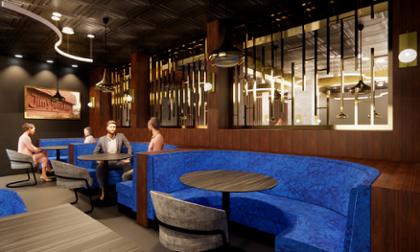 They proposed painting the ceiling black and adding modern lighting, but also were careful to respect the sentimental feel patrons have for the restaurant. 
"Space planning and making the design function for the end user is one of the greatest skills of an interior designer, so having an actual space to work with is very positive for the students," Bertoncino said. 
Caputo and Pakitsos gave positive feedback on each of the design proposals and will consult them in coming weeks before arriving at a final decision about what to implement immediately and what to put on a long-term plan. 
"I will say how impressed I am seeing firsthand the effort and detail the students gave, and by their outside-the-box thinking and innovative ideas," Caputo said. 
A bonus for the students: they were treated to a steak dinner at Jim's to celebrate the completion of their projects.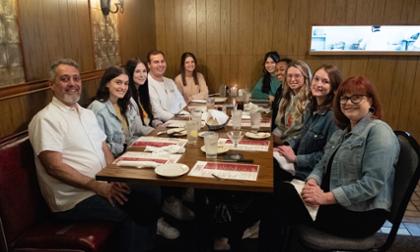 About the program: 
The interior design program is part of the School of Construction in the College of Technology. The degree prepares students for professional practice as an interior designer in the fields of commercial and residential design, with opportunities in the construction and graphic design fields.  
The curriculum takes a creative, problem-solving approach involving the application of materials and processes for creating environments, promoting sustainability and universal design standards, developing an understanding of global awareness and diversity, and improving the quality of life while protecting the health, safety, and welfare of the public. 
---
Learn more: