Old seats from which Gorilla fans cheered for years in Carnie Smith Stadium are being given a new life, thanks to the help of a company that employs four graduates of the Pittsburg State University Plastics Engineering Technology program.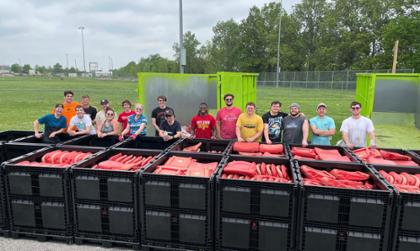 The massive recycling effort directly aligns with the university's sustainability initiative. 
The seats were removed from the stadium and stored last year as a renovation got underway; new seats have since been installed.  
Rehrig Pacific, a supplier of large, molded plastic recycling and supply chain products like waste bins and shipping pallets, became a driving force behind finding a new use for the old ones.  
Alumni employed at Rehrig include Plant Manager Chris Gab (BSET '01), Materials Engineering Manager Trent Williams (BST '09, MET '11), Reliability Manager Garrett Forsythe (BSET '08), and Process Engineer Brody Russell (BST '20) 
"First, Rehrig performed an analysis on the scrap seat parts and agreed they could use the material in their products," said their former teacher, Professor Paul Herring, who with Professor Rebeca Book organized the recycling effort. "Then, they shipped 49 rackable general purpose bins, which they manufacture, to PSU so the stadium seats could be loaded for shipment." 
Plastics Engineering Technology students, faculty, and PSU Recycling Services tackled that project last week, and Rehrig sent a truck to haul them to DMR, a recycling company in Missouri, for reprocessing.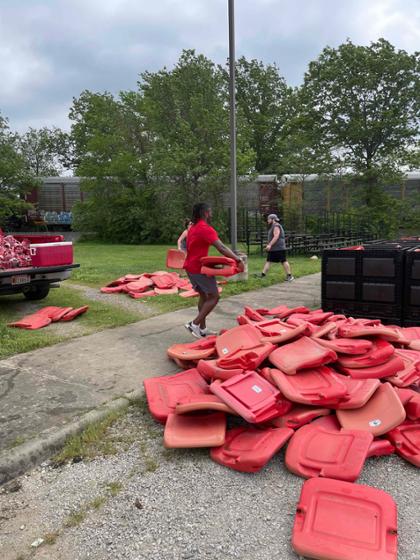 DMR will inspect the seat parts and remove any remaining metal pieces. The parts then will be run through a shredder and granulator. The resulting plastic granules will be sent to Rehrig to be used in the injection molding process — a process taught by Herring and Book — to create new products. 
"I calculated that by recycling the seats, 100 cubic yards of volume were prevented from going into the landfill," Herring said. "We're loading them up and sending them off to become something new and useful." 
Others at PSU involved in the project included Tim Dawsey, executive director of the Kansas Polymer Research Center, and Tonya Pentola and Scott Broyles with PSU Recycling Services. 
---
Learn more:

PSU Plastics Engineering Technology Program