A self-described "introverted farm boy," Chanute native Scott Bailey, now of Palm Desert, California, went on to become an award-winning superintendent of one of the largest school districts in the nation.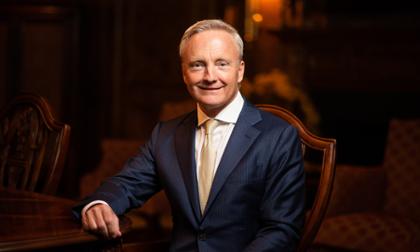 His achievements made him a natural for this year's Meritorious Achievement Award, said PSU President Steve Scott, who presented Bailey with the award in a ceremony Friday attended by friends, family, faculty, staff, and alumni. 
Bailey (BSEd '88, MSEd '90) credited PSU — including opportunities from former faculty members like Sandra Greer, and experiences like serving as a campus leader — with helping to lay the foundation for his success.  
That, combined with life lessons learned growing up on the farm, he said, inspired him to "serve others before self." 
As a student, Bailey was a photographer for The Collegio student newspaper and The Kanza, the student yearbook. He was an officer in the Student Government Association and the student KNEA organization. He did his student teaching at Westside, and while on campus last week encouraging current students on their path to a degree "meant so much," he said. "It's coming full circle." 
"Through life, giving back to the university through scholarships, serving others first; I hope we're all gathered in this room right now because we have the same thread that binds us, and that is to actually make this place better than we found it," he said. 
"This is where it all started," added Bailey, who noted that he had Scott as a teacher and will retire on the same date that Scott retires as president. 
Having completed 32 years in education, Bailey has served most recently as the superintendent of schools for Desert Sands Unified School District since 2017, overseeing a $400 million budget, 27,000 students, 2,800 employees, and 34 schools.  
In 2018, he had the opportunity to dedicate a new, $31 million elementary school, and recently facilitated bond sales of more than $150 million to support multiple school modernization projects.  
His district has earned the District of Distinction Award by District Administration Magazine for its unique student innovations contest known as The Goldfish Bowl, and he has facilitated departmental mergers to promote a seamless integration of technology and instruction.  
He also oversaw an LTE network build project that created equity and access to students regardless of their socioeconomic status, resulting in all 28,000 students now having broadband connectivity through district-issued devices.  
His district also has had growth in its career technical programs, dual language immersion programs, and now boasts its own 14-month leadership development academy. Under his superintendency, the district earned three California State School Board Association Golden Bell Awards in the past three years, and the 2021 CoSN Community Leadership Award for Digital Equity. 
Bailey is a member of numerous national organizations, associations, and boards, including the PSU Foundation Board, and has won a lengthy list of professional awards, including the 2019 National School Public Relations Association Superintendent to Watch.  
He annually funds two student scholarships at PSU, and one scholarship for a high school FFA officer in his school district in honor of his late father, a former high school FFA president in Kansas.