For French education major Claire Hurst, Paris is a long way from her small hometown of Cassville, Missouri, in the Ozarks — not just in terms of distance, but also in terms of size, population, and culture.
But for part of her spring break, Hurst got to immerse herself in Paris, as well as in Rome and Florence, Italy, thanks to a Study Abroad trip with the Pittsburg State University Honors College — one of numerous Study Abroad opportunities offered by the university each year.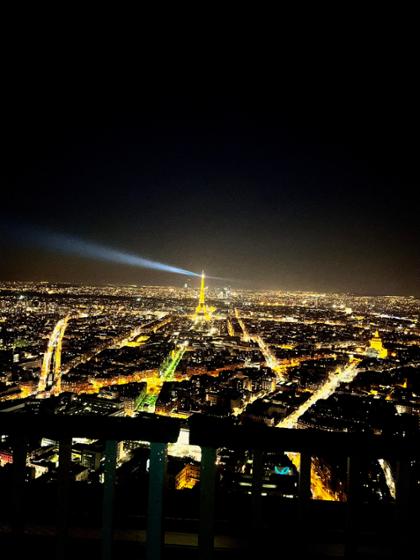 It was lifechanging. 
"This was my first time being abroad, so it allowed me to experience the cultures without stereotypes and expectations getting in the way," Hurst said. "I wanted to go on a trip like this because it would be a good chance for me to practice my language skills and to see first-hand a culture different from my own." 
Hurst was part of a group of 37 Pittsburg State students, six community members, and three faculty — Honors College Director Craig Fuchs, Associate Professor of English and Modern Languages Brian Moots, and Biology Professor Mandy Peak Bryan — to make the trip.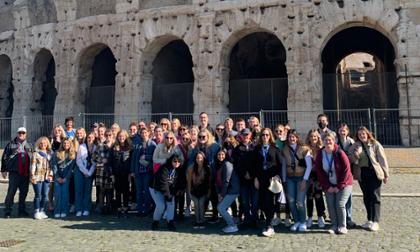 They began in Rome, where they saw the Pantheon, Vatican City, the Sistine Chapel, and St. Peter's Basilica; toured Florence where they saw the Basilica of St. Francis; and finished up in Paris, where they saw such icons as the Champs-Elysees and the Arc de Triomphe, toured Versailles and the Louvre, and sat by the Seine.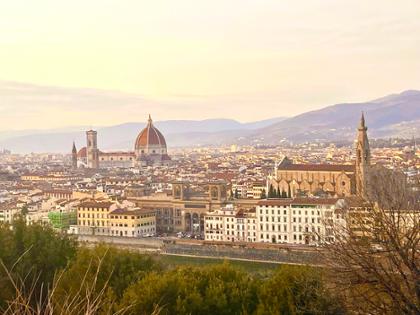 "As a language major, I was also able to practice quite a bit during the few days we were in Paris," Hurst said. "I could practice in an organic setting with native speakers, and that was so incredibly helpful for me." 
Her favorite part? 
"Exploring with my friends and getting to see the more natural, day-to-day aspects of living in Rome, Florence, and Paris," she said. "I enjoyed the time with my friends to find shops and restaurants hidden in the alleys." 
Trinity Dobbs, a biology major from Webb City, Missouri, with an emphasis in pre-med, said that although it didn't relate directly to her major, it was an incredibly valuable experience.   
"Although my major doesn't have much to do with European culture, I wanted to go on this Study Abroad trip because I have not had much opportunity to travel internationally, nor did I know much about European culture," she said. 
"I also really enjoyed eating new things and spending time with peers and professors. Something new that I feel impacted me from this trip was the opportunity to try new things in a place outside of my comfort zone." 
Her favorite part? Climbing to the top of the bell tower at the Duomo in Florence, Italy.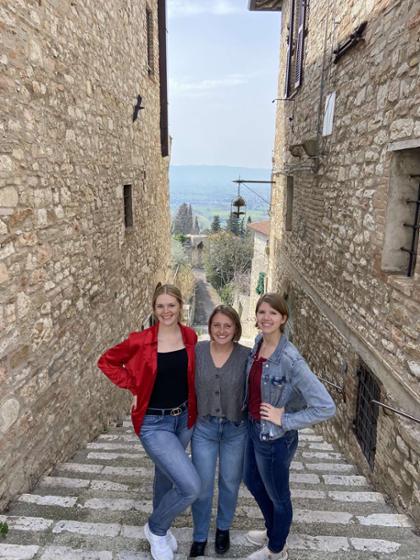 "It was a 414 stair climb that had most of us winded by halfway," she said. "Once we made it to the top there was a breathtaking view of the entire city, and I really enjoyed the time that we spent up there taking in the views."  
"We tried all sorts of new things such as eating duck, riding the metro in Paris, and navigating the city by ourselves in small groups," she said. "If any students are on the fence about going on a Study Abroad trip, I would 100 percent say do it. Even though this trip didn't have a significant relation to my major in what I'm learning, I feel like a culturally diverse mindset is a very valuable asset."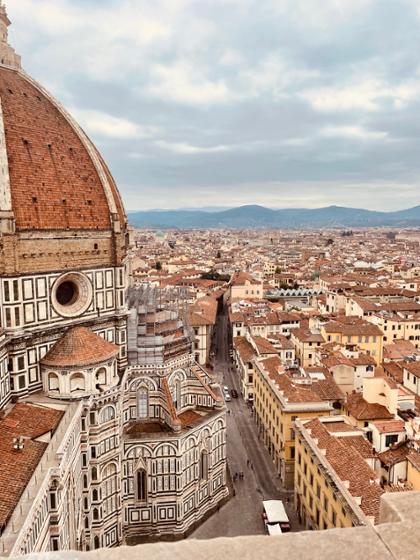 Want to go? 
The Study Abroad Office is located in the International Programs and Services Office in Whitesitt Hall Room 118. The office serves students who would like to study abroad for a summer, semester, or academic year, and faculty who would like to lead short-term programs.  
Coming up: 
In May, Assistant Professors in Teaching and Leadership Kristi Stuck and Bridgette Fincher will take a group of education majors to Italy to study the Italian education system and how the Italian culture impacts what is valued in education.  
In June, nursing, pre-med, and pre-health students will take a Study Abroad trip to Belize under the direction of Professor of Biology Daniel Zurek. The trip will have a medical volunteer focus and will include participation in rural health clinics in Belize, giving students practical experience as well as a total of three credits toward graduation. 
Also in June, Associate Professor of Spanish Grant Moss will lead a Study Abroad trip to Spain. The trip will focus on Alicante's history, architecture, climate, and culture.  
For spring break in 2023, Professor of English Casie Hermansson and Biology Instructor Delia Lister will lead a Study Abroad trip to Ireland, England, and Scotland.  The trip will dive into city life as participants explore three different European capitals that each have their own personality, from Dublin to London to Edinburgh. 
Learn more:  
Study Abroad with PSU