Pittsburg State University has joined in the national mourning this week of longtime U.S. Senator Bob Dole (R-Kan.), who died at age 98.
University leaders, educators, and alumni recalled the instrumental role Dole played in securing funding for the Kansas Technology Center — a facility that quickly became a model for universities across the nation.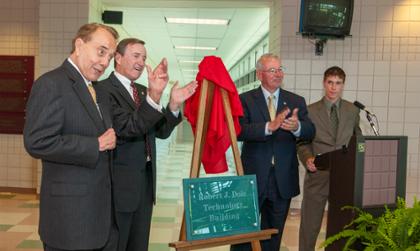 Dedicated on Oct. 24, 1997, it remains the largest building on campus and one of the largest in the region at 286,000 square feet. One of the building's five wings was dedicated on May 31, 2004, as the Sen. Robert J. Dole Technology Building. 
"He was a friend to Pittsburg State in a way that was incredibly impactful and long lasting," said PSU President Steve Scott. "Countless students and their employers — and the communities they serve — wound up benefiting from his support." 
In August 1990, Dole announced that $6 million had been appropriated for expanding the university's technology program — funding he requested in support of what at the time was to be a three-building complex with a price tag of about $27 million. 
It was to be built on the east campus and had been lobbied for by Dean of the School of Technology and Applied Science Vic Sullivan, who died in August this year. 
"The 1912 design of Whitesitt Hall just doesn't meet the needs of new technology," Sullivan said at the time of Dole's announcement. 
In advocating for the funding, Dole said "It's going to mean a lot not only to the students here today but for students yet to come. I'm proud to be a part of it." 
In July 1991, he announced that the same project had earned another $4 million in federal funding for the coming fiscal year as a result of his tenacious advocacy. 
"This southeast Kansas resource is a vital addition to our state's educational network," Dole said at that time. "When you talk about jobs, you are talking about the future of Kansas, and it will look a little brighter knowing that the latest hands-on training will be available at this Pittsburg State center. I am pleased this quality project continues to win congressional approval." 
Today, the sprawling, state-of-the-art facility is home to the College of Technology, which is comprised of the departments of Automotive Technology, Engineering Technology, Graphic and Imaging Technologies, Technology and Workforce Learning, and the School of Construction. Many of the programs within those departments are unique in the nation, including Architectural Manufacturing Management and Technology, Caterpillar ThinkBIGGER, and Plastics Engineering Technology. 
"The KTC simply wouldn't be here were it not for the efforts of Bob Dole," said Dean of the College of Technology Robert Frisbee. 
Since the KTC opened in 1997, the College of Technology has sent tens of thousands of students into the workplace, he noted. 
"On behalf of the Pittsburg State community, our hearts go out to former Sen. Dole's family and his many friends," said Scott. "I would hope as we reflect on his life of service that political leaders of today and tomorrow find inspiration from his selflessness and spirit. I know that I certainly have."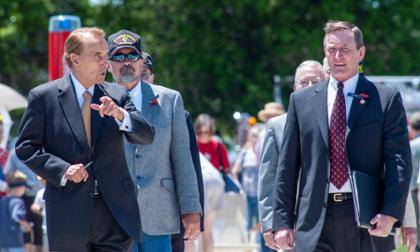 U.S. Sen. Bob Dole and PSU President Tom Bryant at the PSU Veterans Memorial Dedication in 2004
A paver honoring Dole's service to the nation in World War II is part of the amphitheater at the PSU Veterans Memorial located just across Rouse Street from the KTC — a memorial he helped to dedicate in 2004 as a keynote speaker.