As E.J. Geisel worked with his classmates in a lab in the College of Technology, the new state-of-the-art plasma cutter he programmed to cleanly and easily cut through a piece of steel reminded those watching of a light saber from Star Wars.
But the automotive technology major from Kansas City said it's more than just a neat piece of equipment. It's something that is critical to his future. 
"It's helping to prepare me for my career," he said. 
The equipment was funded by the U.S. Economic Development Administration with a grant designed to help bolster regional economic development and the workforce. 
Local company leaders say they're appreciative of Pittsburg State's efforts to train a ready workforce. 
Among them: Unique Metal Fabrication and Progressive Products, both in Pittsburg, and Mid-America Pipe Fabricating in nearby Scammon, Kansas.  
"Each of them uses a CNC plasma cutter to more accurately cut parts for fit and tolerance," said Professor of Engineering Technology Phil McNew, who runs the lab and teaches students how to use the new plasma cutter. "This technology also allows them to manage their material use thus, creating less scrap which assists in their sustainability efforts. With the current supply chain issues and increasing raw material costs, every lean tool available is in use."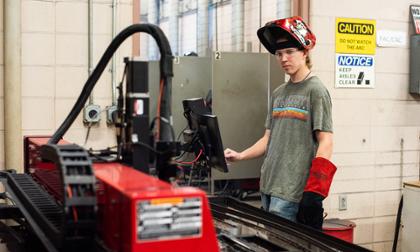 Unique Metal Vice President Matt Pinamonti, said the acquisition of the plasma cutter by PSU and the added knowledge by graduates will greatly benefit his company and others. 
"Unique Metals greatly appreciates PSU's effort to diversify their curriculum to better suit local and national employers' ongoing workforce demands," Pinamonti said. "CNC equipment is always evolving to make our work place more efficient and profitable."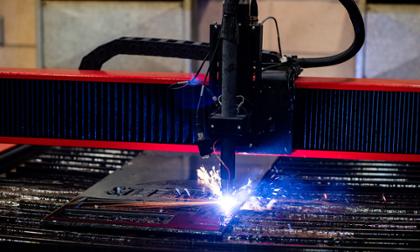 Progressive Products Production Manager Jimmie Pingree, said he's glad to know this technology is being taught in a hands-on way so that graduates leaving the program are ready to work at a company like his. 
"Our CNC plasma cutter is a great benefit to our company needs," he said. "It has multiple uses including cutting parts out for our customers and parts for us to fabricate with — even very detailed ones like silhouettes." 
Professor of Manufacturing Engineering Technology Phil McNew, who oversees the courses and lab in which the new machine is used, said it's a great example of the ways in which the College of Technology stays connected to industry in order to provide students the skills and training they will need to be competitive in the job market.
"Our students need to know what tools are available in the toolbox to efficiently fabricate their company's products," he said. "They'll see this when they go into the workforce, and companies that hire them will want them ready on it."

---

Learn more: