The annual Homecoming tradition might have begun about 100 years ago, believes the curator of PSU Special Collections Steve Cox. About 50 years ago, it developed into more of what we know today.
Listen to this week's Gorilla Connection podcast to learn more.
And, take a walk down Memory Lane with this a brief pictorial look back at Homecoming throughout the years, then and now.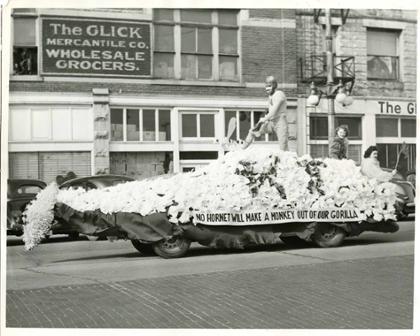 One of the 1946 Homecoming floats makes its way down Broadway in front of The Glick Mercantile Co. Wholesale Grocers. Shown on the float are queen candidates and a gorilla dressed as a football player. The Homecoming football game opponents that year were the Emporia Hornets. The sign on the float says, "No Hornet will make a monkey out of our Gorilla."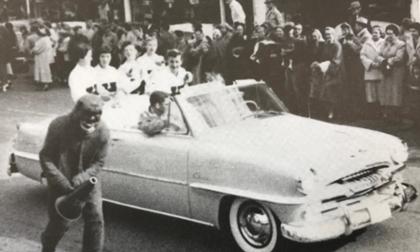 Gus Gorilla walks while the cheerleaders ride during the Homecoming parade in 1954.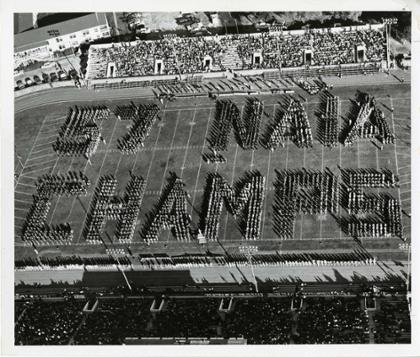 Sixty bands took part in the halftime ceremony of the Homecoming football game in 1958 and honored the 1957 NAIA football champions.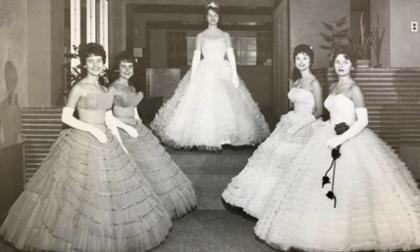 Homecoming Queen Donna Guinn in 1961 with her court, Darlene Crane, Charlene Crane, Carol Winkel, and Sherri Gill.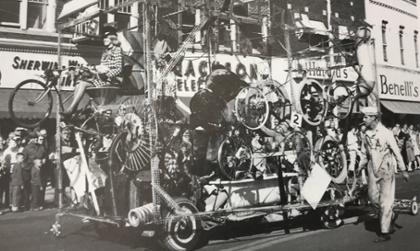 Pi Kappa Alpha's unusual "Erector Set" float, with queen candidate Genevieve Schaub, took first place in the 1967 queen float division of the Homecoming parade. 
Gus Gorilla monkeys around with Homecoming queen candidates, including Gina Bishop Pinamonti, at what was then called Brandenburg Stadium in 1990.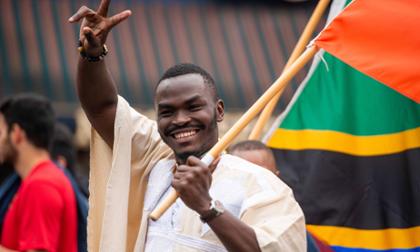 In the 2017 parade, an international student is all smiles for the crowd. For at least a couple of decades, many international students take pride each year in wearing clothing from their countries and carrying flags during the walk down Broadway.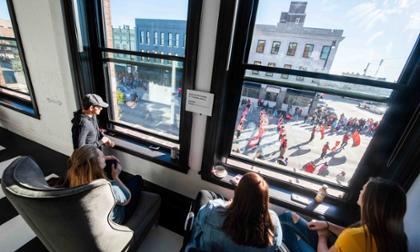 In 2018, students who live in Block22 — a recently renovated mixed use space downtown — watch the Homecoming parade for the first time from their apartments above Broadway.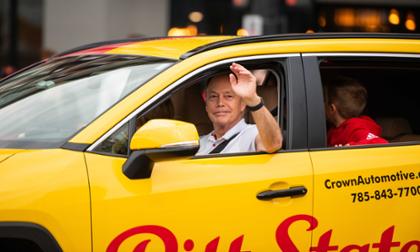 In the 2019 parade, President Steve Scott drives the GorillaMobile, donated to the PSU Alumni Association by alumni Miles and Paula Schnaer. The couple own Crown Automotive and gave the branded car for use traveling to and from alumni events.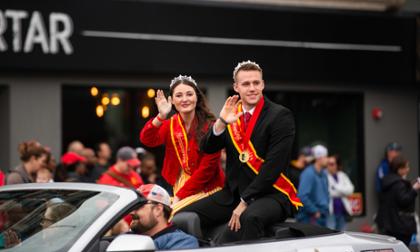 Also in the 2019 parade — the most recent one held because of the pandemic — Homecoming royalty Jaquelyn Bouchie and Tyson Roderique wave for the camera in front of a newly-opened restaurant downtown.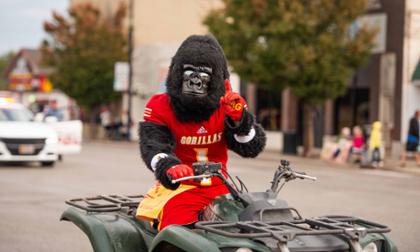 A modern day Gus Gorilla pauses for a moment on his ATV during a recent Homecoming parade.
---
Digital images copyright 2014, Pittsburg State University. All rights reserved. For more information contact the Leonard H. Axe Library Special Collections, PSU, Pittsburg, KS 66762.