University colleagues and former students are mourning the loss of Professor of Philosophy James "Jim" McBain, who lost his fight with ALS on Oct. 12. He was 50.
ALS, or Amyotrophic Lateral Sclerosis, is also known as Lou Gehrig's Disease — a neurodegenerative disease that affects nerve cells in the brain and the spinal cord and impairs a person's ability to speak, breathe, and swallow. McBain was diagnosed on Dec. 29, 2020. 
He enriched every life he touched and was a master educator, noted his colleague and friend, Professor Don Viney, who taught closely with him for 19 years. 
In McBain's own words, written in 2016: 
"I love helping my students work through the literature I love. I love the class time, the conversations, the a-ha moments students have. I love rereading those works that got me into philosophy in the first place and discovering new texts that are shaping my future thoughts."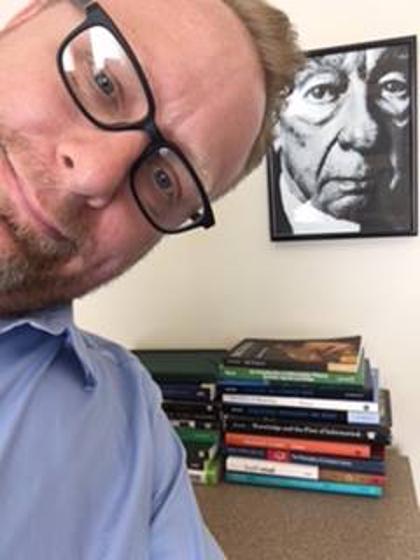 McBain with Willard Quine, recognized as one of the most influential philosophers of the 20th Century.
McBain joined the Department of History, Philosophy, and Social Sciences as a lecturer in 2002, was appointed an instructor in 2005, and became a tenure-earning faculty member in 2008. He was promoted to full professor in 2018. He was also a visiting professor at Kansas State University. 
His specialization: teaching courses such as biomedical ethics, business ethics, and ancient, modern, and contemporary philosophy — subjects he was invited to speak about across the nation and abroad.  
Viney called him "an ideal colleague." 
"He was constantly tutoring me in the latest developments in philosophy — he was very attentive to what was happening in philosophy programs around the world. He really had his finger on the pulse of current activity in the discipline," Viney said. 
"Between the two of us, I've always thought of him as the better philosopher. He willingly took on more administrative tasks than I wanted to do, carefully planned the courses we should have, even revised the philosopher minor we offer and encouraged me to teach world religion more often. We were very different in our approaches, but he was important to my career, had an incredible sense of humor, and was a good friend." 
It was at Pittsburg State that McBain met Rhona Shand, who was an associate professor of art for 16 years. They married in 2014 at Culzean Castle in Scotland. She survives of the home in Pittsburg, along with their beloved Corgi dogs.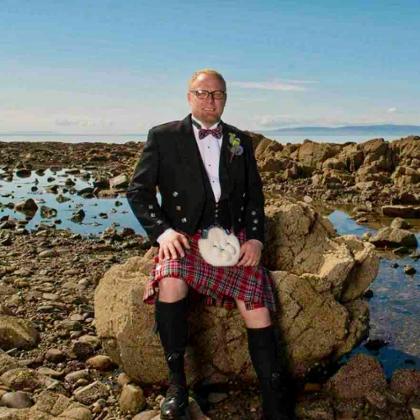 McBain in Scotland on his wedding day.
After his diagnosis last year, McBain continued teaching as long as his health permitted. 
"He wanted to teach as long as possible," Rhona said. 
Kate Dreiling Bennish, who will graduate in December with a degree in biology and plans to attend physician assistant school, will remember him as one of her favorite teachers. 
"His teaching style in biomedical ethics was so engaging," she said. "He understood the careers we all were going into, that we would see some challenging things, and he didn't hold back at preparing us for that. You could tell that he loved teaching us and that he had a heart for his students." 
In addition to teaching, McBain served as co-chair of the medical ethics committee for Ascension Via Christi. There, Chaplain Pete Mayo described him as a "tremendous resource who brought deep and wide background and theory." 
"Our entire committee always looked forward to his view," Mayo said. "Even though he had superior qualifications, he was humble about it. He never took over or dominated the discussions. Instead, he listened and waited to be asked his thoughts. And then, he seemed to pull it all together with a practical and helpful outcome." 
McBain also was a published author, was active in the PSU in Paraguay program, and was a frequent guest lecturer at other universities. His family and colleagues noted that he had eclectic passions and interests: he was a skater, a BMX rider, a gamer, a world traveler, an accomplished cook, owned a Fiat and Italian scooters, and was once a DJ for a rap group. 
He held bachelor's degrees from Truman State University and the University of Missouri-St. Louis, and a master's and doctorate from the University of Missouri. 
PSU President Steve Scott said McBain will be deeply missed by his students, as well as his colleagues throughout Russ Hall, which is home to the HPASS Department.  
"I enjoyed many hallway conversations with him through the years, and I have missed those encounters over the past months of Jim's illness," Scott said. "In those conversations, his passion for his students and his discipline were so evident and inspiring to me. Our thoughts will be with Jim's wife Rhona and their family members in the days and weeks to come." 
Per McBain's directive, there will be no memorial services. However, as a passionate Corgi owner, he specified that memorial donations be made to the Corgi Connection of Kansas in Milford, Kansas, c/o CCK, 7622 Old Milford Rd., Milford, KS 66514.
---
Banner photo: Colleagues Don Viney (left) and Jim McBain (right).