Event information
May 30, 6:30 PM – 8:30 PM
Presented By: PSU Alumni & Constituent Relations
Location: Blueberry Hill - Duck Room
Address: 6504 Delmar, St. Louis, MO 63130
Event details
St. Louis Area Gorillas, we are taking the ultimate road trip to see YOU!
Join Gus the Gorilla, Alumni & Constituent Relations Director Jon Bartlow, and Assistant Director Bethanne Elliott for a Gorilla Gathering Dinner! Enjoy an evening of good food, networking with fellow Gorillas, a PSU update, and prizes! Please wear your Crimson & Gold!
Tuesday, May 30th, 2023 at 6:30 p.m.
Blueberry Hill - Duck Room, 6504 Delmar in the Loop, St. Louis, MO 63130

Cost is $35/person, which includes a buffet of chicken mesquite, veggie lasagna, seasonal vegetables, seasoned roasted potatoes & chocolate cake. Cash bar available.
Registration is required for this event. Please register by 8 a.m. on Friday, May 26th, 2023.
If you'd also like to receive a free t-shirt (seen below) when we make it to your city, make sure to register before May 8th, 2023!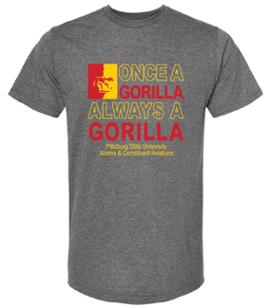 The t-shirt is unisex and made from a soft polyester blend material.
For more information or questions, please contact PSU Alumni & Constituent Relations at 620-235-4758, 1-877-PSU-ALUM or email alumni@pittstate.edu.