The Best Plate in the State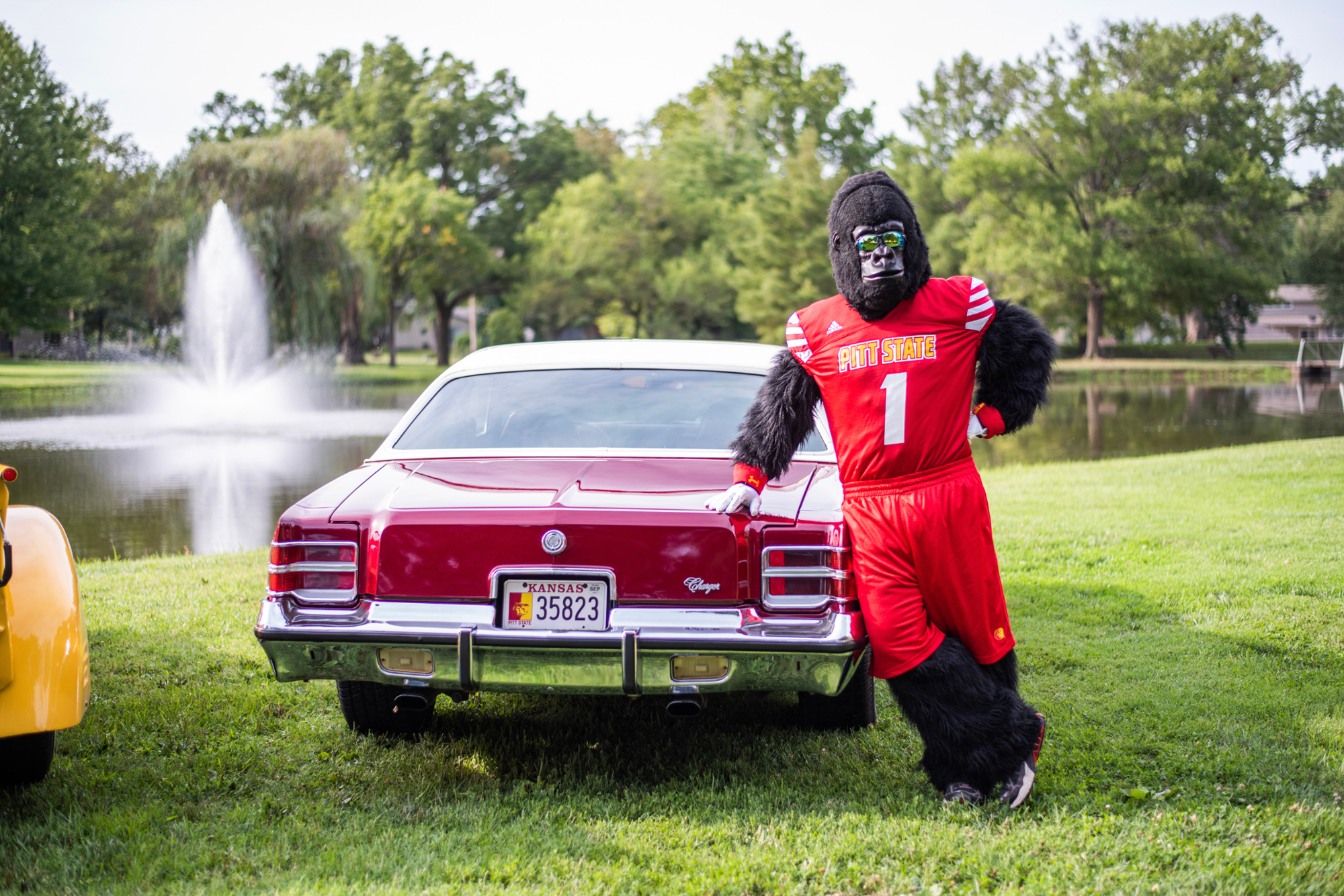 Did you know?
Any gift of $30 or more to PSU qualifies you for a plate.
Anyone with a Kansas tag can get a gorilla license plate.
You can switch your plates any time of the year.
Give $30 to PSU and qualify for a plate!
Any gift of $30 or more to Pittsburg State University qualifies you for a Gorilla License Plate. You must get your NEW plate within twelve months of your gift. You may also receive multiple plates based on the size of your gift divisible by $30. Apply for NEW plates through Alumni & Constituent Relations, online or at the motor vehicle office. Gifts may still be made to the Alumni Legacy License Plate Scholarship Fund. It is quicker and easier than ever to get your plate, so don't wait!
How the program works:
WHO QUALIFIES
If you are a Kansas resident who owns or leases a passenger vehicle or truck registered in Kansas, you qualify for a Gorilla License Plate. Vehicles with a gross weight of 12,000, 16,000 or 20,000 pounds are eligible for the Gorilla License Plate.
EFFECTIVE DATE & RENEWAL
The Gorilla License Plate is valid for at least five years based on annual renewal of the plate through a gift to PSU and annual vehicle registration.
GETTING YOUR PLATE
You may order a tag at any time by contacting Alumni & Constituent Relations before proceeding to your county office.
FEE PAYMENT & VOUCHER
There are two options to receive your plate: Make a gift of $30 to PSU and then apply/renew your plates within 12 months, or you can pay $30, which is tax deductible, to the PSU Alumni Legacy License Plate Scholarship fund where $25 goes to scholarships and $5 towards an administrative fee. The Alumni Association will issue a proof of purchase voucher to you.
(NOTE: the $30 is NOT tax deductible if you pay your fee at the motor vehicle office or at KSWebTags.org. You must pay your $30 through our office or online in order to receive your tax deductible gift.)
Your county treasurer will collect the proof of purchase voucher and issue your license plate upon vehicle registration fees. There is a specialty plate fee of $40 to the state. In addition, there is a one time $5.50 fee to manufacture the plate. These fees and other applicable state or county fees will be payable to the county treasurer when you pick up your plate.
SORRY, NO PERSONALIZATION
The legislation creating the university license plates does not allow personalization of the tags with words or phrases. The tag numbers are issued at random.
Apply or Renew Today!
Click here to renew or apply for a new plate online or complete the form in the link below and mail or fax to:
Wilkinson Alumni Center
401 E. Ford Ave.
Pittsburg, KS 66762
620-235-4949 (Fax)
Must be a Kansas resident to apply.
Click here for Order Form (PDF 189K)
This form is in PDF format and requires Adobe Acrobat 3 or higher to read.
Thank you for supporting the Gorilla License Plate Program and Pittsburg State University! For more information about the Gorilla License Plate, you can call toll-free at 877-PSU-ALUM or 620-235-4758, or e-mail questions to alumni@pittstate.edu.